Among the list of American television personalities, Tory Belleci stands out with his remarkable contribution in the Discovery Channel.
Well, not only in the field of television but Tony has also dedicated himself to model making. Besides Tory's succesful professional life, he is also blessed with a prosperous personal life with his longtime girlfriend.
Tory Belleci's Bio: Career Plus Net Worth
Tory Belleci, who stands at the height of 5 feet and11½ inches (1.82 m) was born as Salvatore Paul Belleci on 30 October 1970 in California, United States.
The 48-year-old star had an exciting childhood as he loved working in the film industry. When he was of age 11, Tory started making movies out of the camera his uncle handed him.
Know About: Kym Whitley Age, Bio, Married, Husband, Relationship, Net Worth
His parents supported his interests due to which, Tory attended San Francisco State University's film school.
Shortly after graduation, he started working at a model maker in 1994 at the age of 24 and eventually contributed to Industrial Light & Magic(ILM) for the film, Star Wars.
His fame finally elevated when he became a part of the Discovery Channel just like Otto Kilcher. Tory starred in the show MythBusters with Kari Byron and had been serving the show since 2003.
Sharing the common interest with Kari, Tory is now a new host with his co-host Kari Byron in Travel channel's Thrill factor after leaving MythBusters in January 2018. With his more than two decades of experience in the television and film industry. Tory has amassed a net worth of 2 million dollars.
Tory Belleci's Current Relationship Status
As Tory prefers remaining silent about his love life, he was rumored to be a gay.
However, his rumors regarding being gay came to an end but raised up a new story of dating his longtime co-host, Kari Byron. Not only Kari, but Tory was also rumored to be dating Francesca Garigue as their tweets fueled the rumors of dating each other.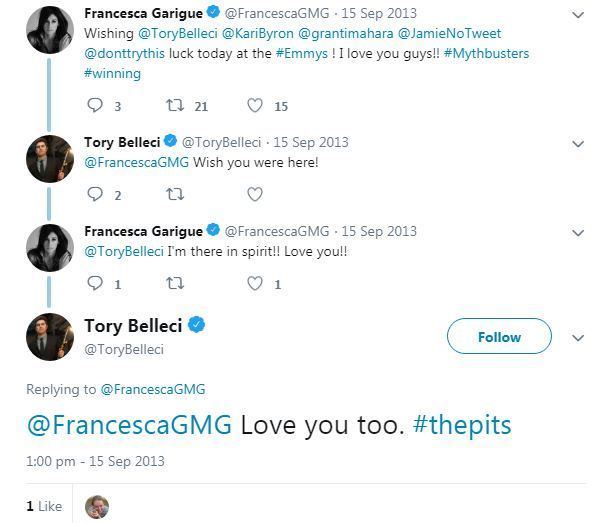 Tory Belleci exchanges loving tweets with Francesca Garigue on 15 September 2013 (Photo: Tory Belleci's Twitter)
But apart from just rumors, Tory's social media spoke something different, which falsified the talks of him dating both Kari and Francesca.
Well, speculating at his Instagram and Twitter, Tory's longtime girlfriend is a woman named Erin B. Erin has been flaunting her pictures with Tory since 2014.
See Also: Suzie Ketcham Bio, Age, Husband, Boyfriend, Net Worth, Ethnicity
Interestingly, Tory timely shows his love for his girlfriend on Instagram. Not only Tory, but Erin also shares pictures with Tory. On 30 October, Erin wished Tory on his birthday with a cute caption. Reciprocating the love, Tory also wished his sweetheart on valentine's day on 15 February 2018.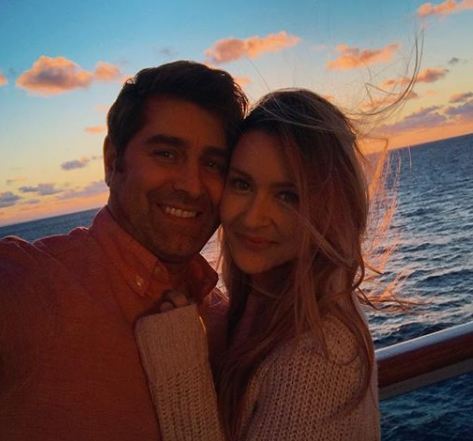 Tory Belleci shares an enjoyable moment with his girlfriend Erin B on 19 April 2018 (Photo: Erin B's Instagram)
From their social media, it is apparent that their relationship is no lesser than that of a husband and a wife. Both Tory and Erin value each other the same way even after dating for many years.
Now, Tory is only yet to share the plans on getting married to his girlfriend and fortify their relationship.