Kym Whitney is an American comedian and actress. She is best known for her roles on television sitcoms, such as Animal Practice, The Boondocks, and The Parkers.
The Ohio native was born on 7 June 1961 to parents Kaysonia and William Whitley. As per bio, the comedian, age 57, has two older brothers in her family. She completed her high school from Shaker Heights High School in 1979.
She then graduated from Fisk University in Tennessee.
Kym's Story On Her Son, Joshua 
The stand-up comedian Kym Whitney is the mother of a son named Joshua. Back in 2011, Kym made a big decision in her life by adopting a baby boy after she got an unexpected call from a hospital.
The other side of the call revealed that a girl, who she had been monitoring for a long time, had left a baby boy in the maternity ward with Kym's cell phone number. 
Learn About: Anna Romano Wiki, Husband, Children, Family, Cancer, Instagram
After knowing all the facts, Kym finally decided to adopt the son with the help of her family. And her family even supported and encouraged her to take the leap of faith and become a mother.
Not only her parents but her friends of the show, Raising Whitney including Rodney Van Johnson also came forward to help her in nurturing her child. Rodney is the one with whom she used to live together in the show.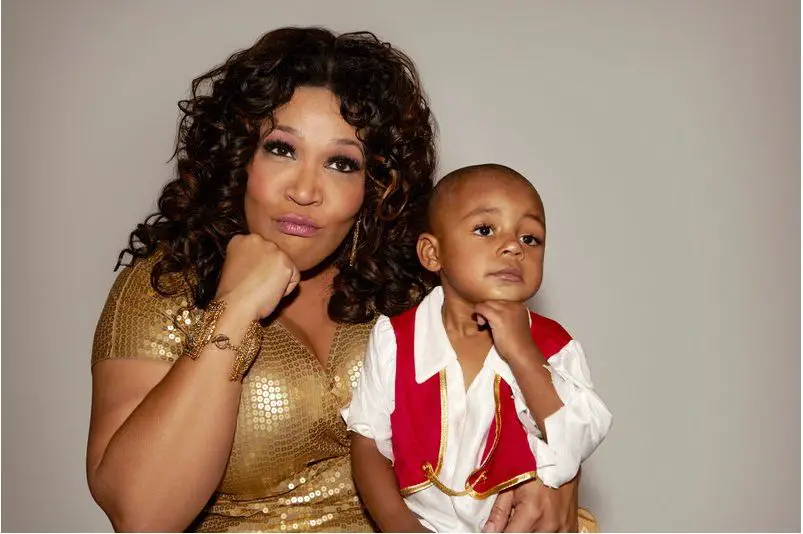 Kym Whitley enjoys her moment with her adopted son Joshua (Photo: mom.me.com)
In an episode of June 2013 of the show, Raising Whitley, Kym's co-star Rodney came forward and revealed to be a fatherly figure of Kym's son Joshua. 
Was Kym Married With Rodney? 
When Rodney announced that he was the fatherly figure of Joshua, he was speculated to be in a husband-wife relationship with Kym. 
But when the duo visited a joint therapist, the couple shared the contradictory statement of their side as reported by Huffingtonpost in January 2014. 
When they were first asked what they had learned about their partnership and arrangement, Kym said they would never be together as a couple. Even Rodney agreed with the answer. However, when they were asked if they ever had an intimate relationship, Kym openly said no while Rodney hinted just the opposite. 
Furthermore, in an interview with 'OWN' channel in 2015, Kym scooped her inside story of remaining friends with Rodney and even acknowledged the man to be the father of the entire village.
Moreover, back on 24 November 2015, replying to one of her fan's tweet Kym clearly stated that she was not dating Rodney. Her statement also clarified that she was not married to Rodney. 
Is Kym Dating Or Single?
On June 2018, during an interview with Steve, Kym shredded some hints on dating.
See Also: Chuku Modu Wiki, Married, Wife, Height, Parents, Age
When Kym was questioned about her relationship status, she, in a mocking tone, replied that she was dating. Moreover, she added that her relationship with a boyfriend was not so stable as they regularly fought. 
Speculating at how she was laughing at all her replies, it seems like she was just making the situation funny. 
Her Career Plus Net Worth
Kym started her professional acting career in the early 90s on television, with guest-starring roles on some comedies including, The Parent Hood, Martin, and Married… with Children.
Kym also had a recurring role on the coming of age series, My Brother and Me on Nickelodeon. She became more widely known in the mid-90s as a member of the main cast of the UPN television show, Sparks.
She started adding film roles to her list of credits in the late 90s and has played supporting or co-starring roles in such projects as Deliver Us from Eva, Fun with Dick and Jane, Next Friday, and Transformers: Dark Side of the Moon".
In 2004, Kym was nominated for a BET Award for Best Supporting Actress in a film for her role as Ormandy in the 2003 comedy film "Deliver Us from Eva."
However, she only came into limelight after appearing in American reality television series, Raising Whitley on Oprah Winfrey Network (OWN), which was premiered on 20 April 2013. With a total number of 1.2 million viewers, the series became the fifth biggest premiere in the history of the network.
You May Like: Who Is Suzanne Virdee's Husband? Ethnicity, Family, Now Details
Besides that, Kym is also the member of the Alpha Beta chapter of Delta Sigma Theta sorority. With a success-filled career, Kym owns a net worth that is estimated to be $2.5 million while enjoying a lavish life.