Best known as American Television Personality, Suzie Ketcham received fame and recognition after she became a part of a VH1 Series Basketball Wives in 2010.
But her personal life didn't turn out to be as blissful as her professional life as she separated from her boyfriend after ten years of relationship. She has two kids with her ex-partner.
Suzie Ketcham's Bio
Suzie was born in 1978 to an American father and a partial Portuguese and Chinese mother. She celebrates her birthday every 20 February. Speaking of her ethnicity, Suzie is half Asian as she was born to mixed descent parents.
Suzie shares a close bond with her parents and tweets once in a while about her family members. For instance, on 7 October 2009, she tweeted about her mom and her brother stating her mom's cuteness, when she gets drunk.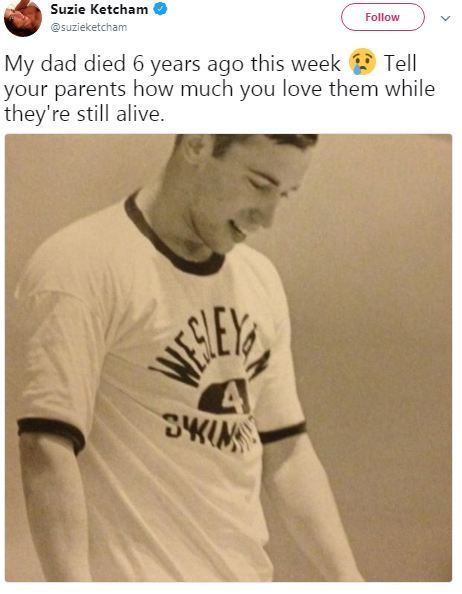 Suzie Ketcham commemorates her late father by uploading a young picture of her dad on Twitter o 13 May 2012 (Photo: Suzie Ketcham's Twitter)
Suzie's family life was filled with bliss until when her dad got diagnosed with pancreatic cancer. After struggling hard for the survival, Suzie dad passed away in May 2006.
Don't Miss: Merella Fernandez Married, Husband, Children, Family, Parents, Ethnicity
While talking to essence.com on 20 May 2010,  Suzie told that though she had everything she wanted in her life including cars, money, fame, she always felt empty due to the absence of a dad in her life.
Moreover, she shared her sadness with her Twitter family on 13 May 2012  talking about her father's death.
Suzie Ketcham Parts Ways With Husband-Like-Boyfriend, Michael Olowokandi
Suzie was happily in a relationship with the former NBA player Michael Olowokandi, who owns a net worth of 20 million dollars. The couple first met at Pepperdine University and started dating soon after some time. During their senior year, Suzie got pregnant with their first child.
Her love life with her boyfriend Michael showed the signs of bitterness when they were in a relationship in the early years. On December 2001, Suzie had a critical fight with Michael while he was returning from Clipper's trip. Well, Michael was accompanied by an unidentified woman.
Suzie could not control her jealousy and attacked Michael throwing watch and earring. She told LA times on 6 December 2009 that she felt greatly jealous of the woman.
But after the incident, Suzie was hurt and had scratches on her hands and bumps on her head, which supported the allegations of Michael assaulting Suzie. But Suzie took the blame in her head stating she was responsible for the whole issue.
From Married Divorce: Rick Dale Wiki, Bio, Age, Wife, Divorce, Fired, Net Worth
Suzie and Michael were later blessed with their second child. Despite the ups and downs, the couple managed to remain together but not forever as they separated after ten years of togetherness.
On 20 May 2010,  while talking to the essence, Suzie opened up about the reason behind their split. She stated that though she never thought about Michael cheating on her, her assumptions were falsified. Michael cheated Suzie due to which they separated before Suzie could call Michael her husband.
The couple separated in 2009 after which Suzie made an appearance in Basketball Wives in 2010 as a reality star just like Holly Monteleone. As of now, the 40-year-old reality star is busy taking care of her two kids and living her luxury life as a professional real estate agent with a net worth of $2 million.