American TV show host Tommy DiDario is a lifestyle expert and covers pop news, trends, fashion, grooming, travel, health, wellness, and fitness. Because of his work, GQ magazine recruited him to be one of their exclusive GQ Insiders. While working with GQ magazine, Tommy covered the most prominent global brands. 
He is also a contributor on The Rachael Ray Show and a co-host of Amazon Live. The multi-talented Tommy is a health contributor for Sunwarrior and hosts speaking engagements related to health, fashion, and wellness at different events throughout the country. 
Because of his dedication to work, he has been able to capture the heart of millions of audience. Moreover, his work does not end here as he is the owner of DiDario Inc located at Greater New York City Area. 
As of now, Tommy reaches more than 1 million people monthly across his social media platforms, especially Twitter and Instagram. 
Tommy DiDario's Wiki - Age, Birthday
Born in 1986, Tommy DiDario celebrates his birthday on 28 January every year. His mother Karen A. DiDario of Berkeley Heights is an assistant editor at Information Today in Medford, New Jersey and his father Thomas G. DiDario owns Landscape Maintenance Services in Hillsborough, New Jersey. 
Check Out: Nick Frost Wife, Divorce, Gay
However, once in his Facebook account, Tommy mentioned the sad reality of his life. He revealed that he was born completely deaf in his right ear and partially deaf in his left ear. At a young age, he had corrective tubes in and out of his ear for a year, and luckily he gained his hearing back. 
Sadly, even after getting the hearing ability back, he was teased because he was not able to speak properly due to years of not hearing. His lack of speaking ability led his parents to take him to a speech therapist, where he took lessons throughout his elementary school. 
As of now, the 33-year-old Tommy uses his voice as the number one tool of his career. And he has completed his education receiving his bachelor's degree in Science and Communication Studies from New York University. 
Wedding With Gay Partner Gio Benitez
Tommy, who is openly gay is happily married to Gio Benitez. His husband, Gio is a news anchor of ABC's slate of news programmings, such as Good Morning America and World News Tonight. After graduating from Florida International University, Gio started working at the local CBS affiliate in Miami, Florida. Because of his work, he has also received numerous regional Emmy Nominations in recognition of his work. He is also an active user of Instagram.
As both of them are active Instagram users, Tommy and Gio first met through Instagram in January 2015. They soon started dating, and after eight months of being in a relationship, Tommy's partner Gio proposed to him in a romantic way in front of the Eiffel Tower in Paris. 
Don't Miss: Hale Appleman Gay, Girlfriend, Wife
Their love bloomed in the city of love, following their wedding on 16 April 2016. It was Tommy's sister Megs, who officiated the wedding.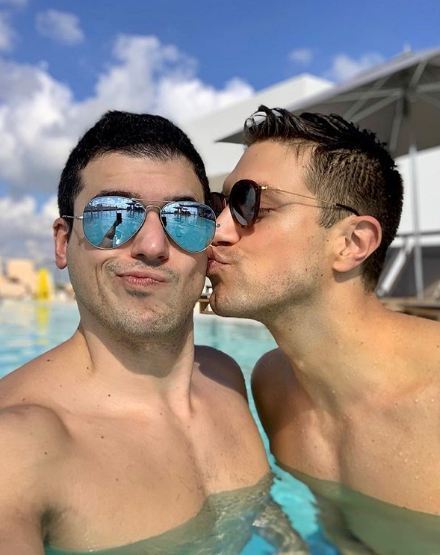 Tommy spends time in Florida with his husband Gio Benitez on 3 March 2019 (Photo: Tommy DiDario's Instagram)
During their marriage, many members of Gio's extended news family, Desperate Housewives creator Marc Cherry, producer Richard Jay-Alexander were also part of their wedding. As of now, the couple is relishing their married life.