Nick Frost is a British actor, screenwriter, and comedian best known for his roles in various movies and TV shows, some of which are with his fellow actor, Simon Pegg. 
Most notable of his TV shows are Spaced starring as Mike Watt, Mr. Sloane as Jeremy Sloane, Into the Badlands as Bajie, The Nevers as Declan Orrun, and movies like Cuban Fury as Bruce, Monster Family as Frank, and Fighting with My Family as Ricky Knight. 
Nick Frost's Bio: Age 
Nick Frost was born on 28th March 1972 in Hornchurch, Essex, England, the UK as Nicholas John Frost. 
His father John Frost and mother, Tricia Frost, were married separately before their marriage, and they also had children from their previous relationships. His father used to run a furniture business until it collapsed when Nick was a teenager. Both of his parents have passed away. 
Height
Nick Frost stands at the height of 5 feet and 8 inches (1.73 meters). 
Married Or Divorced?
Nick Frost was married to Christina Frost, a half-Swedish production executive. The couple tied the knot in 2008.
They are blessed with a son named Mac born on 22nd June 2011.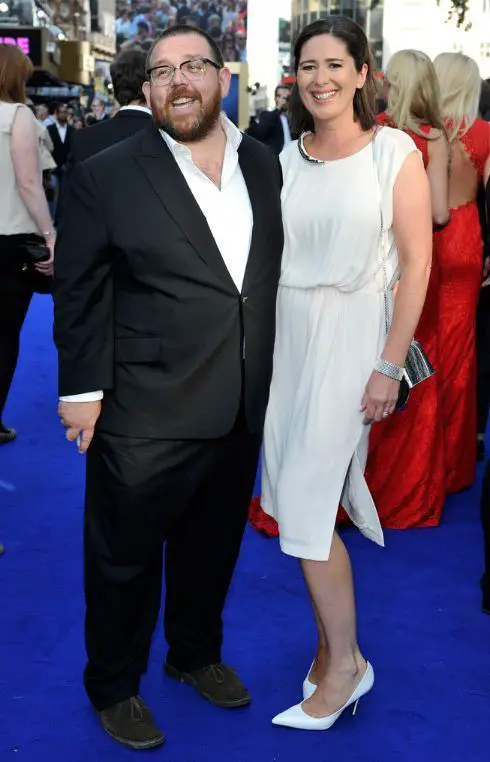 Nick Frost with his ex-wife Christina Frost attending the World Premiere of The World's End at Empire Leicester Square on 10th July 2013 in London, England (Source: zimbio.com)
Nick and Christina got divorced in 2015 after nearly seven years of married life. They share parenting duties of their son evenly with each other.
However, he became a father to his second child after he and his girlfriend welcomed a child in December 2018.   
Gay
Nick Frost is the best friend of British actor, comedian, screenwriter, and producer, Simon Pegg. The duo has worked in various movies and TV shows. They are good friends and are very close to each other. 
However, citing their close relationship shown both in on-screen and real life, the duo is sometimes speculated as gay. However, they have refused such speculations. 
Comedian: Dov Davidoff Age, Married, Wife, Girlfriend, Dating, Gay, Height, Brother
Moreover, in an interview with The Sun in February 2011, reacting to the public gossip after they shared kisses publicly, Nick said, "Me and our friends — not just me and Simon but ten of us in a group of mates — went through a long phase of just kissing each other on the mouth really hard just to see what other people thought."
Net Worth
Nick Frost has a net worth of $16 million. 
Interesting Facts: 
When Nick Frost was ten-year-old, one of his half-siblings, Deborah, died of an asthma attack when she was 18. 

He was raised as a Catholic and also went to Catholic school. 

When his father's business collapsed, his family was forced to move in with neighbors. 

His mother suffered from alcohol addiction and had a stroke due to stress, and his father never worked again after his business collapsed overnight. 

He left school at the age of sixteen to take a job at a shipping company and support his family. 

At the age of 18, he spent 14 months in Israel volunteering at a kibbutz. 

He worked as a bartender, waiter and a cook at a Mexican restaurant in north London for six years, the same place where he met his now best friend, Simon Pegg.