Steve Osunsami is an American Journalist and a famous television personality. He is one of those, who make it possible for many people to traditionally couch down and watch Television in a world where social media is increasingly becoming a go-to media for news.
Though being a media personality, Steve considerably kept away many details of his life's background. Which has kept the question of what Steve Osunsami sexuality is?
Steve Osunsami In ABC
ABC made Steve, who he is today. However, this is not in any way predetermined to undermine or underscore his hard work or his enormous talent but, it is to state the importance of the network in shaping his career. 
In 1997, Steve was employed by the ABC news as a correspondent for NewsOne. He covered groundbreaking stories including the capture of accused serial bomber Eric Robert Rudolph, the 2000 presidential election recount in Florida, the fall of South Carolina Governor Mark Sanford in 2009, and The sex-coercion allegations against megachurch leader, Eddie Long.
See Also: Bob Wischusen ESPN, Bio, Age, Wife, Salary, Net Worth
Besides, Steve also reported on significant weather stories including Hurricane Katrina, the 2011 Alabama tornadoes that killed more than 200 people, and over two dozen hurricanes during the last decade.
Steve received several prestigious awards and nominations in the course of his high-profile career. He received multiple awards from the National Association of Black Journalists and the Columbia School of Journalism.
Before joining ABC News, Steve had interned at KOMO-TV in Greater Seattle Area, WOOD-TV in Greater Grand Rapids, Michigan Area, and WREX in Rockford, Illinois.
As a worker of the top network like ABC News, it's quite safe to speculate that Steve is earning a handsome amount to complement his remarkable works. He draws an average salary of $106K per year.
Steve Osunsami Has Wife, Or Is He Gay?
46-year-old Steve, who has an average height, is proudly gay as Jason Collin. On top of that, he is happily married to Joe Remillard since July 2010. No, he doesn't have a wife but a husband who is an artist, an Art Professor from Atlanta.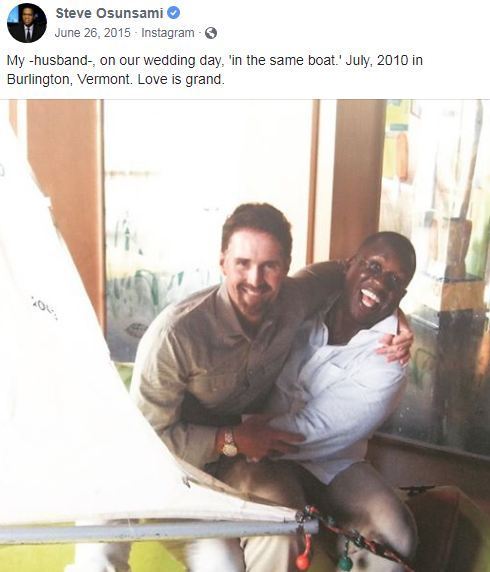 Steve Osunsami with husband Joe Remillard during their wedding in July 2010 (Photo: Steve Osunsami's Facebook)
Steve's husband was previously married to Marguerite Madden. They even share a daughter named Any Remillard. But, since splitting with his wife, he is relishing his days with Steve. 
The two are living happily as a family. Moreover, Steve - being a member of the LGBTQ community - lends his voice to the referendum to legalize same-sex marriage. He can be seen openly speaking about gay rights. 
Steve Osunsami's Bio, Education
The ABC News correspondent was born on 6 February 1972 in Peoria, Illinois, USA. His parents are Nigerian Immigrants. Steve had a difficult childhood as he grew up in a low-income family. They used to manage their life using food stamps. His mother, who worked in the cafeteria at a hospital in town, struggled to feed seven members of the family.
Similar : Openly Gay Mark Tewksbury Partner, Boyfriend & Family - All Details!
Poverty rose a lot of challenges in Steve's life. But, what it did good was, it inspired him to make things better for both himself and his family when he grew up.
So, he worked hard and completed his high school from Peoria. For the further degree, he joined the University of Illinois at Urbana-Champaign and bagged a Bachelor's degree in Broadcast Journalism. Seemingly, with the kind of progress Steve has made in his career so far, there's no doubt that he got the best of education.