Former Canadian swimmer Mark Tewksbury is well-recognized for winning a gold medal in the 100 meters backstroke at 1992's Summer Olympics. He also got awarded with the Meritorious Service medal back in 1993.
Mark, an openly gay man, became the first Canadian athlete to declare his homosexuality voluntarily. Along with confidence and pride in his gayness, Mark also has a blissful relationship.
Mark Tewksbury: Openly Gay
50-year-old Mark Tewksbury revealed his gay sexuality at Toronto's Buddies in Bad Times Theatre back on 15 December 1998.
While coming out as a homosexual, he disclosed that he wrestled with his orientation for years. He only came out of the closet to his family shortly after winning gold in the 1992 Olympics.
But his family members reacted with tears to his disclosure. So, he felt uncomfortable to come out due to his parent's reaction and decided to hide the secret from his agent, sponsor, the media and the whole country for some time. 
Eventually, his parents understood him, and his mother became one of his most ardent supporters. Mark also found confidence in himself and felt free to share his struggles and his not straight sexuality to all the people. 
With open thought and pride, Mark now has a prospered dating relationship with Rob Mabee.
Love-life: Boyfriend Helps To Exercise
Mark and his boyfriend Rob Mabee, an art curator and public relations professional, were good friends before they found love during a mutual friend's dinner party in the year 2008. Since then, they have been together. 
Mark told Impact magazine on 6 July 2017 that being in a relationship was about enhancing each other's lives. So, he revealed that he and Rob both work out together and encourage each other to live a healthy and happy life. 
He further added that they drag each other into exercise whenever the other one showcases their laziness.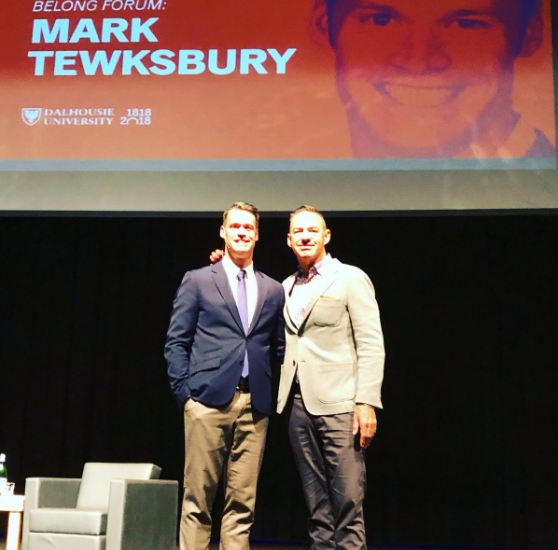 Mark Tewksbury and boyfriend Rob Mabee appear together on stage at Belong Forum on 17 May 2018 (Photo: Mark Tewksbury's Twitter)
Moreover, Mark posted a picture with his boyfriend via Twitter on 17 May 2018. In the caption, he wrote that the only thing better than getting an honorary degree and speaking at the Belong Forum was getting to do it with his partner and love of his life Rob Mabee.
With love and affection for each other, Mark's relationship is budding with every passing day. However, they are yet to be married and pronounce each other husband with all their love.
Mark Tewksbury's Biography
Mark was born on 7 February 1968 in Alberta, Canada.
He trained for his swimming at the University of Calgary and competed at the 1988 Summer Olympics in Seoul, South Korea. In the competition, he won a silver medal as a member of Canada's relay team.
For years Mark ranked as one of the top backstrokers in the world. He ranked fourth in the world during the relay event in Barcelona and made the cover of Time magazine. 
He became the first Canadian to win gold in swimming since the Communist-boycotted 1984 Olympics in Los Angeles.