Journalism has become an essential pillar of our modern society. In today's context, it is an integral part of contemporary democracy that carries the burden of shaping our society through various fields such as business, politics, and sports. To bring out such important information, reliable and dedicated personnel are needed. Fulfilling the space of such required manpower is Sara Shookman, who has set herself as an exemplary journalist.
Sara Shookman's Date Of Birth, Parents
Sara was born on 10 October 1986. She was raised by her parents Scott and Becky Shookman in Akron along with her sister Kimberly Shookman. 
Sadly, her father demised at the age of 59 in 2015. When her father was alive, she along with her family used to travel to different places. However, she did not get weak after her father loss and supported her family with all her heart.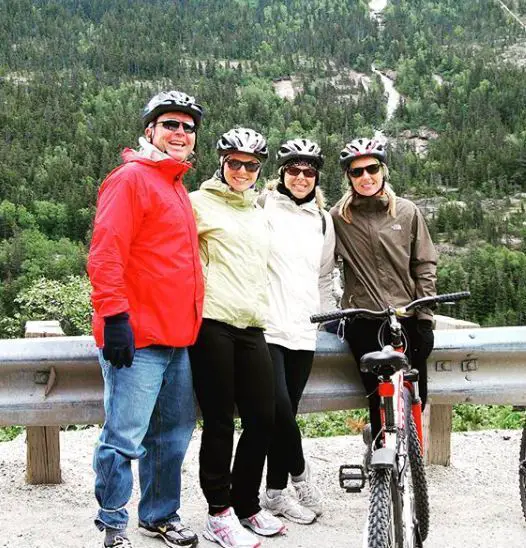 Sara Shookman wishes her father a Happy Father's Day on 18 June 2018 (Photo: Sara Shookman's Instagram)
Regarding her education, she is a proud graduate of Manchester High School. Furthermore, she graduated summa cum laude from the E.W. Scripps School of Journalism.
Sara Shookman's Husband / Wedding
The blonde beauty, with a height of 5 feet 9 inches (1.75m,) is married since 2nd September 2017. Her husband is Angelo DiFranco, a project manager for Valley View-based Harley Davidson Dealer Systems. She met him during her college days, but they were just casual acquaintances at the time. 
Similar: Inside [KPRC] Lauren Freeman Bio: Baby, Age, Wedding & Facts
It took nearly a decade to inaugurate the perks of dating for her and Angelo. Interestingly, it was Angelo, who proposed her while giving a wedding speech in their mutual friend's wedding in 2015. Impressed by Angelo's confession, Sara accepted for a date with a blush. Eventually, the date became recurrent and blossomed into a serious relationship.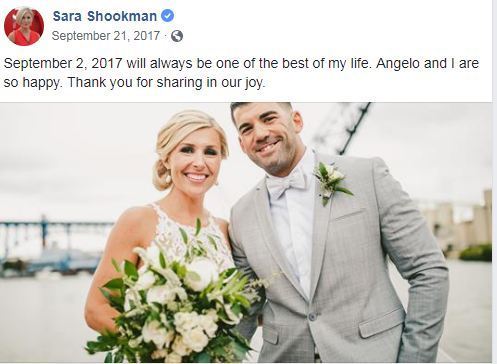 Sara Shookman shares wedding picture with husband Angelo DiFranco on 21 September 2017 (Photo: Sara Shookman's Facebook)
And, then a huge surprise fell on Sara when her boyfriend proposed her to marry him on a yacht during a Lake Erie sunset cruise. Without ado, she nodded yes and married the love of her life via a nautical-themed wedding ceremony at the Historic Coast Guard Station on Whiskey Island of Cleveland.
Since then, she is cherishing her married life with her partner. 
WKYC, Salary
Sara buckled up to achieve her aspiration in the journalism field as an associate producer for APS15 Community Television. She worked there for a brief period and later joined WKYC TV as an intern. She now works full-time as a general assignment reporter alongside Betsy Kling.
She became one of Channel 3's go-to storytellers, covering various news bulletins, going beyond local news and delving into national as well as general announcements, reported around the country for WKYC TV's parent company, TENGA. Among the stories, the Winter Olympics held in Sochi, Russia, became one of her biggest career highlights.
Related: WKYC's Chris Tye Bio: Age, Engaged To Family Details
Her tenacity and top-notch journalism have even awarded her several accolades including five regional Emmy awards and a regional Edward R. Murrow Award. As a WKYC TV employee, her average salary is estimated to be $47K. 
She tried for a change in her look in 2018 with a new haircut. Trimming her straightened hair, that's naturally curly, she opted for a side split bob haircut.