Richard Gaisford is a famous news correspondent, reporter, journalist and presenter. Best- Known for his Good Morning Television(GMTV) days, Richard has been active on the media scene since 2000.
Gaisford was brought up in Tonbridge, Kent and attended Tunbridge Wells Grammar School and later completed his Broadcast Journalism Diploma at Falmouth College. His brother Steve Gaisford is also a journalist working for ITV and Al Jazeera English.
Richard Gaisford Career 
Gaisford first appeared on television on 2000 as the Chief Correspondent and Relief News Presenter for GMTV. GMTV was a national breakfast contractor, that promised "a cheerful morning and with more information" that aired programmes like 'GMTV', 'GMTV with Lorraine', 'Newshour', ' GMTV Today', 'Sunday Best', 'The Sunday Programme', 'The Entertainment Programme' and many more, most of which gained moderate reception from its audience. 
Gaisford also worked in 'The Sunday Programme' as a reporter from 2003-2005. After GMTV the franchise was bought by ITV in 2009, its name was changed to ITV Breakfast Broadcasting Limited, and the show 'GMTV' was shut down in 2010.
After that, Richard was given the role of Chief Correspondent and Stand-in Presenter. After the show 'Daybreak' was axed in 2014, Gaisford was again the Chief Correspondent and Stand-in Newsreader for ITV's relaunched show 'Good Morning Britain,' which had been previously replaced by 'GMTV' in 1993.
He also became the Correspondent for ITV's show 'Lorraine' in 2014 and News Correspondent in 2015.
Along with his work in these shows, Richard had held an ever-growing list of achievements, two of which being The First UK reporter to broadcast live from Basra, Iraq and Reporting live from the Atacama Desert when Chilean Miners were rescued.
Also, he had reported from Tsunami-hit Northern Japan in 2011, PhillipinesDockland Bombings, Earthquake Philippines Pakistan, Typhoon, Gulf War in the middle east, Flooded Mozambique in 2000, Concorde crash in Paris and from Thailand Indonesia in the Boxing Day Tsunami of 2005.
Furthermore, he has reported on the Funerals of Nelson Mandela and Pope John Paul II.
He has also covered sports events like the Olympics in 2008 and Football World Cup in 2010. Richard is also considered a Tech Expert, with him having filmed two series in Tokyo and Korea, both based on how Gadgets have changed the personal life in his country.
His reports were broadcasted on channels like BBC, CNN, Channel4, Channel5, and Fox among others while in Iraq to report after the Iraqi city fell to UK Forces.
In his career, it is not doubted that he has worked very hard to earn the name and place. As an employee of ITV, he draws an average salary of £36k. With all his accumulated amount he might be enjoying the millions of net worth. 
Richard Married To Wife
The talented reporter is a family man and is happily married to Emma Gaisford. He exchanged his wedding vows with his wife on 11 July 1998 in private wedding in the presence of his friends and family members. Even after 20 years of married life with his wife, his relationship is cruising smoothly at the moment. 
Another Reporter You May Know: Fox News' Greg Palkot Wiki, Age, Family, Wife
The duo completed their family when they welcomed their son Charlie Gaisford. His son has already reached at the age of 17 and has turned into a young boy. He also embraced his daughter Amy Gaisford on 5 August 2004. She has turned into a beautiful girl just like her mother.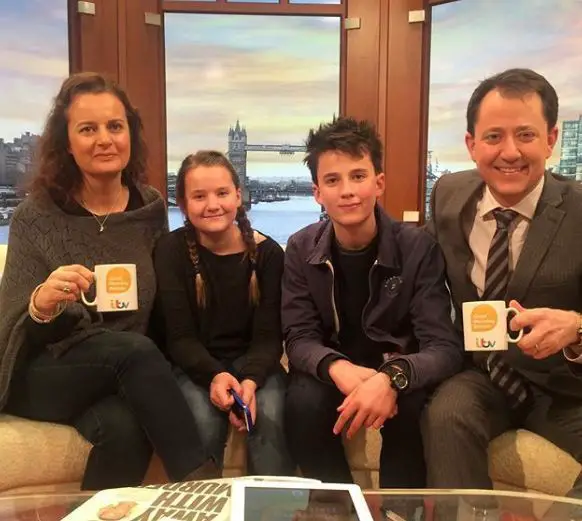 Richard Gaisford on the set with his wife Emma, son Charlie, and daughter Amy on 19 February 2016 (Photo: Richard Gaisford's Instagram)
He has stated multiple times on social media that his relationship with his wife is really good and is very happy with his marriage. Gaisford is very active in social media, where he has thousands of followers. His bio can be found on sites like Wikipedia, The Huffington Post and much more.