Rhondella Richardson has been the best in what she does, from the very beginning. The first time she stepped in the world of the broadcast was in 1986; as an intern for WCVB's urban news program, CityLine. She received WCVB's Leo Beranek Fellowship in 1990, which led her to become a freelance news assistant at NewsCenter 5.
And, in 1992, Rhondella started contributing to WJAR-TV's 'Tuesday's Child' segment. She then went on to join KING-TV in 1994 where she was a reporter on 'The Today Show.'
The reporter produced the three-part series, Capitalism vs. Communism when she was at a week-long international reporting assignment in Vietnam. Rhondella also worked at the NBC station in Providence, WJAR-TV, and the ABC affiliate in Manchester, NH, WMUR-TV.
Rhondella Richardson's Bio, Education
Rhondella was born on 22 June per her bio. She hasn't disclosed her age. However, it is known that she received her education from Northeastern University and graduated Magna Cum Laude with a Bachelor of Arts in 1990.
Similar: A Look At WCVB Mary Saladna Biography: Age, Husband, Family
As an active philanthropist, Rhondella is known for serving the community. She emceed the tribute day that honored tennis commentator, Bud Collins, at the Sportsmen's Tennis Club, before his passing. Also, she is even on the board of UNICEF.
The reporter is a devoted supporter of The Home For Little Wanderers, The Ellie Fund, Catholic Charities, and even her local elementary, middle, and high schools. Moreover, she has emceed Boston's annual 'Duckling Day' and Mother's Day parade and festivities for eight years. 
Family - Married, Husband 
The news reporter has been married to her husband, Mark for 20 long years. The two exchanged their wedding vows on 27 March 1998. And, Rhondella didn't mind sharing a glimpse of herself and her husband during their wedding.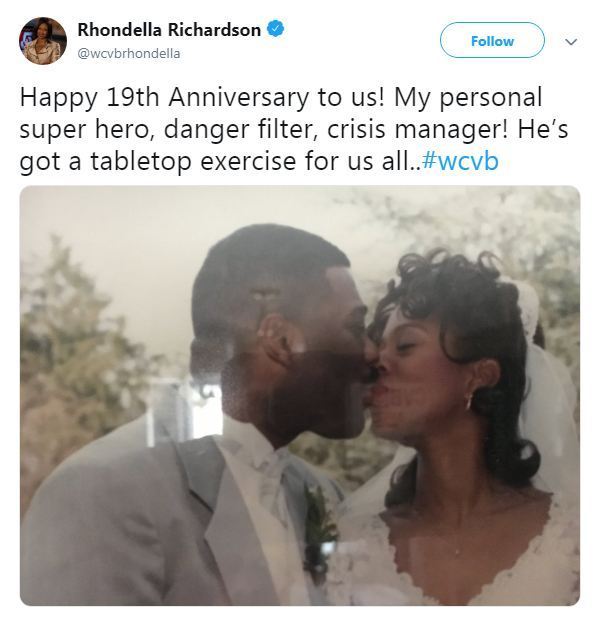 Rhondella wishes her husband on their 19 years of married life on 27 March 2017 (Photo: Rhondella Richardson's Twitter)
To shower the couple with more blessings, Rhondella and her husband have three children in their family. Rhondella has preferred to keep her eldest child out of the reach of media. She did mention that her oldest kid was almost done with college in 2018. For her other kids, the matter is different.
You May Like: Jeremy Diamond CNN, Wiki, Age, Married, Wife, Gay, Parents
They do not keep away from the public, and Rhondella often shares pictures of her 1-year-old son, Aiden and 15-year-old daughter, Rhylee.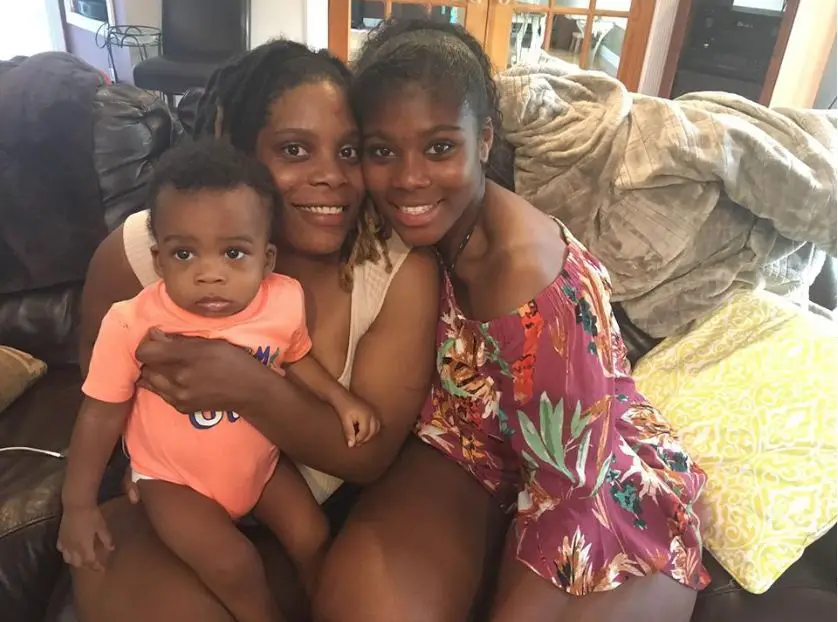 Rhondella enjoys family time with her baby son, Aiden, and daughter, Rhylee on 28 May 2018 (Photo: Rhondella Richardson's Facebook)
Everything pretty much shows how much Rhondella appreciates her family that she shares with her husband. It's only feasible that the two have maintained their years-long of marriage. 
Rhondella Richardson's WCVB & Salary
Emmy-nominated journalist, Rhondella is a co-anchor of NewsCenter 5's weekend morning newscasts. She anchors alongside Doug Meehan for the Saturday and Sunday morning newscasts. The reporter has been a part of the network's well-achieved news team for over two decades after joining the WCVB in 1996.
During her job at the WCVB, she has covered both Presidents Bill Clinton and Barack Obama at their Martha's Vineyard vacations. She also helped in the lead coverage of the Boston Marathon bombings, the 9/11 terrorist attacks, and the sexual abuse scandal of Boston's archdiocese. Moreover, the reporter has covered all the blizzard and rare tornado that has hit New England.
Another Reporter: Elaine Quijano Bio, Married, Husband, Age, Parents, CBS, Net Worth, Salary
Rhondella is also one of the few journalists to personally speak to Arthur T. Demoulas during a six-week supermarket strike in the region. She has never missed the exclusives, from the teen lottery winner on the side of Mt. Wachusett to the injured victim dragged for miles by a hit and run driver.
While working at WCVB alongside Mike Wankum, Rhondella has juggled among many roles that have heightened her career. She even served as an original co-anchor on the weekend EyeOpener from its initiation.
Her ability to break news stories brought her from the anchor desk to the '5 Investigates' for many years. She soon transitioned to general assignment reporter and fill-in anchor for WCVB's newscasts. And the anchor earns an immense salary of $124K from her job at WCVB.