Mary Saladna is an anchor and reporter of the WCVB-TV. She is one of those, who make it possible for people to sit down and watch television. But, despite being a media personality, Mary has significantly succeeded in keeping details of her background and life away from the public. 
Know every possible detail on her biography, age and family life that you mustn't miss!
Mary Saladna's Biography
As per her education, she attended Pennsylvania State University and majored in Marketing. For further education, Mary joined the University of Exeter in England and studied International Business and Politics.
Check: What Is WCVB Mike Wankum Age? Bio Disclose Wife, Family, Salary
Saladna with an average height of 5 feet 1 inch has very mesmerizing eyes. And, her dark brown hair adds charm to her face. The brunette beauty has a beautiful smile, with her magic in face people are attracted to watch her on television.
Mary Saladna's Family - Husband, Kid
Mary is married to Ed Shipman, a former cameraman of WGAL, who is younger than her. Despite the age gap, the lovebirds tied the wedding knots in October 1998.
Mary's relationship with her husband fortified when she welcomed a son in 2005. Interestingly, she and her partner named their son after their respective father: Ed's father, who lived in Annville and Mary's father who lived in Pittsburgh. Their son, Sam is now at the age of 13.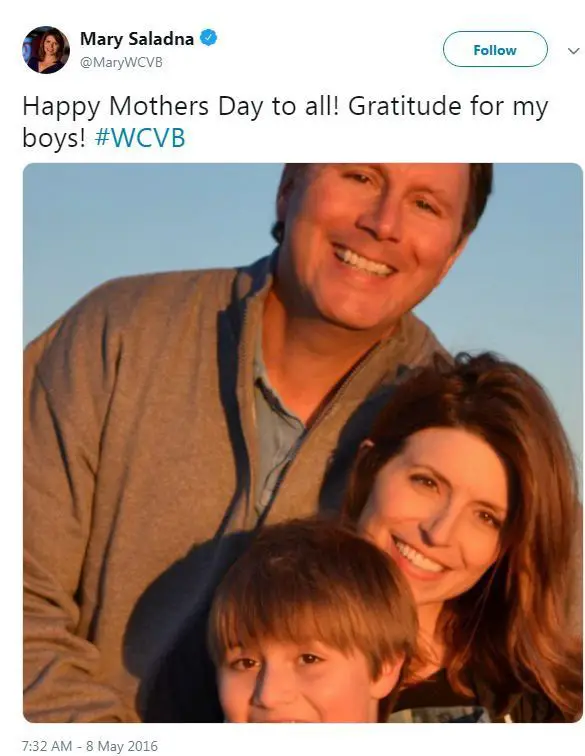 Mary Saladna celebrates Mother's day with her husband and son on 8 May 2016 (Photo: Mary Saladna's Twitter)
Mary takes care of her husband and son in the best way possible. She is so family-oriented that when she got an opportunity for a better job overseas, she rejected the offer and stayed with her family. Currently, she resides with her husband and son in Boston.
Mary Saladna's Career
She began her journalism career at WGAL-TV 8 as a reporter. She worked there for five years and joined WCVB alongside Erika Tarantal. WGAL and WCVB are both owned by Hearst-ARgyle Television, Inc.
When working at WCVB, she learned to be decent and fair. She also became a promotional producer at KDKA-TV, Pittsburgh; anchor and reporter at WHAG-TV, Hagerstown, Md; and anchor plus reporter at WJAC-TV, Johnstown. She has an average salary of $72K per annum. It seems like she enjoys her life with a net worth of millions.
Read About: What Is WCVB Mike Wankum Age? Bio Disclose Wife, Family, Salary
Beyond fame and net worth, she won prestigious awards including nominations for numerous New England Emmy Awards. In 2017, she won two Emmy Awards one for Continuous Coverage and one for her reporting of the "Taunton Rampage" story that helped earn WCVB the coveted Best Newscast Award.