"Adventures have stories to tell, not the stuff to show."
Who else agrees with the quote apart from the renowned adventurer and journalist, Oliver Steeds?
English-born investigative reporter Oliver Steeds is also famous for his versatile part as an explorer and adventurer. During his career, he has traveled and explored over 100 countries, including Mongolia, Niger, Algeria, Saudi Arabia, China, and Syria.
Every time he has visited the different parts of the world, Oliver has explored new things which are entertaining as well as informative. He has lived with tribes of cannibals, has walked 1250 KM across the Gobi Desert for survival, and escaped from the People's Liberation Army after being chased across the Shangtu Grassland.   
Oliver has been able to portray the story of different parts of the world each time he has packed his bags and walked for a ride. His sheer work ethics entice the global audiences to have a detailed glance at Oliver Steeds' whereabouts.
See Also: Rod Wheeler Wiki, Age, Married, Gay, Fox News, 2017
Oliver Steeds' Bio
Oliver Steeds, age 43, was born in 1975in the London Borough of Merton. He stands tall at the decent height and carries British nationality.
For his academics, Oliver attended the People's University in Beijing, China. Besides he studied World Politics & Mandarin at the University of Newcastle-upon-Tyne from 1995 to 1999.
Oliver Steeds' Career: Famed Investigator
Oliver Steeds has received a massive acknowledgment for his stint as an investigative reporter. He is famous for his works with the multi-award winning international investigative series, Unreported World on UK's Channel 4.
His investigations have included exposing ongoing chattel slavery in Niger and Mauritania. Besides, Steeds has investigated the theft of malaria treatment drugs in Uganda; the grave robbing in Peru; thousands of mentally impaired people being abducted into slavery in China; and the lives of 9-11 hijackers in Saudi Arabia.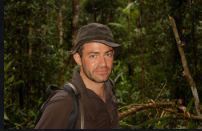 Oliver Steeds during the adventure on 2 September 2010 (Photo: oliversteeds.com)
Oliver's appealing works have appeared on Channel 4's Dispatches and Unreported World, Channel 4 News, ABC Nightline, NBC Today, Al Jazeera's People & Power, and Witness and Earthrise.
You Don't Want To Miss: Carl Marino Married, Wife, Children, Salary, Net Worth
Besides, Steeds is famed for his hosting in various TV shows, including Solving History With Olly Steeds (2010) and Mark & Olly: Living With the Machigenga (2009).
Honors And Net Worth
For Oliver's astounding works as an investigative reporter and adventurer, he has bagged various honors. He has been nominated and short-listed for Best Current Affairs Program 2008 (Asian TV Awards). Besides, Steeds bagged nomination for Emmy's and Overseas Press Awards.
Apart from recognition, Oliver Steeds also enjoys a commanding earning for what he does best. Reportedly, his net worth reaches the margin of $19 million.  
Is Oliver Steeds Married?
Though Oliver Steeds has made a name for himself as a journalist and adventurer, he has never spilled any beans on the information regarding his marriage and family life.
However, as of Jim Clash's article for Forbes published on 7 August 2016, Oliver shares the company of two young children. This inevitably means that he is married; but with whom? It remains a mystery.
You May Also Like: Jack Maxwell Married, Wife, Net Worth, Cancer, Age, Height
The passionate journalist wasn't sharing a wedding bliss till 2010. Maybe he found the girl of his dreams, who walked down the aisle with him afterward.
Oliver looks to keep his personal life a low-key on social media. However, while doing so, his professional stints have educated and entertained all of his fans and followers.