Starting her career as an entrepreneur, Jack Maxwell has achieved a great success working as a host and a professional actor in his life. He is well-known as the host of the Travel Channel's series Booze Traveler.
Professional adventurer, who struggled hard in his childhood, faced a new challenge in his life after he was diagnosed with blood cancer. Despite the fact, he continued to film the fourth season of Booze Traveler which was recently premiered on 18 December 2017.
Jack Maxwell Struggling With Blood Cancer!
According to US magazine on 12 December 2017, Jack Maxwell revealed that he was diagnosed with non-Hodgkins lymphoma (cancer that originates in white blood cells).
On 13 December 2017, Jack wrote on his Twitter account that he had blood cancer and he was undergoing treatment in Arizona for non-Hodgkins lymphoma. He even said that he was doing well and will keep his fan posted.
Jack received the news after he had done some steps in a medical clinic where his stepbrother works. He said, he had Non-Hodgkin's Lymphoma, which left him in a shock. He did not believe at first and assumed that it was the result of his traveling for Booze Traveler.
He had a biopsy, and that confirmed the diagnosis. They found that the cancer was advanced but was in the middle of chemo and was treatable.
He underwent chemotherapy and appeared to be doing well mostly because of his positive attitude. Jack gave credits to his lovely mother and grandmother for his positive attitude. His mother and grandmother taught him how to stay strong under the worst of circumstances.
Despite his cancer treatment, he continued to film the fourth season of Booze Traveler with the support of his wife and kids, family, and friends.
Jack's Short Bio, Career, Net Worth
Jack Maxwell, age 57, was born in Boston, Massachusetts and celebrates his birthday on 25 December. At a young age, Jack made himself an entrepreneur by shining shoes in neighborhood pubs and gin mills, where he would listen to the boozy tales that echoed from above him.
The early experience awakened his awareness of alcohol's magical socializing effect. He learned his best lessons, stories and lighthearted jokes in the barrooms of South Boston.
In Travel Channel's "Booze Traveler," Jack ventures the globe to not only get a taste of a country's alcohol but to quench his curiosity about what people drink, why they drink it and the stories they tell when they do. At each stop, he connects with locals, immerses himself in regional activities, learns about the country's unique relationship with liquor and sometimes even participates in the alcohol-making process.
Jack Maxwell, who stands at the tall height of 5 feet 10 inches, has also made guest his appearances on hit broadcast television shows "Lost," "24" and "Beverly Hills 90210."
Jack won 'Best Actor in a Lead Role' at the 2012 Pan Pacific Film Festival and was presented with both the Emerald Star award and Golden Halo award from the Southern California Motion Picture Council. 
Jack also co-hosted Travel Channel's "The Trip: 2016," which showcased the distinct cultures, cuisines, and luxuries of five Caribbean islands.
As an actor and television personality, Jack has acquired an enormous success in his career. He has a net worth of around $7 million.
Is Jack Maxwell Married?
At the moment, the relationship status of Jack is that of a married man. Well, he has been keeping the details regarding his married life under the wraps. Even though Jack publicly mentioned his wife and two kids in the interviews, he has not disclosed their details and pictures till yet.
However, he keeps flaunting photos of his sister and mother frequently. Recently on 8 February 2018, he Instagrammed a picture of her mother wishing her on her 77th birthday.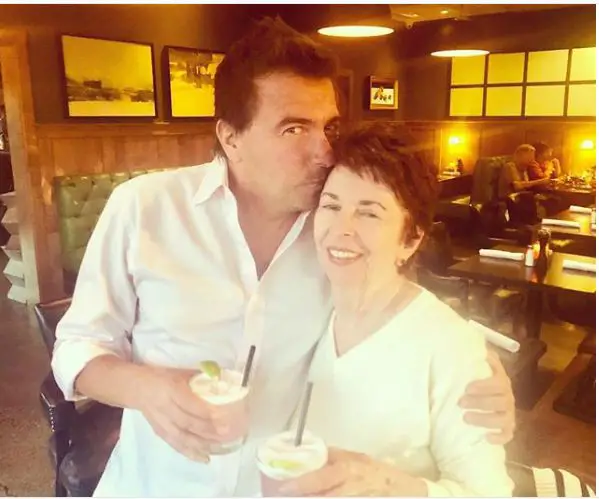 Jack Maxwell and his mother picture posted on 8 February 2018 (Photo: Jack Maxwell's Instagram)
Similarly on, 25 January 2018, he also shared a picture of him with his sister via Instagram. Back on 10 April 2017, Jack shared the picture of his family via Instagram.
Currently, Jack Maxwell resides in Los Angeles, Calif with his family.