"Too often we celebrate the peaks without understanding the valleys, and it's the valleys that give us the why– the answer that powers us forward, and the question that any storyteller knows is most important."
This quote is said by the fantastic American news reporter, Morgan Radford. Morgan is a renowned reporter and anchor who works at NBC News as a New York-based correspondent. 
Morgan Radford Married, Husband
Morgan's love life is no less than a fairy tale. She met her now-boyfriend, David Williams while she was in college but it took many years for them to realize that they were made for eachother. According to Morgan's Instagram post, she wrote how just over a year ago, she went to a professional conference in London. There, she saw a boy who she had met years earlier in Eliot Dining Hall during her second year of college. He was 2 years ahead of Morgan, and just before his graduation, they were randomly paired together to walk down the runway of their Spring '07 fashion show.
Morgan and David met every week, practicing their steps in the lobby of the neighboring dorm, exchanging pleasantries and short bursts of laughter in between practices. After weeks of rehearsals, he walked her down the runway arm-in-arm for their big show. Shortly after, he left for law school, managing to stay in touch every so often with Morgan throughout the years. But when they saw each other again in October of 2017 in the conference lobby of the Claridges hotel, it was like they hadn't skipped a beat, except the beat changed. She thanked David for changing the rhythm of her life.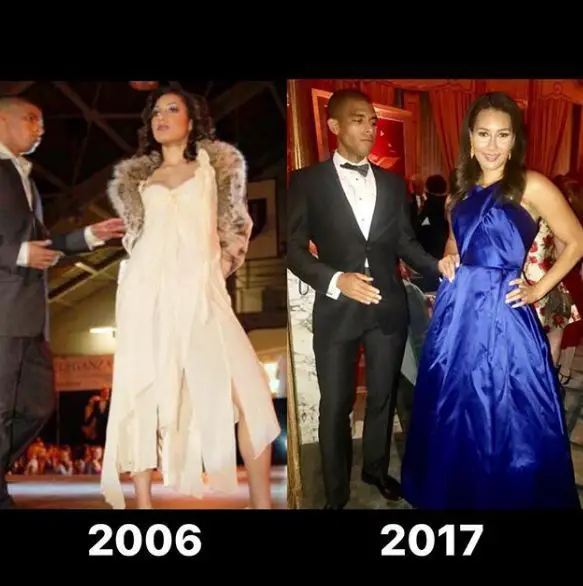 Morgan Radford posts a comparison picture from years ago of her and her boyfriend David Williams on 15 November 2018 (Photo: Morgan Radford's Instagram)
Soon after this Instagram post dropped, fans started speculating if he was her boyfriend. After some time it became official that they had started dating. The couple started sharing cute pictures of one another which made people go aww. Morgan recently decided to freeze her eggs, so she doesn't miss out on the biological clock. She says she might get married soon and want a child; this is the reason why Morgan took this huge step. Fans are already looking forward to seeing David turn from her boyfriend to her husband so that they can continue their future as one. 
Parents, Ethnicity 
As per her bio, Morgan Kelly Radford was born in the on 18th of November 1987. She was raised in a place called Greensboro which lies in North Carolina of United States of America by her parents. Morgan is the daughter of Lily Kelly-Radford who is a former clinical psychologist and current management consultant. She went to the school called Grimsley High School for her earlier education.
After graduating from school, Morgan attended Harvard University where she graduated in honors earning a Bachelor's degree in Social Studies and Foreign Language Citations in French and Spanish in 2009. Now of age 31, Morgan's ethnicity is unknown. This gorgeous beauty stands tall at the height of 5 feet 10 inches. 
Morgan Radford Salary
Soon after her graduation from Harvard, Morgan decided to work as an intern, and she got an absolute gem of an opportunity to do so. She started working as an intern at the mighty CNN where she began working for a show called Morning Express with Robin Meade.
See Also: Washington Post's David Fahrenthold Bio: Wife, Family, Salary.
During the year 2010, Morgan achieved a Fullbright Scholarship; she got this opportunity while she was teaching English at the University of KwaZulu-Natal, located in Durban South Africa. She was also working as a production assistant for ESPN during these years. Morgan completed her Master's degree in Broadcast Journalism from Columbia University. Soon after graduation, she started working at ABC as an anchor for ABC News Now.
After this, Morgan's career took another turn. She joined Al Jazeera America in the year 2013 where she started working as an anchor as well as a correspondent. In the year 2015, her dream job came along her way. She got a chance to work for the NBC News which she didn't miss out for course. As of now, Morgan is a daily reporter and anchor for NBC. The salary of an NBC news reporter ranges from average earners earning $105,000 to top earners earning to $121,000.