The lesson to learn from Mike Brewer's life is that success always follows the one who follows the path of passion. Besides being a well-known presenter of television motoring programs, Mike Brewer is also a journalist, producer, campaigner, motoring enthusiast, and a devoted family man.
But how does Mike Brewer manage to handle all the responsibilities?
Mike Brewer Wife, Children
Mike Brewster met the love of his life, Michelle Brewer in 1989. The couple soon kicked it off and started dating. They even welcomed their daughter, Chloe Brewer in 1995. It wasn't long before the couple finally tied the knot in 2002 after dating for about 13 years. 
The two are proud parents of their daughter. Mike doesn't miss the chance to boast about his daughter on his social media sites. He even posted a picture with his wife and daughter on Twitter, congratulating his daughter on her graduation.
See Also: Rick Dore Bio, Age, Married, Wife, Family, Cars, Net Worth, TV Shows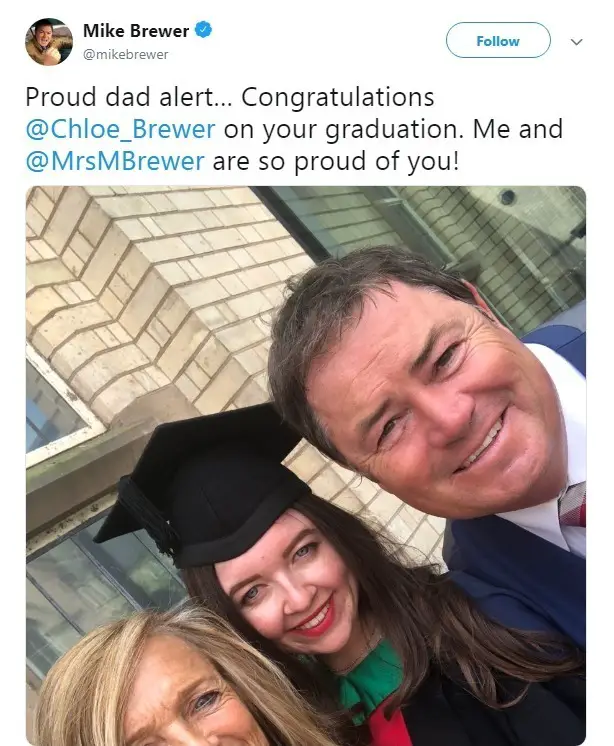 Mike Brewer congratulates his daughter on her graduation with his wife on 16 July 2018 (Photo: Mike Brewer's Twitter)
Given the fact that he regularly posts pictures with his wife and daughter, it can be assumed that he shares a good bond with his family members. Even after twenty-eight years of togetherness, Mike and his wife show no signs of a weak relationship.
The award-winning personality now lives a happy married life with his wife, and it doesn't look like the two are adding more children to their family.
His Net Worth & TV shows
Mike was interested in car customizing from a very early age. His father played an important role in shaping Mike's career. Seeing his father work around with cars ignited an interest in Mike. Following his father's footsteps, Mike turned out to be a capable car dealer, impressing the audience with his excellent skills. He entered motor trade as he imported and sold cars in the south of England.
But his career in the media industry leaped after he answered a friend's telephone and accidentally talked to a television producer. He had a long chat with the producer on the phone, which scored him a role in the first season of Deals on Wheels. The success of Deals on Wheels led him to act on many different TV shows like Driven, Auto Trader, Pulling Power, Wrecks on Riches, and many other non-motoring programs for Discovery Channel and ITV. Standing at the height of 6 feet (1.82 meters), Mike is also the creator of Wheeler Dealer Trading Up, a series that showcases his skill in motoring.
As Mike Brewer is very passionate about car trading, he has succeeded in the business and made a hefty net worth. At 53 years of age, the British television presenter enjoys a net worth of $1.5 million.
Interesting: Ziya Tong Married, Engaged, Husband, Boyfriend, Pregnant, Net Worth
When Mike was in Wheeler Dealers, he shared a close bond with his co-worker, Edd China. The two worked together for fourteen years until Edd quit the show as the producers cut back on his role. Edd's controversial exit raged many fans who sent constant death threats to Mike. It didn't take long for Edd to respond to the threats and appeal to the fans by assuring them that Mike and Edd would get past their oppositions.