Melissa Mollet is the native of Gaithersburg, serving as the traffic reporter for News4.
During her college, she began her journalism career at NBC4 as an intern in three different departments.
Later on, she returned as a reporter for News4 Today in 2010. Her long hauls in the network landed her an Emmy award for her 2013's Rescuers Rescued story, where she detailed a Beltway accident involving a fire truck.
From covering the 10th anniversary of the Columbine High School shootings to the 2008 Democratic National Convention and several American Idol finales in Los Angeles, Melissa has done it all in the broadcasting world.
Melissa Mollet Married To Husband
Melissa is married to a man who shares the same birthday as her beloved father, twenty-five years apart and they were born on 12th of March. Mellissa thinks the coincidence is pretty wild. 
Melissa has been married to Jake Schaller, a sportswriter-turned-attorney for over one and a half-decade.
Continue Reading: Jeannette Calle Wiki, Age, Husband, Children, Salary
Altogether, the journey has served as a roller-coaster ride. The ride was rougher in the beginning as the husband-wife duo went through quite a turmoil in the process of expanding their family. 
As Melissa and Jake had their first son, they predicted that the future pregnancies would go smooth. However, destiny had something else planned out for them who loved the idea of having multiple kids running wildly in the house. 
Story To Getting Pregnant Against All Odds
After trying a year for a second child, Melissa and Jake sought the help from a fertility specialist and came to know that it was the relatively common "unexplained infertility" that was stopping them from getting pregnant.
Three years of blood draws, procedures, medications, and shots, and it still did not work.
Eventually, the couple came up with the idea of adoption, and henceforth, they adopted a beautiful baby girl, Barrett Mae.
And then at some point out of nowhere, after a lot of heartache and sadness, Melissa got pregnant. As she gave birth to the miracle baby and named her Colette Ryan, after her brother, she said that it was her angel baby, Barrett who brought yet another baby in the family.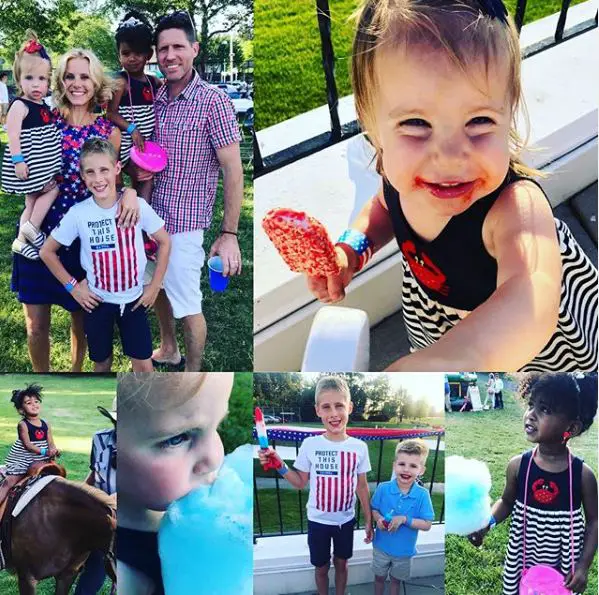 Melissa Mollet with her husband, Jake Schaller, and their children on 7 July 2019 (Photo: Melissa Mollet's Instagram) 
Today, the family of five resides in Maryland with Norm, the mohawked Mini Goldendoodle by their side serving as the family mascot. 
Melissa's Bio: Age, Family
Melissa, age 40, joined the forties club since her very recent birthday on the 29th of April in 2019.
See More of Broadcast Journalism: Anne Lundon Married, Husband, Boyfriend, Personal Life, Bio, Age
She and her brother, Ryan Mollet, closer as twins, grew up observing their parents' blissful marriage. Be it consciously or subconsciously, their folks instilled in them the importance of family and relationships. 
The graduate of Gaithersburg High School, who stands to some undisclosed height is a family-oriented person, makes herself available to her family despite the busy schedules. 
Side by side, she has aced her professional part of life as well. Besides making a name in the industry, she must have amassed an astounding salary landing ultimately onto her to thus far buttoned-up net worth.