Maddie Moate is a television presenter and YouTube filmmaker. She has hosted the BAFTA-nominated CBeebies series, Do You Know?, BBC Earth's Earth Unplugged and CNBC's technology series, The Cloud Challenge.
Among those nominations, Maddie even received an award of the Best Presenter at the BAFTAs Children's Awards in 2017 for presenting the CBeebies series Do You Know?. For the past seven years, she has been creating educational online science content that became UK's one of the only family-focused Edu-tubers. 
Other than that, she has also starred in some movies like Hearts and Minds in 2009, The Hound in 2011 and The CBeebies Christmas Show: Thumbelina in 2018 which added up to her credit list. 
Maddie Moate Wiki-Like Bio, Age
Maddie Moate, age 30, was born in 1988 in Norfolk, England. She celebrates her birthday on every 26 July. She has a proper height of 5 feet 7 inches (1.73 meters).
Maddie studied English Literature, Biology, Drama and History from Henry Box School, Witney and later joined the University of Bristol and studied theatre, film, and television though she was a science communicator. 
Maddie presented and also developed the online comedy series, The App Show on Lady Geek with Nicola Hume from 2011-2012. Later in 2012, she hosted Newsburst on 02 Guru TV and Home for the Future for the Channel 4. 
Somewhere between 2012 and 2013, Maddie had made three movies for Samsung. And in 2014, she also presented online videos for Sony Xperia Z5. 
In 2014, Maddie also became the lead presenter for BBC produced YouTube channel, Earth Unplugged. After achieving a good outcome for the program, BBC America sent a notice to make a one-off television program; It's a Mad Mad Maddie World. She also became the resident technology expert on BBC 5 Live Saturday Edition.
In 2015, she talked about her struggles with Perioral Dermatitis in a video The Real Me (Perioral Dermatitis). Later in September, she released a follow-up video Maddie Moate - Hydromol Ointment 3-in-1 regime saying she was misdiagnosed and that she had under treated eczema.
Engaged To Be Married To Boyfriend!
Maddie Moate is engaged to her long term boyfriend, Greg Foot. To let her fans at ease, Greg seems to be a great guy working as a Science Presenter for BBC who got recognized as one of the leading science communicators in the United Kingdom.
Take A Look At: BBC Ben Bland Age, Gay, Bio, Family, Height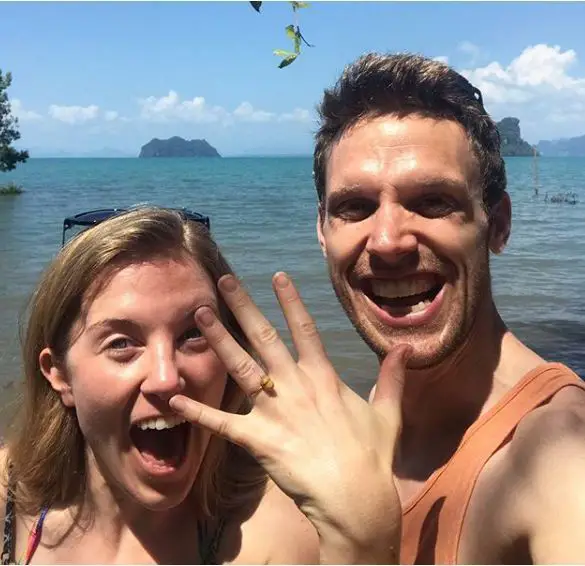 Maddie Moate flaunts her unique engagement ring with her boyfriend-turned-fiance Greg Foot on 15 February 2018 (Photo: Maddie Moate's Instagram) 
Greg proposed to her with an exquisite ring, to which Maddie answered with a 'Yes' as she has captioned in her post. And the couple seems to be having fun while traveling together and sharing their lovey-dovey couple pictures online. They have yet to disclose when they plan to get married.