Someone had just put it right: Life is not about how much problems you get, it's about how you react to it. No wonder, when a person masters the art of tackling the adversities, no power in the world can stop them from achieving what they want.
None other than Jarrod Schulz from Storage Wars knows how to tackle with the adversity as he has risen to success even after suffering many setbacks in his life.
Jarrod Schulz Bio
Often nicknamed as "The Young Gun" in the show Storage Wars, Jarrod was born on 15 October 1977 in Long Beach, California. As a child, Jarrod used to engage himself in disassembling toy cars to comprehend how things worked.
Interesting: Beth Mowins Married, Husband, Partner, Lesbian or Gay, Bio, Height
But, as the maturity began to build up in his character, he was more inclined towards safes. Jarrod thought that opening storage lockers is similar to gambling in a lot of ways. Which is undoubtedly the reason why he loves to appear in his show Storage Wars.
However, the journey of Jarrod was not full of chocolates every day. It was full of ups and downs, and perhaps downs outweighing the ups. At an early stage of his life, Jarrod had to go through imprisonment for being found involved in drugs activities.
Net Worth - Career 
But, how could the failure deter Jarrod from reaching the purpose of his life? With his perseverance, the journey after that has just proven to be a fairy-tale for the famous TV personality. 
With the piles of failures in front of him, Jarrod was demoralized to do nothing, literally nothing. But, one of his aunts advised him to take part in storage auctions.  Subsequently, Jarrod opened the second store named Now and Then in Orange County, California along with his girlfriend, Brandi Passante. 
Only after which, he met the producers of Storage Wars during an auction at Harbor City where he learned about the show itself. To his wonder, eight months later, the producers of the show offered to shoot at his store.
Slowly and steadily, the show's girth began to increase and was famous all over the world. The producers, charmed by the grace Brandi brought to the store, offered a permanent place to Brandi in the show and later Jarrod, too. 
Worth Reading: Babita Sharma Married, Husband, Boyfriend, Family, BBC, Salary
Since then, the couple has been bidding quite successfully for 10 seasons. They have even opened a new branch of the store in Long Beach increasing the net worth. Apart from this particular show, the 41-year-old has played in ample movies and TV shows. As of 2012, Jarrod's estimated net worth is $2 million. 
Jarrod Schulz Family, Married?
Jarrod, at the age of 22, met his significant other, Brandi in 1999. And with no doubt, one can tell that his life took a big turn after their meeting as Jarrod began to taste the pieces of success. Maybe for Jarrod, Brandi was a good luck.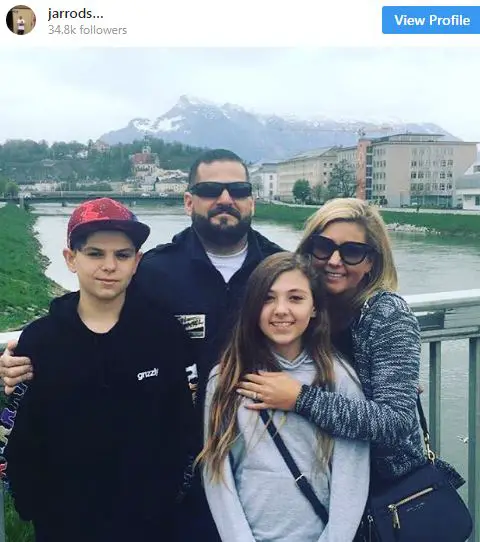 Jarrod Schulz flaunts his family photo on 2017 (Photo: Jarrod Schulz's Instagram)
However, it does not mean that they don't have any children. In fact, they have two children to multiply the blissfulness in the family. A daughter named Peyton and a son named Cameron. The unlabeled husband and wife often flaunt their family pictures in the social handle to show their bondage with each other.
Truth be told, Jarrod and Brandi are not married yet. Although they have been together for almost two decades, they have not tied the nuptial knot, which, in a matter of fact, is something hard to digest for the public.
The couple may have their own conditions for not getting married. It might be true that the pair has never felt the need for marriage to complement their love. Whatever the reason is, they have the respect from all of the public for their decision.