"A dream can only be achieved through dedication and hard work."
Holly Hamilton took this quote by heart and worked fiercely to reach the peak of success. Holly is an Irish Journalist who works in BBC as an anchor on the Victoria Derbyshire on BBC Two, the BBC News channel, and BBC Breakfast on BBC One. 
Holly Hamilton BBC / Salary
Holly Hamilton didn't start her career until she got her master's degree. Her career took a step up after she began her working at the Bauer Media in Dundee in July 2008, where she served as a broadcast journalist.
And in November 2010, Holly left her job at Bauer and took the position of a news reporter at SVT Group plc, in, where Holly reported on daily happenings in Scotland. While her time there, she edited and produced the network's nightly program, Scotland Tonight.
Holly eventually resigned from her position from SVT in January 2013 and returned to Bauer Media as a host and editor, presenting daily news for Cool FM and Downtown radio as a radio jockey.
Worth The Read: Sky Sports Rachel Brookes Wiki: Age, Married, Birthday & More
In June 2014, Holly took a significant step and moved to England to work with BBC. She contributed to BBC News as a reporter for their morning news program, BBC Breakfast and sports station, BBC Sport.
Her work in BBC gained substantial fame and recognition, which was a big break for her. She now continues her work with BBC News, researching topics on her own and presenting them at their best to her devoted audience worldwide.
As a BBC journalist, Holly Hamilton earns an average salary of £49K.
Married - Boyfriend / Husband
Holly met the man of her dreams when she was working at Cool FM Radio before joining BBC Breakfast. She met Connor Phillips, who worked as a DJ on the radio and eventually got to know him. After a couple of auspicious dates, Holly and Connor started going out as boyfriend and girlfriend.
Both young and ambitious, the couple moved to England to pursue their career in journalism and reporting. Holly joined BBC whereas, Connor joined the daily sports show, City Radio in Liverpool.
While their jobs were thriving, their love only grew more with the passing time. The successful much-in-love couple decided to give their relationship a 'forever' and got married on 5 June 2018.
Don't Miss: Find Out Orla Chennaoui Bio, Age, Husband, Wedding & Parents Info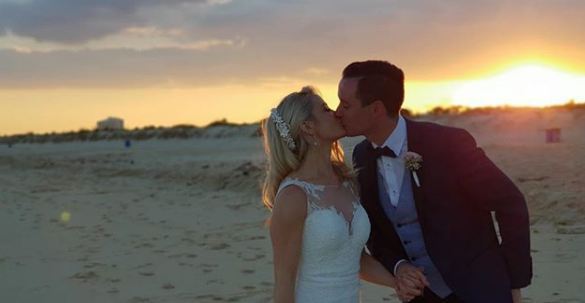 Holly Hamilton kisses her husband, Connor Philips alongside their married status on 5 June 2018 (Photo: Holly Hamilton's Instagram)
As of now, Holly and Connor are living a happy married life. Holly keeps posting pictures of her and her husband on Instagram which radiates the amount of love they share for each other.
Holly and her husband not only support each other but respects each other decision. The couple has thrown their support behind integrated education in Northern Ireland, saying people should celebrate different cultures instead of isolating them.
Holly and her husband are from the same field understand each other, and with the flow of time, their love for each other has gotten stronger.
Holly Hamilton Age & Height
Born on 10 December 1986, Holly Hamilton was raised in Northern Ireland alongside her family. Holly was hard working from a very young age, carrying a clear aim to pursue her career in the field of journalism. 
Holly's passion for journalism led her to attend the University of Dundee and graduate with a Bachelor's degree. She soon graduated with a Master's Degree in Political Science and Government from Dundee.
While she was attending the University of Dundee, Holly was also the Deputy President of the Dundee Student's Union Association, where she led the student government and worked for the betterment of the student's experience there.
You May Also Like: Is Brooke Weisbrod Married? Husband, Lesbian, Age, Height, more
During an interview with belfasttelegraph.co.uk, Holly opened up behind choosing a specialist subject. She got inspired to chose the subject because of her mother obsession over Belfast-born football legend George Best. She also mentioned that she was terrified of walking to the famous black chair used on the BBC show. 
Luckily, Holly's mother got a chance to interview George twice in her career. She even took a photo with him, which she has still preserved safely. 
Even though Holly never got a chance to see George play in his prime and meet but viewed the grainy videos. 
Holly Hamilton, age 32, stands at an average height and can speak fluent French. She also enjoys hockey and is a devoted fan of one of the professional provincial rugby team, Ulster Rugby.