If you regularly view Discovery Channel, you must have watched the reality program, The Last Alaskans, a series which shows the lives of people living in Arctic National Wildlife Refuge.
Among those people existing on last American frontier are Heimo Korth and his wife Edna, who are the only residents of the Arctic National Wildlife Refuge. For the last three decades, the Korths family has lived out their unique way of life undreamed by most of us in the Alaskan wilderness.
Heimo Korth Married, Wife
Many strong people tried to carve a living in the Alaskan bush, but only a few of them had succeeded as Heimo Korth.
Originally from Wisconsin, Heimo left his blue-collar life as a welder in Wisconsin and traveled to Arctic wilderness to live a life of a mountain man in his twenties. As of now, Heimo lives with his wife and his two daughters, 400 miles from civilization.
Similar: Otto Kilcher Age 66 Wiki: Children & Wife Details Now | Family, Net Worth
While gushing about his family, he met his wife Edna, who was a Yupik Eskimo, in St. Lawrence Island. After some time, Heimo and Edna fell for each other and eventually got married three decades before.
Heimo's wife Edna is as much as adventurous as him and is seen boating and killing fishes in the gorges to sustain thier life. Edna is a very strong lady and loves to live wildlife, trying to kill grizzly bears and live in the igloos. They undoubtedly make an extraordinary pair!
he pair was blessed with their first baby daughter named Coleen Ann Korth on 29 May 1982. They had named their daughter after the name of Coleen River. Unfortunately, a tragic incident took her life away in 1984 at the age of two. She drowned in a river accident.
After Coleen, Edna gave birth to two other daughters named Rhonda and Krin. Their youngest daughter Krin is a firefighter and married a Marine named Scott. 
Krin already has two children with her husband, but in December 2018, she revealed that she was expecting another child in the family. Heimo and his family are very glad to welcome their new grandchild into the adventurous family!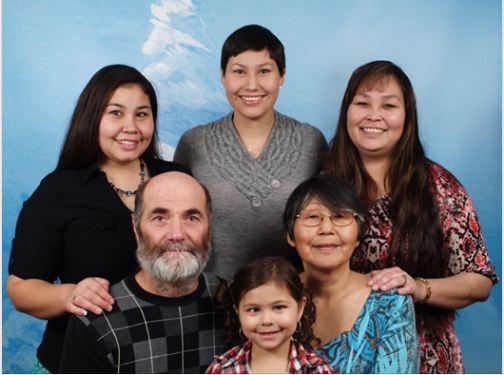 Heimo Korth shares the pictures of his wife, daughters, and granddaughter on 30 October 2012 (Photo: The Heimo Korth Fan Club's Facebook)
Before Heimo, Edna was previously married to a mysterious man, with whom she has a daughter named Melinda. Melinda got married to her husband Don and welcomed three kids. 
As of now, Heimo and Edna relish their life living in the wilderness facing life challenges together as a family.
Heimo Korth' Bio, Net Worth
He is an American outdoorsman, who lives a nomadic life in Alaska, where Libby Casey spent years working on a remote Alaskan potato farm. There is not much information about Heimo's birth date and childhood lifestyle.
Heimos' lifestyle came to public attention when he also got featured by James Campbell in his 2004 book, The Final Frontiersman: Heimo Korth and His Family, Alone in Alaska's Arctic Wilderness. He was also featured among others on PBS' Braving Alaska in 1992.
Later, in 2009, Heimo was featured in a documentary dubbed 'Surviving Alone in Alaska' by VBS TV.
You May Also Like: Weston Koury Age, Height, Tour, Family, Dating
Finally, Heimo, his wife Edna and their family, alongside four other families, starred on the Discovery series The Last Alaskans, which premiered in 2015. Heimo has earned widespread popularity from the show, and all these documentaries ought to have received him quite a whopping sum of money.
Heimo has been doing great work, which takes a lot of effort and courage. Many of the travelers and explorers lose their life due to harsh Arctic conditions, but Heimo, even though he has to risk his time on many points during his living, has been able to encourage many people around the world. People genuinely love his show and give him immense love and support.
 Though the exact detail of his net worth has not been revealed yet, the average salary of the Discovery Channel is estimated to be $82K.