The fast-growing world of internet has changed the lifestyle of many young people. Among them, comedic social media personality, Weston Koury has impressed the audiences with his humorous posts on Instagram and YouTube.
The young artist enjoys over one million followers on his social networks. Weston became famous at this young age which compels his followers and well-wishers to find out more about the social media celebrity and have a glance at his bio. 
Weston Koury's Personal Bio: Family, Career
Koury was born in 2002, in Jamestown, North Carolina, United States. He celebrates his birthday on 7 January. Weston has a slim body with the average height of 5'7". Koury grew up with his sister Kalynn in North Carolina. He got massive support from his parents to pursue his career as an internet star.
Don't Miss: Elizabeth Falkner Married, Partner, Girlfriend, Gay, Bio, Restaurant
Weston Instagrammed a picture of his mother and wished her happy birthday recently on 14 May 2018.
Well, Weston is not as young as we think as his jokes are quite hard to understand. He posted a picture stating he graduated on 15 June 2018 on Instagram. But speculating at the picture, it can be said that it was Weston's sister Kalynn Koury, who graduated and not him.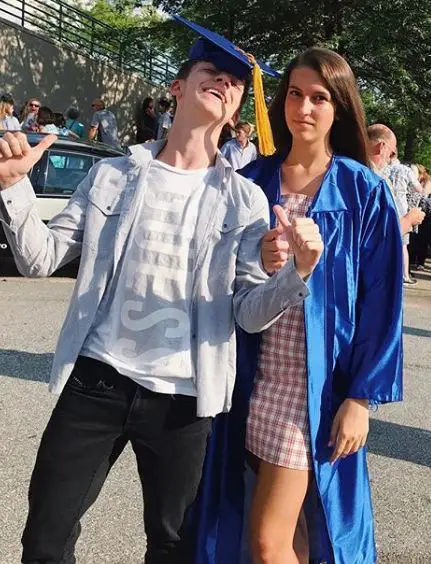 Weston Koury poses with his sister on her graduation on 15 June 2018 (Photo: Weston Koury's Instagram)
 Speculating at Wetson's Instagram, it is apparent that he shares a special bond with his sister Kalynn. Likewise, on 11 August 2018, he posted a video of dancing with Kalynn in a humorous way.
 You Might Like: Emily Lynne Berthold Wiki, Age, Sister, Parents, Boyfriend, Instagram
Koury was born a music lover. At the age of 8, Koury showed interest in playing drums. He mastered playing drums and other musical instruments and at the same time learned to sing. After much jam-up, Koury started a social media channel and uploaded his musical performances. 
Weston received a pleasing response from the teenagers who went through the performances in his YouNow channel. Koury slowly involved his siblings and parents in his Vlogs and gained much popularity over the internet. However, some part of his fans criticized the increasing amount of his family's appearances in the videos.
After enjoying massive success on YouNow, Koury initiated his channels on YouTube and vine, and gradually attracted ample amount of followers. By the end of 2016, Weston gained imposing popularity with over one million fans on his social networks; Twitter, Instagram, and YouTube. 
The sensational broadcaster mixes his music videos with attractive animation designs which catch the eye of the global viewers. His innovative skill also awes the young audience. 
Related: Owen Bodnar Wiki, Age, Birthday, Parents, Siblings, School, Height
Since beginning his social media career from 2015, Koury has achieved tremendous success at this young age. His monthly YouTube earnings ranges from $232 to $3.7k which resembles his yearly income to be in between $2.8k- $44.6k. 
Weston Koury's Breakup
It is hard to believe that the young social media star has been dumped at this early age. Back in the summer of 2016, Weston started chatting with his fan, Erin Marie Lakis. After enjoying the online chat for a certain period, the online-couple started dating and hanging out.
However, Koury's relationship with his girlfriend was a short-term fling. After dating for a couple of months, Weston confessed on his Twitter status about the breakup with Erin.
He said that he broke up with his girlfriend while he was in 5th grade on Twitter on 14 June 2017. Weston was watching a Minecraft video while he spilled with his girlfriend. He also added he has no regrets for his actions.
See Also: Ottavia Busia Married, Divorce, Daughter, Husband, Bio, Age
Well, he sometimes jokes about having a wife. For instance On 29 August 2018, Weston tweeted jokingly about his wife stating he would only wed his bed. As of now, the multi-talented broadcaster is single and not looking for any serious relationships.