Independence teaches us to be strong and find a way on our own. 
Well, a person, who has proved the statement right is American television star Gus Smyrnios. Gus is famously known to be the cast member in the MTV reality series Floribama Shore. He also has a massive fanbase on his  Instagram account.
But before establishing himself as a celebrity, Gus struggled alone to be successful. He was homeless at the age of seventeen and was forced to fend himself.
Gus Smyrnios's Bio: Journey From Being Alone To Star 
Born in 1995 in Tallahassee, Gus celebrates his birthday every 20th March and lives at the age of 23. 
The Florida native was raised by a blue-collar family; his dad was a state trooper and painted houses. Gus grew up painting with his father. Not only that, but he also laid floors, did roofing, and worked on a farm for about three years.
Don't Miss: Tracee Ellis Ross Wiki, Married, Husband or Boyfriend and Net Worth
However, at the age of 17, Gus was homeless. He had to couch surf at friends' houses and stay away from his family that included his sisters and brother. 
Initially, Gus never wanted to get into modeling or acting. However, when he was at the age of 19, he used to talk with a girl, who was into modeling. One day,  Gus went with the girl in her set, and her agent got impressed by his looks. He immediately signed Gus to his agency.
After that, Gus signed with around eight different agencies in Florida within two weeks. Then, a major book publishing company landed in his profile, and his career kicked off from there.
As a model, Gus featured on the cover of several romance novels and modeled for several commercial brands.
He also became a book cover model for 'Luc' by Jennifer L. Armentrout; the book probably will be released in 2018. Apart from this, he featured in several books, and also for Armani fragrance.
Gus debuted as an actor from the 2017 MTV series Floribama Shore. After appearing on the series, he started getting massive recognition in the media.
Being a model and TV personality, Gus must have pocketed a healthy amount of money from his profession. However, his salary and net worth are still confined to the media.
Read Also: Laura Clery Age, Husband, Children, Net Worth, Birthday, Wedding, Family
Gus Smyrnios Flaunts Love For Siblings 
Gus timely shares pictures of his siblings and family on his social media accounts. He tries his best to save some time from his hectic schedule and spend it with his family. 
On 2 July 2018, Gus Instagrammed a picture with his siblings, a brother named Seth and a sister named Leah. Via the caption, he shared that he was in Florida with the most welcoming people, and cited to miss his other sibling, Hannah.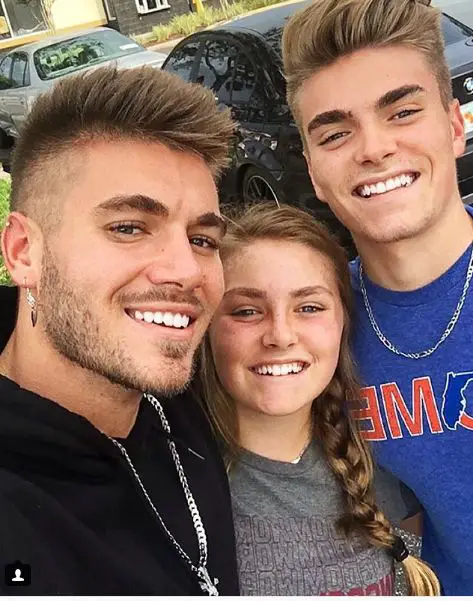 Gus Smyrnios( right) spends quality time with his sister Leah and brother Seth in Florida on 2 July 2018 (Photo: Gus Smyrnios's Instagram)
Gus also reflected brother's love for his younger ones via the caption. He wrote that he is working hard to make a way to help his siblings get whatever they want. He also added that he doesn't want them to end up like him at the age of 17. 
Looking at posts, it is clear that Gus is a man with love for his family. He is undoubetedly a success story and is working hard for the sake of his loved ones. 
You May Also Like: Mavournee Hazel Wiki, Age, Height, Boyfriend, Dating, Parents, Ethnicity
Dating or Single?
A graduate from the Tallahassee Community College, Gus probably has a lot of girls going crazy over his dashing looks and height.
However, no one seems to have impressed the star to date as his dating status appears to be vacant. He has not been spotted or linked with any women that can be given his girlfriend tag. 
He has also not shed any hints on his dating affair via his social media posts. So, it looks like Gus is probably single. 
Nevertheless, in Season 1 of American reality series, Floribama Shore in 2017, Gus tried to date one of his roommates, Nilsa Prowant. He even asked her out on a date, but, Nilsa denied his offer. 
She was interested in her other roommate, Jeremiah. Nilsa even slapped Gus in his face for coming close to her. After that, Gus got over Nilsa and had since moved on, hooking up with other girls.
However, in Season 2 that is running in 2018, things have gone unexpectedly. Gus and Nilsa are both single again, and it appears as Nilsa is trying to hook up with Gus as she kissed Gus surprisingly in a cab.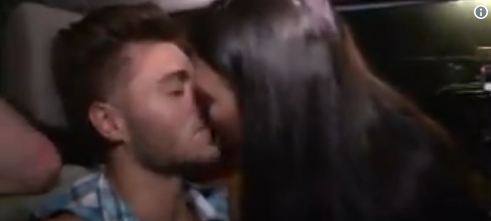 Gus and Nilsa shares a kiss sitting in the limousine in Season 2 of Floribama Shore in July 2018 (Photo: romper.com)
When it comes to Gus and Nilsa's social media pages, there have been no hints that the two are in a relationship. It might be because they want to keep their affair under the wraps or not to spoil the season's plotline.
Well, it seems that the only way to know about their dating status is to wait for some time and see what the new episodes welcome. 
Gus Smyrnios's Tattoos, Body Statistics
Standing at the height of 5 feet 11 inches tall, Gus has a pair of attractive blue eyes and brown hair. His skin color is fair.
Besides this, the handsome hunk loves tattoos and currently has three tattoos on his body altogether.
On his left chest, he has a tattoo of his last name 'Smyrnios' carved in Greek letters as 'Σμψρνιοσ.' He has a black and red-inked version of a cool design on his right arm and an arrow tattoo on his back. 
See Also: Lisa Berry Engaged-To-Get-Married! Age, Birthday, Family & Height Details