Gurvir Dhindsa is a news anchor at CBS46 Morning News. She is also renowned for her work in the Good Day Atlanta at Fox 5, where she worked as a co-anchor for five years. She left her job at Fox 5 in April 2016 and replaced Bobby Kaple in the CBS46 Morning News. She had indicated that she would not be on CBS46 permanently, but in the past two years, she started liking the energy and momentum there. She now hosts the morning news with her co-star Amanda Davis, along with meteorologist Jennifer Valdez and traffic reporter Julie Smith.
As a co-anchor in CBS46 Morning news, Gurvir Dhindsa enjoys a salary of $80K per year.
Gurvir Dhindsa Husband, Wedding
Gurvir is in a romantic relationship with Tom Sater, now a meteorologist at CNN International in Atlanta. However, their love story wasn't as easy as it seems right now.
Back when Gurvir was working as a co-anchor in Good Day Atlanta alongside co-anchor Holly Morris, she met Tom Sater for the first time. Tom Sater was then married to none other than Gurvir's colleague Holly Morris. Morris recently revealed that Tom was cheating on her with Gurvir even though they were married. Because of this affair, Holly and Tom eventually divorced.
Also Read: Here's CBS46 Tracye Hutchins Age, Family, Wedding, Daughter Info
After Tom's divorce, Gurvir and Tom openly started dating and then got married. Gurvir still worked at Good Day Atlanta until 2016, even after getting married to her fellow anchor's ex-husband. She did not allow her personal life to affect her professional life, which could be the reason for her success.
When Gurvir was working at WUSA, she and her husband Tom battled a commuter marriage. She lived in Bethesda for her job, and her husband lived in Mississippi. Gurvir took the authority of two of her five dogs, and Tom took care of the rest. Given that the couple was able to combat all the relationship problems without any news of divorce, they must be very much in love.
After her wedding to the Emmy award winner meteorologist Tom Sater, the couple rejoiced the birth of twins in June 2008.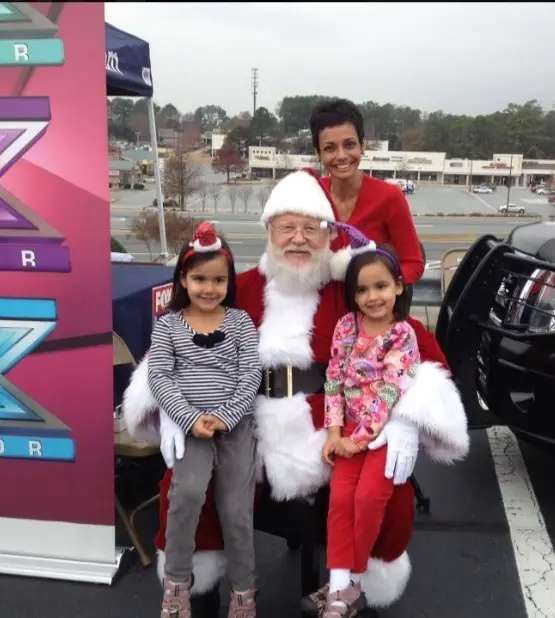 Gurvir Dhindsa and her twins enjoy time at The Great Toy Drop on 8 December 2012 (Photo: Fox 5 Atlanta's Facebook)
Gurvir often posts pictures with her husband and twin daughters on social media, which shows that she is now living a serene married life. Apart from her husband and children, she also talks about her in-laws which clearly indicates that she is living a blissful married life.
Bio, Weight Loss & Height
Gurvir Dhindsa celebrates her birthday on 26 October according to her bio. Born in 1961, she is 57 years of age. Originally from Asia, she is an avid admirer of country music, antiques, and quarter horses. She was born in Chandigarh, Punjab, but immigrated to the United States with her parents when she was seven years of age. Gurvir was raised alongside her two sisters in Portland, Oregon. She considers herself to be very close to her family members and calls her mom atleast three times a day.
You May Like: Sharon Reed Bio, age, married, daughter, salary
Since Dhindsa hasn't been back to her birthplace since she was twelve, her English is free from any regional or national accent. She stands at an average height of 5 feet 2 inches (1.58 meters) and likes to maintain a healthy body. She went through a weight loss in 2001 when she weighed about 105lbs. Now, she flaunts her perfect body confidently.
When it comes to education, Gurvir studied Broadcast Journalism at Middle Tennessee State University in Murfreesboro.
Encouraged by her father, who was an English teacher, she loves to read books and collect antiques. Besides, she is also a dog lover and has about five dogs. Optimistic Gurvir believes in hard work and determination.