Forrest Galante is a wildlife biologist and a passionate conservationist, better known for his stint as a television host in the Animal Planet's show, Extinct or Alive. In the show, he sets out looking for animals long-believed to be extinct.
Applying his unique skill set, he searches for evidence that the animals declared extinct may still be out there. He embarked on the journey ever since he and his photographer came up with the docuseries idea in 2018.
Forrest Galante's Wiki: Early Life
Forrest Galante was born on 31st of March 1988 in California, the United States. Within the first few months, he moved to Harare, Zimbabwe.
He was raised in a farm that cultivated luxury alstroemeria flowers, numerous fruits and was home to a multitude of cattle and wild African animals.
Get To Know Similar Television Personality: Charlie Frattini Bio, Age, Married, Wife, Net Worth
Fascinated by wildlife, his favorite pastimes included catching snakes, fishing in the dam, and raising guinea pigs.
Forrest knew for sure that he would eventually pursue a career with wildlife. Therefore, by the time he was 14, he became the youngest person ever to lead an international canoe safari down the Zambezi River.
Family Background, Grandfather
In Forrest Galante's family, his mother is one of Africa's first female safari guides and bush pilots. Likewise, his grandfather, Gerald Summerfield, who Forrest describes as a major source of inspiration, was a fantastic adventurer and an Englishman—he got settled in southern Africa, at a time when Africa was still unexplored. Gerald was involved in proving that the coelacanth, a fish long believed to have been extinct, was not lost, after all.
Back in 2001, the Galante family, who ran a safari business, went through a tough time, when unfortunate political turmoil in Zimbabwe caused their farm to be seized. They were forcibly evicted from their home in the middle of the night with only a suitcase each and a couple of hundred dollars.
They returned to California to a small town of Cayucos, again relocating to Santa Barbara.
Married To Wife?
Extinct or Alive's host Forrest Galante is married to Jessica Evans.
He and Jessica tied the knot in June 2015 over a five-day party on Stocking Island in the Bahamas, surrounded by stingrays and sharks.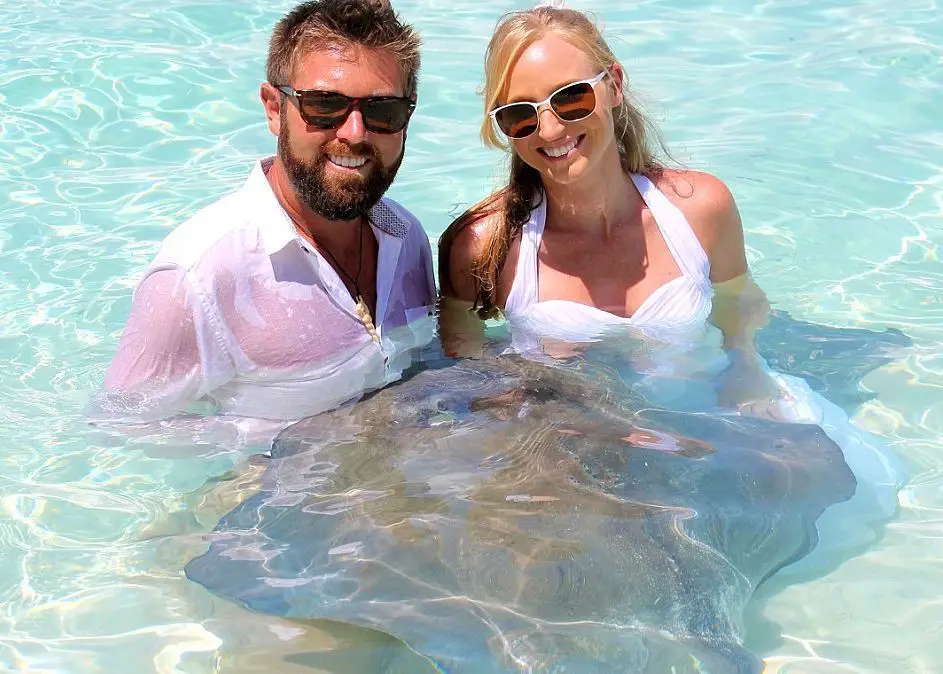 Forrest Galante and his wife, Jessica Evans go for swimming in their wedding outfits in June 2015 (Photo: dailymail.co.uk)
One of the reasons they chose the island for their big day was because it was the first place that the couple ever traveled together. 
More Of 'Naked and Afraid' Survivalist: Laura Zerra [Naked and Afraid] Bio, Age, Tattoos & Relationship Info
Jessica, a science teacher, happens to be Forrest's high school sweetheart. Together, the pair currently resides in Santa Barbara in California.
More Facts On Forrest Galante's Career
Earlier, in 2013, he made his television debut on the Discovery Channel's Naked and Afraid, where he competed in the show's 21-day survival challenge scoring one of the highest "Primitive Survival Ratings" in the show's history.

He first caught the public's eye, when still a young boy, featured in news stories as the patron of the Junior Herpetological Society in Zimbabwe.