Famous as a journalist, columnist, and editor of The Washington Post, Eugene Robinson has dedicated himself to the field of journalism since 1976. 
The 65-year-old editor initiated his career as a journalist in 1976 at the San Francisco Chronicle.
After working for four years, Eugene joined The Washington Post in 1980. With his hard work and dedication, Eugene uplifted his ranks gaining the name of the first city hall reporter at the paper.
Then from the year 1980, he served as an assistant city editor and as a South American correspondent till 1987. Later, Eugene moved to London and worked as a correspondent from the year 1988 to 1992. He worked as a foreign editor, and an assistant managing editor until 1994.
Eugene also authored the book "Coal to Cream: A Black Man's Journey Beyond Color to an Affirmation of Race" in 1999 and "Last Dance" in 2004.
Don't Miss: Henry DiCarlo Wiki, Age, Birthday, Wife, Family, KTLA, Salary, Height
On 29 April 2019, Eugene wrote an article for The Washington Post criticizing president Trump for using the religious and racial sentiments to gain followers. Eugene picked the recent Lori Gilbert Kaye murder case to blame Trump for his newly applied policies as well as his support for Israel.
Eugene also criticized him for his new immigration policy, especially the demonizing of the Latino immigrants, that led to the high number of murders. Eugene, further in his article claimed that Trump has been making things worst instead of trying to calm anxieties and bring people together, which is the actual job of a leader.
Eugene Robinson's Bio
Eugene was born on 12 March 1954 to parents Harold and Louisa Robinson in Orangeburg, South Carolina, USA. He went to Orangeburg High School and completed his B.A from the University of Michigan in 1974.
In addition to this, Eugene also attended Harvard University from 1987 to 1988. He was the first black student to be named as co-editor-in-chief for the award-winning newspaper, The Michigan Daily. In 2009, Eugene was awarded Pulitzer Prize for Commentary. 
The credits and awards he has got for his works make his hard work and dedication apparent. As a product of this, the man was elected as the chair of the Pulitzer Prize Board and served the board in the position of chair for a year.
With his award-winning career and three decades of experience, Eugene has amassed a handsome amount of net worth. 
Eugene Robinson's Marital Life!
Speaking of marital status, Eugene married his wife Avis Collinson on 23 September 1978. After a few years of getting married, Eugene moved along with his wife Avis to Bueno Aires, Argentina.
See Also: Tavis Smiley Married, Wife, Gay, Salary, Net Worth, Show, Age
Avis was born on 26 July 1953 and is the third child of her family. As a teenager, she was already known for her art, dance. Her paintings dealt with African American themes of family, poverty, civil rights, and black power.
Avis graduated from UMd and then moved to San Francisco after, which she got her masters degree from Golden Gate University in Washington in the early 1980s.
Her excellence in her academics and talent led her to become a successful CEO of Washington.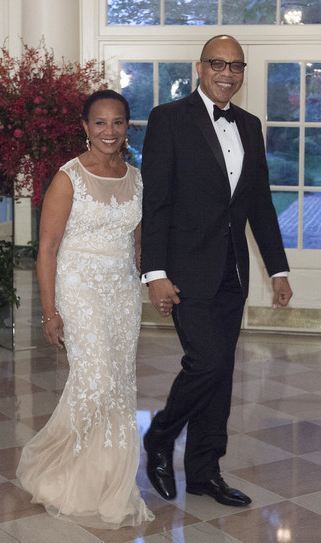 Eugene Robinson arrives at the White House with wife Avis Collons Robinson for a state dinner in honor of Chinese President on 25 September 2015 (Photo: zimbio.com)
After the marriage, Eugene and his wife Avis subsequently welcomed two kids, who they named as Aaron Eugene Esq., and Lowell Edward.
As of now, Eugene has been married to Avis for 40 years. They together reside in Arlington, Virginia. But Eugene has not shared much of his family life with his followers and has kept his marriage away from the media. 
You May Like:  Morgan Stewart Wiki, Wedding, Engagement Ring, Parents, Net Worth
Due to his low-keyness, many speculate that he is divorced from his wife. But no information regarding Eugene's divorce filings and feuds have ever surfaced out. So, it is safe to say that he is relishing his marital voyage with his one. 
Perhaps he wants to keep his loved ones away from the scorching limelight.