Award-winning American journalist Tavis Smiley is a talk show host and an author. 
After attending a fundraiser for U.S. Senator Birch Bayh, at age 13, his interest for politics developed. After that, So, he studied public affairs at the Indiana University at Bloomington. 
After graduation, Tavis worked as an aide to Bradley, the mayor of Los Angeles during 1980s. In 1991, he became a radio commentator and hosted the talk show BET Talk on Black Entertainment Television (BET), starting in 1996
From 2002 to 2004, he became the host of three shows: The Tavis Smiley Show on National Public Radio, The Tavis Smiley Show on Public Radio International, and Tavis Smiley on the Public Broadcasting Services. 
Tavis even collaborated with Cornel West, a political activist, to host their radio talk show, Smiley & West.
Besides journaling, Tavis has written numerous books including, Doing What's Right, Keeping The Faith, and What I Know For Sure. 
He now hosts a new online series called "The Upside with Tavis Smiley.''
Don't Miss: Sally-Ann Roberts Married, Husband, Children, Family, Net Worth, Bio
Tavis Smiley's Bio, Family Life
The 53-years-old Tavis was born on 13 September 1964 in Gulfport, MS to a single teenage mother, Joyce Marie Roberts. She gave birth to Tavis when she was only 18 years old.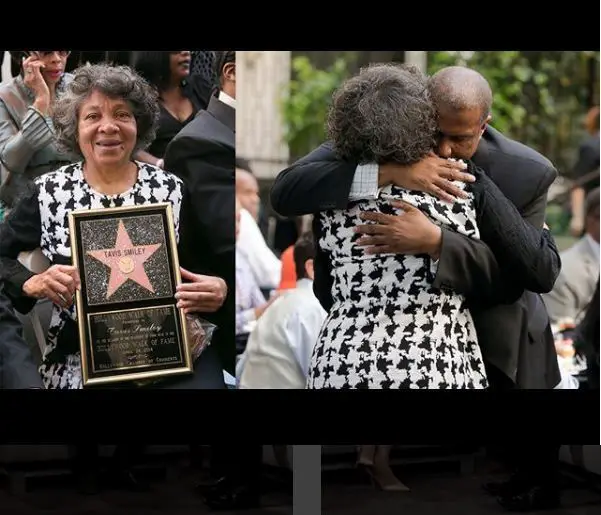 Tavis Smiley wishes mother Joyce  a Happy Mother's Day on 13 May 2018 (Photo: Tavis Smiley's Twitter)
When Tavis was two years old, Joyce married a non-commissioned officer in the United States Air Force, Emory Garnell Smiley.
Right after the marriage, Emory got transferred to Grissom Air Force Base. So, Joyce along with Tavis and her husband moved to Bunker Hill, Indiana. There, Tavis enrolled at Bunker Hill's Maconaquah High School. But, life was not easy for him at his new home as his stepfather used to abuse him physically. 
Moreover, when he was in seventh grade, Tavis was accused of being undisciplined at school. After he returned home, Emory beat him up and temporarily admitted him in foster care.
Despite all the hardships of childhood, Tavis focused on his career and moved on from his past to embrace professional bliss. 
See Also: Kirsten Powers Wiki, Married, Husband, Divorce, Boyfriend and Net Worth
How Much Is Tavis Net Worth?
Being one of the versatile personalities, Tavis has written thirty-one books about political and social issues of American society. Besides that, he also owns a private radio show and royalties that credits him with a considerable amount of salary. 
As of now, Tavis has already amassed a staggering net worth of $10 million from his career.
Tavis Married Or Single?
The talk show host Tavis, who holds an American nationality and African-American ethnicity, is very tight-lipped when talking about his relationship status out in the media.
Unlike his open career, Tavis has concealed his marital status. No such news of his wedding and having a wife has ever surfaced out in the media. Due to the absence of wife and girlfriend in his life, Tavis timely gets speculated to be gay.
You May Also Like: Marci Gonzalez Wiki, Married, Divorce, Husband, Boyfriend, Family, Bio
However, he has not uttered any word in the matter. Also, there is no any evidence to prove that speculation. Perhaps, Tavis is just focused on his career rather than datings and relationship. 
Tavis Accused Of Sexual Misconduct
On 13 December 2017, PBS indefinitely suspended Tavis Smiley as he was accused of having sexual relationships with multiple staff members. He was also charged to be responsible for the employment status of the people he had a relationship with. 
On 14 December 2017, Tavis described the PBS investigation as sloppy and biased. He even said that he would fight the allegations and the damage to his reputation.
Soon after the suspension, Tavis went on a country-wide tour to defend his innocence while also supporting the #MeToo movement and denouncing workplace harassment.
Eventually, the PBS network fired Tavis on January 2018. However, with the dissatisfaction of the network's allegation towards him, the Talk-show host Tavis sued PBS on 20 February 2018 claiming racial bias and breach of contract.