David Begnaud braved one of the strongest hurricanes to ever land on earth and was also there to report the deadliest shooting in US history at Pulse Night Club in Orlando, Florida. Those breaking news catapulted him to the level where he became known as one of the best-loved TV anchors. 
He is a CBS News correspondent in Dallas and joined CBS News in August 2015. Before that, he was based in Miami and moved to the channel's Dallas bureau in January 2017.
His first step in journalism was in his state of Louisiana working for KLFY-TV as a weekend anchor and reporter when he was still in college. He was just 18 at that time.
Before working in CBS, Begnaud worked as a Los Angeles-based correspondent for Newsbreaker at ORA TV. He also contributed regularly for Entertainment Tonight. Before that, he worked for KTLA in Los Angeles from 2010 to 2012 and for KOVR in Sacramento from 2007 to 2010.
He has appeared across many CBS News broadcasts and in different platforms like "CBS This Morning," "48 Hours," the "CBS Evening News, "CBS Sunday Morning" and CBSN, CBS News' 24/7 streaming news service.
In 2018, he also covered Hurricane Florence at Beaufort, North Carolina, where winds were gusting up to 90 MPH.
David Begnaud's Family
David's family has been the inspiration and support he needed to reach the goal that he so much aspired.
His parents, who lived in Louisiana when he was growing up, provided everything David required to become what he is today. His father, who stayed home while her mother worked, was behind the first education he received.
You May Like To Read: Kaylee Hartung Married, Husband, Boyfriend, Parents, Salary, Height
David is very close to his parents; he was very special to them, and they were very special to him.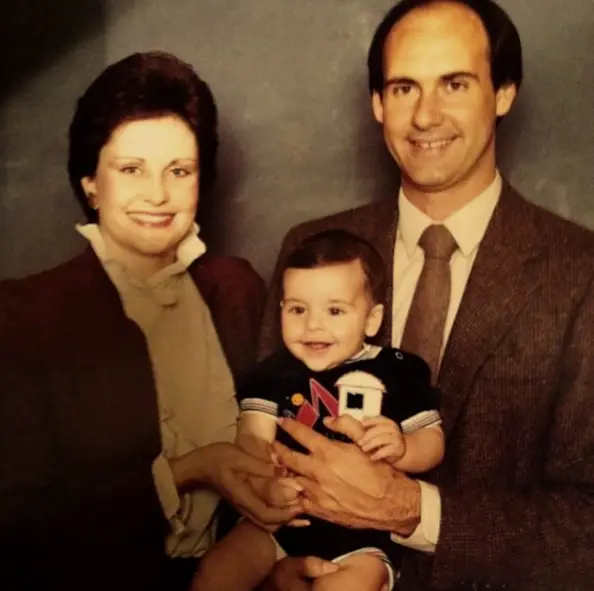 Young David Begnaud wishes Mother's Day to his mother and is grateful to his parents for the achievements. (Photo Credit: David's Instagram)
The following tweet shared by David showcases his mother's love for him. Back on 14 September 2018, David shared on Twitter a text he received from his mother as he covered Hurricane Florence. The concern her mother showed on that tweet was pretty bittersweet!
In the caption, he wrote 'I knew it was coming. A text from Mom. Goodnight'. He then included a screenshot of the text sent by his mother, 'Why are you always in the worst location? Just watched your evening piece and I "JUST DONT GET IT.'
The above tweet subtly hints that David will always be his mother's 'little boy'. Other than his own parents, he is very close to his relatives; his aunts, nieces and other members of his extended family occupy a big part of his life.
Is David Begnaud Married?
Though people like to know about his marital status, the informer remains silent on this matter.
As his marital status remains unrevealed, people assume him to be gay. However, just because one doesn't have/talk about a wife doesn't mean that he's gay.
What is known is that Begnaud has been busy with his work and contribution. Because of that, speculations regarding his married life, wife, and gay rumors keep compiling.
Short Bio of David Begnaud
David, who is around thirty years of age, celebrates his birthday on 13 June every year. He graduated from the University of Louisiana, Lafayette in 2005.
David is an established journalist who credits his parents for all his success stories. 
Begnaud has not just impressed the audience with his Journalism but with his appearance as well. He has an impressively well-maintained physique and a relatively tall height.
Also See: WSJ's Doug MacMillan Age, Wife, Married & Children - Detailed Bio!
Commanding an estimated net worth of about 5 million dollars, his salary is among the best in the industry. Without having a clear ethnicity mentioned in wiki, the family history is available to his grandparents.