Chris Burrous was an American Television personality, who co-anchored the KTLA 5 Morning News on weekends. He was also seen reporting on breaking news during the week. Previously, he had his stints on WIPX-TV, New York City, and KGET-TV, California. 
Chris not only basked the sunlight of his illustrious media career but also enjoyed every inch of his resounding romantic life. Burrous enjoyed a delightful marriage journey with his beautiful wife. Besides, he was the proud father of his beautiful daughter. 
Chris Burrous was born in 1975 and celebrates his birthday on 11 January every year. Chris grew up as the son of Central Valley farmer and a NASA engineer parents.
Chirs, who stood tall at a decent height, generated immense interest in the field of media from his young age. Fortunately, he received massive support from his motivating family to achieve the great heights professionally and personally.
Career, Net Worth: 
Soon, with the hopes of grabbing substantial recognition, Burrous initiated his journalism career in Southern California while attending Chapman University. He served as a broadcaster at KCKC-AM and KCXX-FM, the radio networks stationed in San Jose, California.
See Also: Is Julie Grauert Married & Has Husband? From Age, Family, Height, Salary - Compact Bio!
Subsequently, Chris continued his anchoring duties as a morning and evening host at KEVN-TV in Rapid City, South Dakota.
Chris`s next move was his best when he began working at KGET-TV in Bakersfield, California as morning anchor. He also anchored mornings at KGPE-TV in Fresno, California.
After reaching a tremendous feat in the world of media, Chris joined Tribune and anchored mornings at WPIX-TV in New York City. However, after a year-long association with the network as the primary male anchor on Channel 11's PIX Morning News, Chris joined KTLA, a CW-affiliated TV station, in 2010. 
He co-anchored the KTLA 5 Morning News on weekends and made his appearance reporting on the breaking news during the weekdays. He reported alongside Lynette Romero. American reporter Sam Rubin and Henry DiCarlo are also associated with the network.
During his association with KTLA, back on 24 July 2015, Chris tweeted that he struggled to avoid the surgery for what it looked like was a foot injury. 
On 29 June 2018, Chris reported from the Los Angeles International Airport listing out the total numbers of travelers, who were expected to pass through LAX for the Fourth of July holiday. The KTLA reporter listed that the 4th of July travel was set to break the record for the highest volume of passengers at the airport.
It was evident that Chris Burrous, a famous face in the media world, summoned a handsome earning for his praise-worthy journalism works. Although his actual paycheck remained far from known, Burrous' salary as a KTLA News anchor reportedly ranged between $142,863 to $142,893.
Chris Burrous Family - Wife, Daughter
Not all share the privilege of carrying the beautiful life journey with what they call a perfect soul mate. However, KTLA reporter Chris Burrous was an exception in such case. Burrous not only embarked on blissful married life but also shared the same profession with his partner in crime.
Discover: Elizabeth Espinosa Age, Birthday, Married, Husband, KTLA
Chris was married to his wife, Mai Do-Burrous. The media-couple first met while Chris was stationed at Bakersfield, California, for his stint on KGET-TV.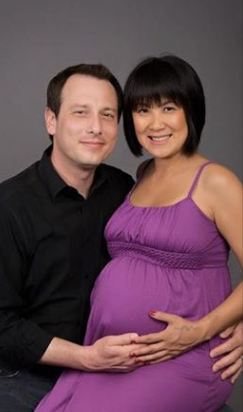 Chris Burrous and wife, Mai Do-Burrous while expecting their first baby daughter (Photo: Chris Burrous' Facebook)
After getting attracted to one another, the lovely couple had shared the wedding vows in October 2003. Enjoying the love and support for each other, Chris and his wife, carried on the beautiful marriage voyage with the love of their beautiful daughter, Isabella.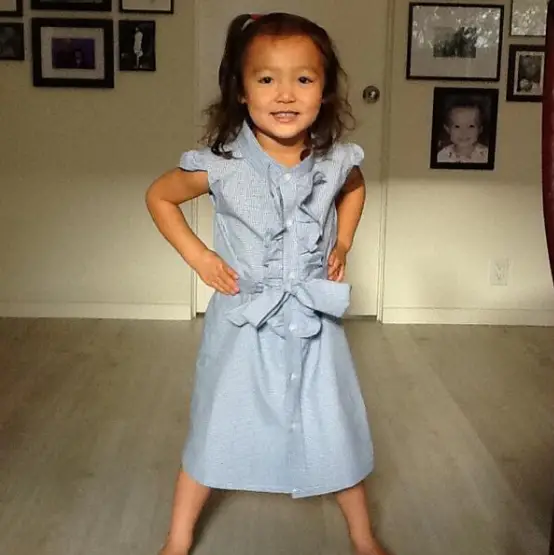 Chris Burrous' daughter Isabella poses on her newly-made dress on 26 April 2013 (Photo: Chris Burrous' Twitter)
There was a time when Chris never missed any chances of flaunting his daughter on social media accounts. One such instance was on 26 April 2013, when Chris tweeted the picture of his sweetheart daughter posing on the dress made of his old work shirt. 
The pictures, which he timely posted of his family, hinted that his married life was all filled with bliss.
Chris Burrous' 'sweatergate'
Chris Burrous drew a massive hit in May 2016 when he handed the KTLA 5 meteorologist, Liberte Chan a sweater to cover up her short dress while she was continuing her weather report.
You May Also Like: Andy Adler Married, Engaged, Husband, Age, Wiki, Bio, Instagram
At first, Chris insisted that the station had been getting regular phone calls about the dress of Liberte. However, he later confirmed that he was joking. The funny incident was later named 'sweatergate.'
Chris Burrous Dies 
On 27 December 2018, Chris passed away at the age of 43. KTLA President and General Manager, Don Corsini stated the anchor's death, quoting,
Our thoughts and prayers go out to the Burrous family. Chris loved sharing the stories of Southern California and connecting with our viewers. He will be remembered as a great journalist and a wonderful friend to many. He brought a kindness to his work and will be deeply missed by the entire KTLA family.
Chris was found unconscious at a Days Inn in Glendale. Paramedics at 450 Pioneer Drive put him inside the medical emergency room. Before taking Chris to a hospital, they attempted CPR at the scene. But then Chris was later pronounced dead, said the official.
Real Cause Behind His Death
The man, who was with Chris, had called the authorities at somewhere around 1:15 PM. As per his statement, Chris was unconscious and probably not breathing- so said the Glendale Police Sgt. Dan Suttles at the press conference.
More to it, for further investigation, Chris body was turned over to Los Angeles County Coroner's office.
As per the current findings of the investigative report, his untimely demise as been ruled as accidental. The cause behind it was found to be methamphetamine toxicity. Moreover, the report claimed that besides the Class A drug, hypertensive and atherosclerotic cardiovascular disease, also secondarily contributed to the accident.
More to it, the reports also specified that the crisis had transpired during a sexual encounter with the very man who called 911 afterward. Furthermore, it claimed that Chris met the male companion, via Grindr app, and the meeting was their fifth encounter.
For most of it, during the sexual engagement, and before going unconscious, Chris had implanted two "rocks" of crystal meth via his rectum. He then reportedly gave his partner a syringe full of GHB and a bottle of Gatorade.
Although, during the death investigations the officers were told that Chris was never into drugs or alcohol abuse as such. 
All in all, his companion was a lot of help throughout the investigation and no dirt work is doubted in his departure.