Britt McHenry, also known as Brittany May McHenry, is an American former ESPN reporter, a contributor for The Federalist and Fox News Channel. She hosts the "Like It or Not" show for WTTG Fox 5 based Washington, D.C.
Britt is also one of the famous names in the world of journalism, who often gets entangled in controversies. She was once suspended by ESPN following the surfacing of a video, where she used vulgarity and swear words for a towing garage lot attendant.
Despite all the controversies surrounding her, Britt is still adored by her fans especially those, who follow her on social networking sites.
Is Britt McHenry Married Or Single?
Back on 2 April 2015, Britt shared a picture on her Instagram account and wrote that she would marry the one, who shares an inordinate love of cheap Chili's queso.
Well, it seems like the reporter has finally found that type of person as she is finally off the market.
Britt is reportedly dating American professional tennis player Tennys Sandgren. The couple's affair first went public via the Instagram account of Britt in June 2018.
See Also: Amy Sweezey: Married Life With Husband, Age, Height, Salary And Family Details
On 4 June 2018, Britt Instagrammed a picture with Tennys. Via the caption, she wrote that cheering for her love was easy even though the French Open refused to sell beer.
Britts picture taken in front of the Eiffel Tower reflected that she was in the city of love, Paris to cheer her boyfriend.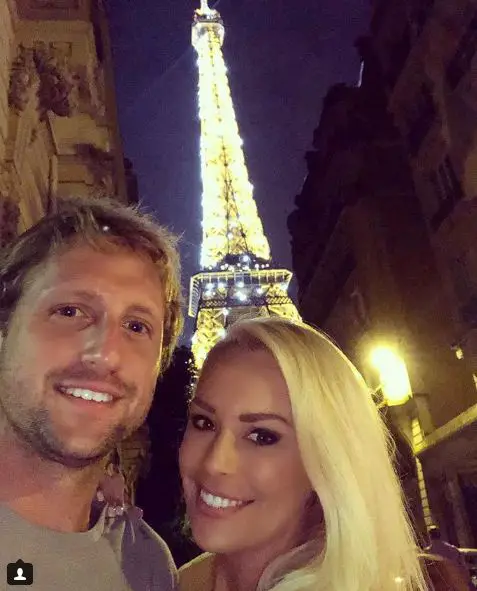 Britt McHenry poses with boyfriend Tennys Sandgren in front of Eiffel Tower on 4 June 2018 (Photo: Britt McHenry's Instagram)
Moreover, on 4 July 2018, Britt Instagrammed a picture of her celebrating the fourth of July with her partner at the world's largest Scottish whiskey collection, The Scotch Whisky Experience. 
Though Britt openly shares pictures with Tennys, her boyfriend Tennys is yet to post their together clicked pictures on his social media. Perhaps, he prefers keeping his personal life away from the media. 
Nevertheless, the pictures Britt uploads hints that the pair is rejoicing their togetherness. It would be pleasuring to watch the two getting married and quoting each other as husband and life. 
Unfortunately, it looks like the duo has broken off their relationship. From her Instagram account pictures with him has been taken down and even in Tennys account she is nowhere to be seen.
However, in 2019 Valentine's Day, she posted a picture with a guy named James Dillard wishing his Valentine's Day. On the same day, she posted a picture with her dog Foxy, whom she adopted six years ago. 
Even though she has not revealed the reason behind her break up with Tennys, she seems like she has moved on from him. 
Know More: Katie Osborne Wiki, Age, Husband, Parents
Moreover, she is yet to be seen in James Instagram as he has not posted a single picture with her. Both of their fans might be waiting for their official announcement of the relationship. 
Britt's Verbal Abuse Controversy
Back on 16 April 2015, LiveLeak posted a video of Britt, where she was spotted abusing a tow lot employee, Joey Dillon verbally with swear words.
In the clip, Britt made fun of the employee's appearance, his job, and level of education. After the incident, Britt was criticized by many audiences. Her then job provider, ESPN also suspended her for one week from the network due to her harsh words. 
Later on, Britt realized her mistake and apologized for her actions via her Twitter account. She stated that she allowed her emotions to get the better of her by saying some insulting things and said that she was sorry for her reactions.
Afterward, the towing company also released a statement stating that they did not wish to see the reporter terminated or suspended because of her comments.
However, she deleted the tweets, but the comments were screen captured by other users. Due to the racial remark, she was laid off by ESP in 2017, and upon her exit, she claimed that her conservative views were stifled. 
Britt McHenry's Bio: Career, Family
Britt was born on 28 May 1986 in Mount Holly Township, New Jersey, United States and is of 32 years of age. She is the daughter of an Air Force Lt. Colonel.
Other than that, there is no much information about her parents and family.
Britt, who stands at the height of 5 feet 10 inches tall, graduated from Satellite High School, Florida in the year 2004 and then attended Stetson University. At both places, she was a part of soccer teams.
After graduating with magna cum laude from Stetson, she went to Medill School of Journalism at Northwestern University and began covering stories in Chicago.
Britt started her career working for as a sports reporter and fill-in anchor at WJLA-TV where Jamie Gangel worked as an assignment editor. She also worked as ABC Television's Washington affiliate, and its sister station NewsChannel 8 while Kris Van Cleave served as an anchor and reporter.
After working as a dugout reporter for only two weeks at Fox Sports San Diego, she returned to ABC 7 where Maggie Rulli worked as a news reporter.
In 2014, she also left ABC7 to join ESPN as a Washington, D.C.-based bureau reporter alongside Sarah Barshop. There she worked as a correspondent for various shows including SportsCenter, NFL Live, Outside the Lines, and Baseball Tonight. The average salary of the ESPN reporter is $85,000 annually.
However, on 27 April 2017, Britt announced on Twitter that she was being let go by ESPN, with the NFL Draft being her last assignment. Since then, she has been serving the Fox News Channel.
Being a reporter and conservative commentator, Britt has undoubetedly accumulated a hefty amount of income from her career. However, her salary and net worth remain confined to the media.