Amy Sweezey is an experienced meteorologist for Wesh -2 in Florida. She presents herself on WESH 2 News Sunrise on CW18 from 7:00 a.m. to 9:00 a.m and WESH 2 News Sunrise from 4:30 to 7:00 a.m. She joined the WESH 2's First Alert Weather team in August 2002.
Prior to that, she also forecasted snowstorms and severe weather at WWMT-TV in Kalamazoo, Michigan, for more than seven years. Likewise, she also worked at WSJV-TV in South Bend, Ind. and Chicago, Ill.
For her impeccable work as a meteorologist, Amy was honored with the Broadcaster of the Year award by the National Weather Association in 2018.
Birthday: How Old Is Amy Sweezey?
Amy Sweezey was born on 4 November 1971 in the United States of America—as of February 2020; she is 48 years old.
Height / Weight
Amy Sweezey stands at a height of 5 feet 2 inches (1.57 meters) and weighs about 45 kg (100 pounds). 
Family & Education
Michigan native Amy Sweezey has her parents and a sister in her family. 
She achieved her graduation in Magna Cum Laude from the Loyola University of Chicago. After that, she also completed her graduation in meteorological studies at Mississippi State University. Hence, she holds the National Weather Association (NWA) Seal of Approval and the prestigious Certified Broadcast Meteorologist designation awarded by the American Meteorological Society (AMS).
Married Details, Husband
Amy Sweezey is married to her lovely husband, John, who had served for US Navy. The pair tied knots on 14th February 1998. 
Related: Who Is Nabela Noor Husband? Their Relationship Details
She and her husband John, together, are parents of three children: two daughters and a son. As of February 2020, their first/eldest daughter, whose name is Hurricane Jeanne studies in grade 9; their second child, a son, studies in grade 7; and the third/youngest child, a daughter, studies in 5th grade.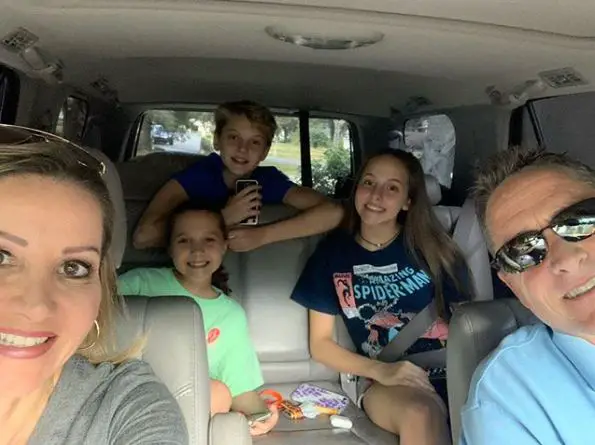 Amy Sweezey with her husband, John, and three children on 17 January 2020 (Photo: Amy Sweezey's Instagram)
Now, Amy, along with her husband and three children, resides in Seminole County, Orlando, Florida. 
Amy Sweezey Is An Author Too
Besides being a well-known meteorologist, Amy Sweezey is also an author. She published her first children's book titled It Never, Ever Snows In Florida, narrating the story of Florida native AJ who has never seen snow.
Recommended: Jasmin Walia Bio: Age, Dating Status, Family & Religion Info
Similarly, her second publish was a non-fictional book, Let's Talk Weather, TV Forecasting: Behind the Scenes, that explained the science behind the forecast and the tools she uses for predicting weather changes.