Nabela Noor is a famous Bangladeshi-American social media personality who earned fame with her versatile content on fashion, food, and lifestyle on her YouTube channel. 
The social media influencer is married to Seth Martin, and the glimpse of the couple's sweet moments together can be seen on their social media posts.   
Who Is Nabela Noor's Husband?
Noor is happily married to Seth Martin, the co-founder of  Love and Noor, and tied the knot in August 2015. Seth Martin is a native of Pennsylvania, the United States—born on 23 September 1991. 
Noor, while talking to Paper, mentioned,
One time I went on a date with a super quiet, shy guy. He picked me up and we barely spoke the entire car ride. We barely spoke during dinner. Finally I asked, "Can you just take me home?" Turns out, he was just so nervous and didn't want to say the wrong thing. I ended up marrying him. Now we talk all night until we fall asleep.
Both Noor and Seth frequently post about each other on social media and tag one another with the sweetest heartwarming captions. No wonder the lovebirds are so deeply in love and value each other tremendously.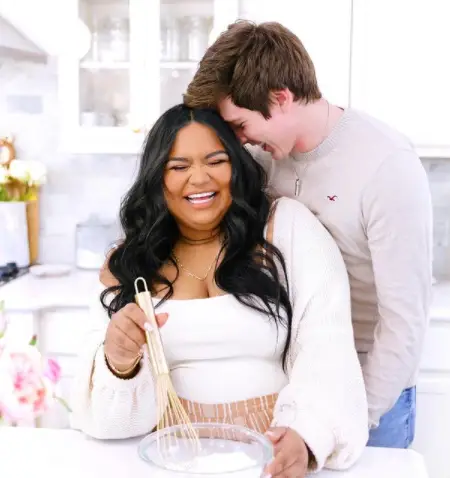 Nabela Noor and her husband, Seth Martin. ( Source: Instagram)
A Short Bio and Net Worth
Nabela Noor was born on 4 August 1991 in New York, United States. Later, she moved from her birthplace, New York, to Maryland, and then moved to Pennsylvania, where she spent most of her childhood. She also graduated from high school at the early age of sixteen.
Nabela Noor's family originally belonged to Bangladesh. They immigrated to the United States when Nabela was still in her mother's belly—her mother was five months pregnant. Hence, the famous YouTuber was born in the United States and held an American nationality. 
She is blessed with five siblings altogether. She has two elder brothers and an elder sister—they were born in Bangladesh. And, she has two younger sisters, Maira and Neharika, who were born after her family shifted to the United States. 
Noor launched her YouTube channel in 2013, where she regularly uploads lifestyle content and has accumulated 988 thousand subscribers, whereas her Instagram handle has a total follower of 1.7 million. 
The social media sensation Noor is assumed to have amassed a net worth of around 5 million dollars. In comparison, her husband Seth has accumulated an estimated net worth of 1-5 million dollars, according to the respective sources.
Interesting Facts About Nabela Noor
Nabela Noor is the founder of lifestyle and fashion brand Zeba. The brand focuses on challenging typical sizing systems for clothing by bringing a wide size range for 'Plus Size' women.
She is not hesitant of her weight, and flaunted her bikini body for the first time on Instagram on 14 August 2019. 
She has accumulated over 1.7 million followers on her Instagram handle. 
Her husband, Seth Martin, also has a decent social media following; he has amassed over 115 thousand followers on his Instagram handle.
On May 27, 2020, Noor was tested positive for COVID-19, which she posted on her Instagram account.