A legendary figure in the world of journalism known as one of the top political commentators and reporter is none other than Brit Hume. Brit Hume worked as an active journalist and presenter for 23 longs years with ABC news. You can learn more about his wiki, salary, shows, religion, son below. 
Brit Hume Wiki, Age
Brit Hume was born on 22 June 1943. He was raised in Washington D.C., the United States of America by his parents George Graham Hume and Virginia Powell Hume. Now of age 75, Brit attended the St. Albans School for his early education. After the completion of his high school education, Brit attended the University of Virginia in Charlottesville, Virginia. He graduated from the University in 1965 with a Bachelor of Arts degree in English. 
See Also: Hari Sreenivasan Married, Wedding, Wife, Personal Life, Family
Brit hasn't had a facelift and is a naturally handsome man who stands tall at a height of 6 feet 4 inches. He is devoted to the Christian religion. 
Married, Wife
Taking an in-depth look into his personal life, he is a happily married man. However, he has been married and divorced too. He was married to his first wife, Clare Jacobs Stoner. Brit and Clare ended up welcoming their children Sandy and Virginia into the world shortly after marriage. Sadly, their relationship did not last long as they started having some severe conflict of interest which led them to end their marriage into divorce. Brit didn't give up on love and ended up finding the woman he wanted to settle down with. He met Kim Schiller and ended up falling for Kim who was a considerable journalist too as she was Fox News vice president and also a former Washington Bureau Chief. The couple got married in 1993 on the Big Island of Hawaii.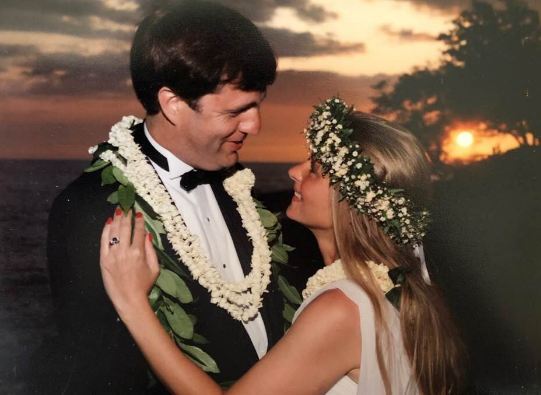 Brit Hume posts a picture of his wedding with Kim Schiller on their wedding anniversary on 1 June 2018 (Photo: Brit Hume's Twitter)
Don't Miss: Washington Post's David Fahrenthold Bio: Wife, Family, Salary.???????
Years later, Brit's and Clare's son Sandy who was a reporter ended up committing suicide in 1988. This broke the family's heart and they were shattered. But they all have collected themselves and move on by now. 
Brit Hume Net Worth
Brit started his career by working for The Hartford Times. After working at this huge newspaper company, he moved on to another paper company called United Press International. He also used to work for the Baltimore Evening Sun. Later on, he worked for a syndicated columnist named as Jack Anderson.
Brit joined ABC News in 1973 as a consultant. After a few years, he moved on to become a correspondent where he covered the U.S House of Representative., U.S. Senate, for 11 long years. His documentary called Close-Up won him his first Academy Award nomination. Brit ended up leaving ABC news for FOX news in 1996 where he started working as FOX's Washington managing editor. He started the special report of the Lewinsky scandal around 1998 which gained him a lot of fame. Brit has won many awards for his excellence in journalism and reporting. In the year 1991, he won the mighty Emmy Award for his impressive coverage work of the Gulf War. This award gave him a lot of courage to thrive more with his career. Brit also won the American Journalism Review Best in the Business award for his fantastic White House Coverage twice. 
Brit's successful career earns him an annual salary of $20 million. He has also garnered a whopping net worth of $4 million.