Though his ancestors are from Indian roots, Hari Sreenivasan is a known American broadcast journalist, who is currently working as an anchor, senior correspondent, and director of the digital partnership of PBS News Hour Weekend. While talking about the most successful people in the broadcast industry, Hari Sreenivasan is the one that definitely strikes everyone's mind.
So, how did Hari Sreenivasan make a career in an American industry when he is originally from Indian heritage? 
Hari Sreenivasan Married, Wedding
Similarly, talking about his personal life, his relationship status is married. He was tied in wedding vows with a music supervisor, Sucheta Sachdev. 
You May Also Like: Prim Siripipat Married, Husband, Boyfriend, Dating, Wiki, Bio
Sucheta Sachdev, like her husband Hari Sreenivasan, is of Indian origin. He and his wife have a son together, so it can be said that Hari has a small family of three!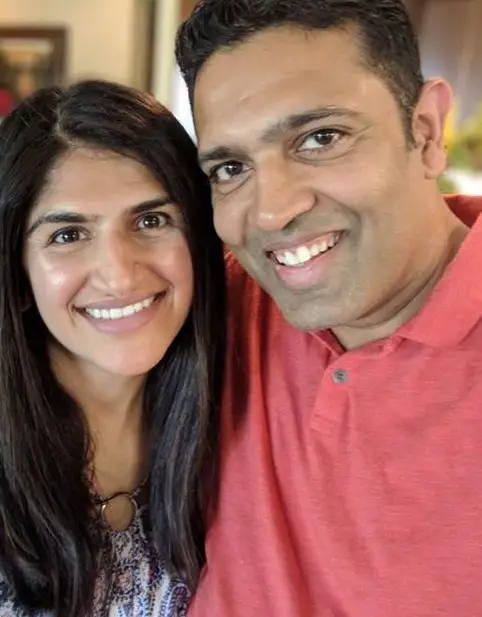 Hari Sreenivasan spends quality time with his wife Sucheta Sachdev on 15 March 2018 (Photo: Sucheta Sachdev's Facebook)
Because Hari Sreenivasan is very secretive, he does not reveal much information about his personal life. His wife sometimes posts pictures with him, so it can be assumed that the couple is living a blissful married life and raising their son with the same values that they were raised with. 
Hari Sreenivasan Bio and Career
He was born in 1974 in Mumbai, India in a Tamil Brahmin family. He is an immigrant who shifted to the United States at the age of seven. After that, he got enrolled at Nathan Hale High School in Seattle, Washington. Then for his higher education, he earned his degree in mass communication in 1995 with minors in politics and philosophy from Puget Sound. While he was in the college acquiring his degree, he interned for several television news stations in Washington State. It was in September 2008 that Sreenivasan became an American citizen.
Talking about his professional life, he was hired full-time in 1995 by NBC affiliate WNCN- TV in Raleigh, North Carolina. Then he moved to San Francisco, California to work for CNET where he covered the high-tech sector. Then in 2004, Sreenivasan worked as a correspondent for ABC News in New York City. He also became co-anchor, with Taina Hernandez, of World News Now, and co-hosted with Jake Tapper, The Behind the Scene podcast ABC News Shuffle. Also at the beginning of 2009, he worked as a correspondent for CBS New's Dallas bureau.
Worth The Read: Narmeen Choudhury Bio, Married, Ethnicity
Late in 2009, he became an online correspondent delivering the television broadcast's news summary and end-of-the-hour recap for the News Hour With Jim Lehrer. He also led the show's blog. Then in 2013, he became the anchor for the PBS News Hour Weekend at Lincoln Center in Manhattan. He used to regularly replace the late Gwen Ifill and stand-in for Judy Woodruff when she would be on assignment.
Moreover, he along with Miss America 2014 Nina Davuluri hosted the talk given by the Prime Minister of India, Narendra Modi on September 28, 2014, at Madison Square Garden in Midtown Manhattan in front of about 18000 audiences. This was Modi's first visit to America as he was rejected the visa in 2005.
He has been enjoying a successful career which rewards him a handsome salary of about $50K. Hari has definitely amassed a hefty fortune for himself.