Bill Weir is a prominent American television journalist, reporter. Bill is an anchor for CNN who has won the News & Documentary Emmy Award for Outstanding Live Coverage of a Current News Story.
With a total salary of about $69k and a net worth of around $3 million, Bill has been able to make his mark on the news and media industry.
Bill Weir Married To Wife
One who speculates Bill as gay, couldn't have guessed it more wrong. He is an absolutely straight guy who has had more than one wedding in his life. He traded I'Dos with Kelly Dowd after a failed marriage with Jacki with whom the relationship lasted for almost a decade. It's said that the couple ended up parting ways due to several personal reasons.
Don't Miss: Harry Enten Bio, Age, Girlfriend, Parents
However, Bill has a daughter named Olivia with his ex-wife, Jacki whom he cherishes the most. Congratulations to his daughter Olivia who recently secured a spot in the summer drama program at NYU.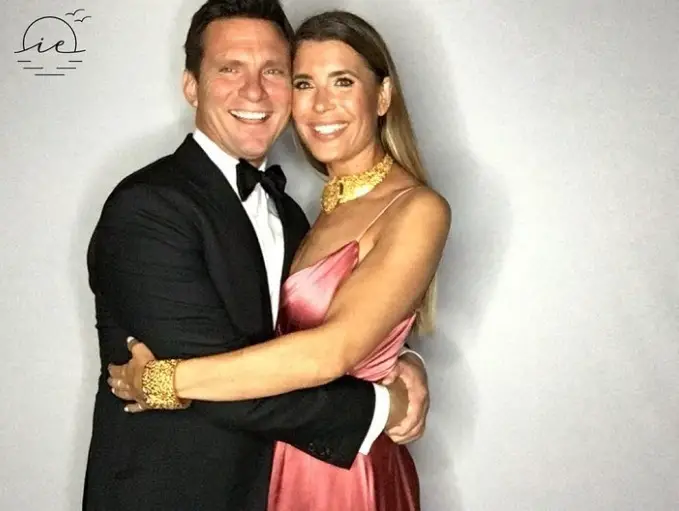 Photo: Bill Weir and Kelly Dowd attend a friend's wedding on The Breakers Palm Beach on 8 October 2018 (Photo: Kelly Dowd's Instagram)
Bill and Kelly are in a happy place with their son River who just turned 1 on April 08, 2021. The proud father couldn't resist but share adorable pictures of his little boy on his social media. As his son was born during the Covid pandemic, Bill cared enough to write River a letter which is featured on CNN edition. The letter speaks of the deep and dark realities of the contemporary world. He started the letter with, 
"Against all odds you were conceived in a lighthouse, born during a pandemic and will taste just enough of Life as We Knew It to resent us when it's gone.
I'm sorry.
I'm sorry we broke your sea and your sky and shortened the wings of the nightingale."
The family of three lives in New York City, happily.
Bill Weir Short Bio
Bill was born on December 19, 1967, in Milwaukee, Wisconsin as William Francis Weir. He holds a degree in journalism and creative writing from Pepperdine University located in Malibu, California.
Bill Weir Career
Bill's career in television journalism began in 1991. At that time he took the job as a general assignment reporter and weekend sportscaster at KAAL in Austin, Minnesota. Then he was seen as the sports anchor at WLUK in Green Bay, Wisconsin.
Bill took his next step as the anchor for the WGN Morning News from 1995 to 1998 then moved to KABC-TV in Los Angeles where he worked as a sports anchor from 1998-200. Here, he hosted a very popular program called "Monday Night Live." In between the year 2000 to 2004, Bill tried his hands on three television pilots for the USA and FX Networks.
Worth The Read: Audrina Bigos Bio, Age, Husband, Salary
The year 2004 was a big break for his career as Bill joined ABC News where he covered much-breaking news and global trends on the economic rise of India and China via the program called "Good Morning America."
The World News also provided air time for his reports from places like Africa, the Middle East, and the South Pacific. Bill even went to Afghanistan in 2010 and also covered Hurricane Katrina.
Moreover, in 2007, he covered the Earth Day Special from underwater from the Great Barrier Reef which was made live. Similarly, Bill has earned fame as the first American to broadcast live from Tibet.
Then on October 12, 2013, he joined CNN, the top American news channel, as an anchor and Chief Innovation Correspondent.