Arwa Damon is a Syrian-American journalist currently serving as a senior international correspondent in CNN's Istanbul bureau. As one of CNN's Middle East authorities, the major part of her job involves reporting from conflict zones from all over the Middle East and North Africa region.
Oftentimes, she is seen centering her work on humanitarian stories, and lately, she is also more focused on the fierce fighting amongst militant Islamist group ISIS and the Iraqi national army and other related paramilitary groups.
In addition, Arwa is president and co-founder of International Network for Aid, Relief, and Assistance (INARA), a non-profit organization providing life-altering medical care for children from conflict areas. She launched the program in 2015 based on her personal experience while based in war zones and war-ripped nations.
Career In CNN
Arwa started her career at CNN, working at its Baghdad bureau from 2003 until 2010. She then based at the Beirut bureau for a while before moving to Istanbul.
Over the years, she has been honored many times for excellently guiding her viewers through the complexities of several ongoing wars.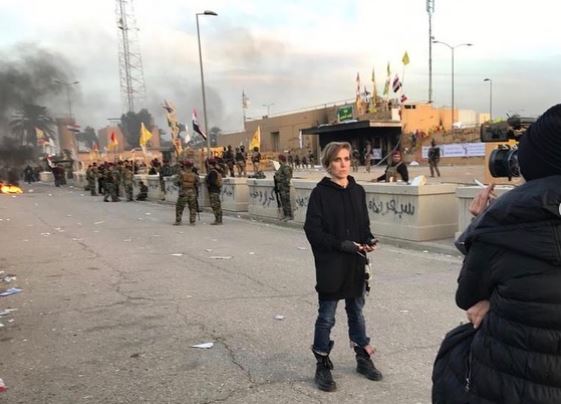 Arwa Damon reports on the protests made by mostly the members/supporters of the Popular Mobilization Forces outside the US embassy in Baghdad on 1 January 2020 (Photo: Arwa Damon's Instagram)
For instance, the time when she won the George Foster Peabody Award for her reporting on the "fall of ISIS in Iraq and Syria" and three Emmys for her coverage in Iraq and Syria including Outstanding News Special for "Return to Mosul." 
Arwa Damon's Wiki: From Age To Parents Details
Arwa was born on the 19th of September 1977 in Boston, Massachusetts, to an American father, George H Damon, Jr, and a Syrian mother, Joumana Barazi-Damon.
Also, Get To Know (CNN Correspondent Based In Jerusalem): Sara Sidner Married, Husband, Partner, Boyfriend, Salary
The family of four, including Arwa's little sister, Mawadda, moved to Morocco when Arwa was only six.
Again, three years later, the family relocated to Istanbul after the man of the house landed a job of running the middle school at Robert College.
Growing up in a bilingual household- her parents speaking both English and Arabic, Arwa, too, soon became fluent in Arabic.
Arwa's maternal grandfather, Muhsin al-Barazi, the former Syrian prime minister, was assassinated in a military coup in 1949. This being the fact, Joumana fears for her daughter's nature of work, especially those associated with Syria, she said:
Syria took my father, I don't want Syria to take my daughter.
But then, she also does not stop feeling proud of her daughter's accomplishments.
Married Or Dating Boyfriend?
Arwa said of not having time to date during an interview with Vogue magazine's Heidi Mitchell on the 19th of November 2012.
More Of CNN Correspondent Born In The 1970s: Jeff Zeleny Married, Wife, Partner, Gay, Boyfriend, Salary
Further, she admitted to missing out on the regular life events of a woman her age. She mentioned how she could not attend some of her close friend's weddings, how she was yet to furnish her apartment and ride her long ago bought and abandoned new black Vespa.
However, that was the last time she confessed to her dating status.