Amy Hockert is a prominent name to watch out for in the world of journalism. She currently serves as an anchor and special projects reporter at KMSP-TV, Fox 9. It was during January 2015 that she decided on joining the local TV news, based in Minneapolis, Minnesota. She fell right into her designated job, having so many people in the Fox 9, giving her a vote of confidence. Nearly five years and she still aces in her reporting and covering for the network.
Previously, she worked for BringMeTheNews dually, as chief content officer and journalist at different periods. As the content officer, she oversaw everything editorial related to BringMeTheNews.com, BMTN's radio network, and social media.
For all she has done so far, her career must have paid her with far more than a satisfactory salary and incentives. In the end, every long-haul and sleepless nights just becomes worthwhile.
Amy Hockert's Bio(Age)
Amy was born to her parents in Minnesota. She is a few of the luckiest who not just grew up in her hometown, but also further pursued her professional career in the same place. She is grateful that she was never compelled to leave her family and beloved ones as per some career obligations.
Keep Reading: Chikage Windler Bio, Parents, Nationality, Married
There is no doubt, Amy shares an amiable bonding with her family. Time and again, she spills little bits and pieces about her family members in social media.
The lady of the Hockerts-household, and Amy's mother, by the time she was 18, she came into the States from Korea, with just the clothes on her back. Taught herself English, watching daytime soaps, and all in all, sacrificed a great deal for the sake of her family.
And Amy, including her twin sister, Jamy and her little brother, Daniel sure are grateful for their matriarch's hardships.
Moving towards her education, Amy, who is yet to reveal the numbers to her age, attended Minnesota State University in Moorhead, henceforth, earning Bachelor of Science in Mass Communication.
Who is Amy's Husband?
Amy is married to some Chris' guy, whose last name she does not want to bring out in public, and who stands to a way taller height than her.
Amy celebrated her thirteen years of togetherness with her dapper husband on 16 July 2019. "Two peas in a pod for thirteen years," she captioned the picture of them. From the marriage, they have two adorable kids, a daughter named Elise, as their firstborn and a little boy, Christian who looks a carbon-copy of his father. Meanwhile, Amy's girl got it all from her momma.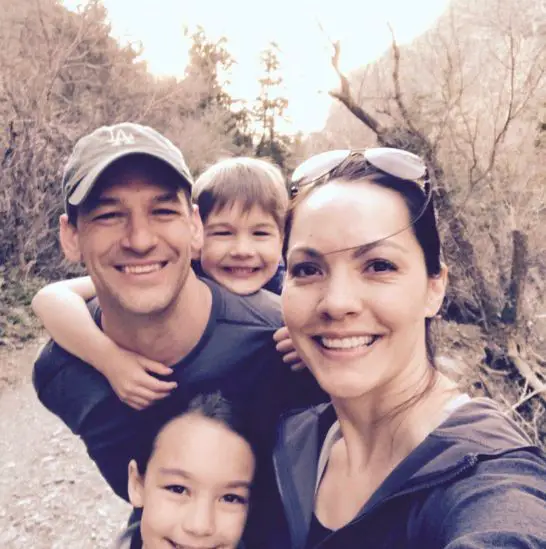 Amy Hockert, her husband, Chris, and children as they hike up to someplace high on 14 May 2017 (Photo: Amy Hockert's Twitter)
Their four-year-old, who is super-excited about blowing candles to his birthday every year on the 22nd of October, earned the black belt in karate mutually with his more a buddy and less a parent, dad.
Also from Fox 9: Shayne Wells Bio, Age, Husband, Family
It is obvious that the family is grateful to have one another in their life. More to the beautiful family is their two very spoiled dogs, Bennett and Henry.