Despite being brought up in the male-dominant society, Amna Nawaz was lucky to have supportive parents. Her father was a Pakistani Journalist, who traveled to various places to cover various news. Apart from that, he also anchored the national English-language news programme.
As for her mother, she was a housewife, raised by a male-dominant family. However, She chose a different fate for her children: she with her husband gave full freedom to Amna and her sisters to live free and choose their career.
Amna Nawaz's Family - Husband
She has proven to be one heck of a challenger. Despite having a Muslim background and a family, she underwent every barrier to make her love life successful. She did something that most of the Muslim women can't even dream of. 
For You: Haleigh Mullens Wiki, Age, Net Worth, Nick Mullens, Facts
Well, Amna married an American man, a man different from her nationality and different from her religion. She tied the wedding knots with Paul Werdel. Her husband used to earn an average salary of $83K as a product director at the New York Times. Since then, she has taken her wedding vows very positively and has become an excellent wife and a mother too.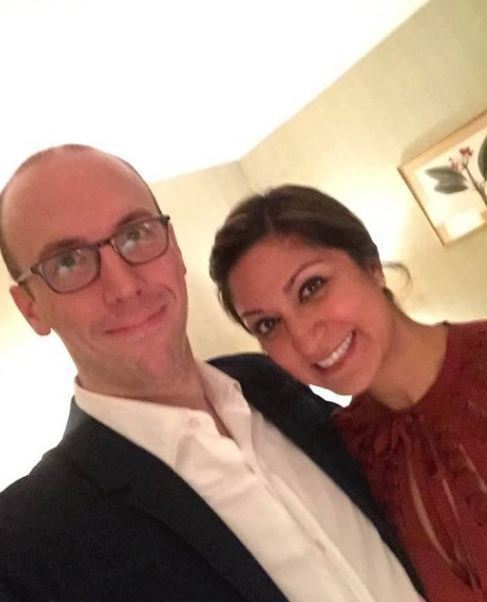 Amna Nawaz with her husband, Paul Werdel (Photo: Amna Nawaz's Facebook)
Yes, You heard it right! Amna is a mother of two daughters. She and her husband have raised their kids to be good, kind, and brave to choose their own career. Interestingly, they have passed both religions, Islam and Christianity to their children. Though Amna doesn't cover her head or pray five times a day, she still follows her religion wholeheartedly and keeps fasting during the holy Ramadan.
After being a parent she felt such a joy and full of adventure. From a small age, she wants her daughter to know the value of empathy and kindness. She and her husband share an abundant love for their daughter. 
Her Career, NBC
From a young age, Amna was enthusiastic about writing and had dreams to be a lawyer. After completing her college, she got a one-year internship at ABC News. She was planning on joining law school after the completion of her one-year fellowship. But, faith has something else prepared for her.
While she was working at ABC News, the devastating 9/11 event took place. The attack made her question her faith, from the society she came from, and about who she was. She found comfort while searching those answers and addressing them to others. So, instead of joining Law school, she decided to pursue her career in Journalism.
After the internship in ABC News, she worked on documentaries of NBC. She dedicated 11 years of her life to NBC but, moved back to ABC News to work as an anchor and host. Currently, at the age of 39, Amna is working for PBC as a national correspondent and substitute anchor. As an anchor, she earns an average salary of $61,000 per year.
Indeed, Amna has amassed a lot of success to date. But, being born as Muslim women were the biggest challenge she had to face. She faced many obstacles while pursuing her dream. She had to visit different places to cover the news, but many times she used to be the only women present in her workshop.
In 2013 she was the first foreign journalist who was allowed inside North Waziristan, a volatile region bordering Pakistan and Afganistan. While she went to North Waziristan she was pregnant and even her husband supported her to do her work knowing she was pregnant. While doing her duty in such a dangerous place she learned how isolated and underserved these communities were. 
Apart from that, she had to go through dominant comments for being a Muslim, and an Asian woman. But, with the time being she ignored the comments and made herself sturdy and comfortable with her work. She polished her skills and moved on.
Amna's Biography (Nationality)
American Broadcast Journalist, Amna Nawaz was born on 18 September 1979, in Pakistan. So, she holds Pakistani nationality. Speaking about her parents they encouraged her from the young age to forfeit her storytelling interest. As her father was a former journalist who used to edit her work and also her father completed one of her story with crayon illustrations. During those time both of her parents used to volunteer their time organizing and giving back to their community in some way. Her parents taught her to be happy with what you have and with that in mind she grew up. 
Nawaz has earned a Bachelor's degree in Politics, Philosophy, and Economics from the University of Pennsylvania and has received a master's degree in Comparative Politics from the London School of Economics.