American journalist Cecilia Vega serves as a senior White House correspondent for ABC News. Since joining the network in 2011, Vega has built herself up as one of the successful media personalities.  
Cecilia not only enjoys her prominent professional career but also lives a resounding off-screen life. Vega's off-screen relationship carries her professional success to the next level. Here, we will put a light on Vega's confined bio.
Cecilia Vega's Blissful Married Life
The charismatic media personnel Cecilia Vega is happily married to California Highway Patrol officer, Ricardo Jimenez. Jimenez was honored in 2015 for successfully rescuing the depressed man from the edge of the Bay Bridge.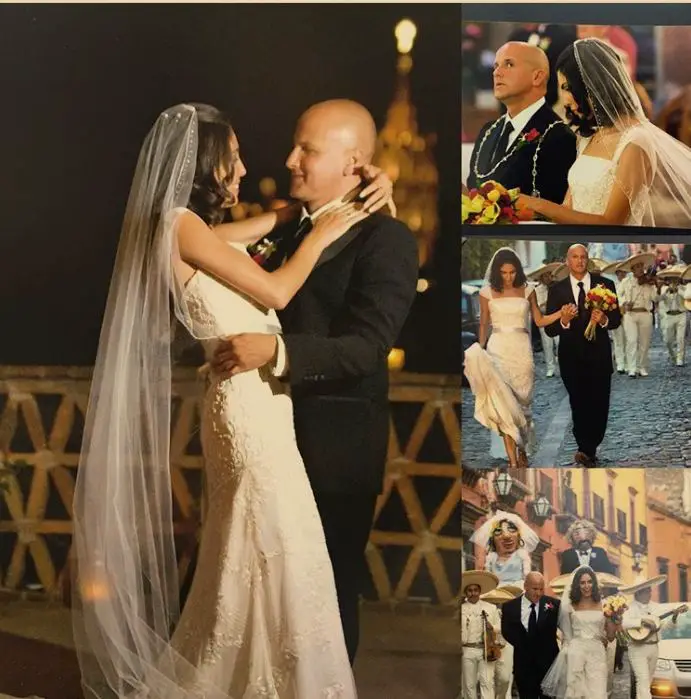 Cecilia Vega enjoys nine-year anniversary with her husband, Ricardo Jimenez (Photo: Cecilia Vega's Instagram)
Back in August 2017, Cecilia Instagrammed her wedding picture with Ricardo and thanked him for the best nine years of her life. Her post clarified the couple tied the knots in 2008. Meanwhile, Cecilia recently posted an image on Instagram where she, with her husband, was enjoying a romantic time on the beach, on May 4.
The couple is enjoying a glorious married life, and till date, there is no any sign of them starting their own family.
Cecilia Vega's On and Off –Screen Life: Bio, Family, Career, Net Worth
The beautiful American journalist Cecilia Vega was born on January 7, 1977, in San Francisco, California. Vega looks sizzling with her dark brown hair and dark brown eyes and has a decent height of 5'4".
Vega was close with her family from the early age as she grew up with her parents in San Francisco. Cecilia posted the picture standing in between her mother and father on her Instagram back in 2015. Apart from that, Cecilia has kept her family details off the radar on the social media.
Courtesy of her immense interest in the field of media, Cecilia began her journalism career as a reporter for the San Francisco Chronicle. After gaining required experience, she moved to ABC's station KGO in San Francisco and served as a reporter for three years.
Vega's media career went on to the new height when ABC News hired her in 2011 where, Mary Bruce served as a correspondent. Initially, Cecilia worked as a correspondent based in Los Angeles. Vega successfully impressed the audiences by covering a wide range of stories across the world.
Her extraordinary analytical skills led her promotion as an anchor of ABC News' World News Tonight Saturday in 2015. After working for two years as the news presenter, Cecilia achieved another feat on her astonishing career. Since 2017, Vega is active as a senior White House correspondent.  
2010 Emmy Award-winning reporter, Cecilia Vega undoubtedly enjoys a compelling income which justifies her professional dedication just like Otis Livingston. As per some reports, the White House correspondents' average earning ranges in between $83,000 to $130,000. Cecilia's incredible salary places her among the top-earning reporters.   
Fast Facts About Cecilia Vega
Cecilia began her broadcasting career by serving for the ABC affiliated channel KGO-TV in 2007 for nearly three years. During her time, she won an Emmy Award for her exceptional reporting of the witness on School Student for their homecoming dance in 2010.
She became the correspondent for ABC News in 2012, covering the election campaign and inauguration of President Barrack Obama. She also investigated the Ebola Cases spreading in the USA.
She was given the position of news anchor for ABC New's show, World's News Tonight in 2015.
She resigned from the position after she got appointed by ABC News as the White House Correspondent.
Besides her 2010 Emmy awards, she also won the various awards from California Newspaper Publishers Association, East Bay Press Club, Hearst Corporation, and The New York Times.