Despite all the ups and downs, standing up and rising through the struggles is the greatest motivation of life! 
Victoria Arlen, who once suffered transverse myelitis and acute disseminated encephalomyelitis, won four medals- one gold and three silver in the 2012 Summer Paralympics. 
The lady, who never gave up on her dream, is also a former Paralympian swimmer and sportscaster, earning the title of ESPN's youngest hired newscasters ever in April 2015. 
People are always inspired by how Victoria overcame her conditions and proved her worth in the world. 
Journey From Wheelchair To Walking
Victoria, who stands at the height of 5 feet 7 inches (1.70 meters), possesses the brightest smile. But behind her smile, there lies a tragic journey.
At the age of 11, Victoria started feeling severe pain on her right side and suffered from the appendix.
Soon, her appendix was removed, but after two weeks of surgery, she lost a significant amount of weight, and her pain did not go away. 
Let's Know More About: Ariana Kukors Married, Family, Net Worth, 2019
Slowly, her legs began to give out along with her cognitive function and excellent motor skills. Victoria developed two rare conditions, transverse myelitis, and acute disseminated encephalomyelitis.
Due to her illness, she spent nearly four years locked inside her own body but utterly aware of her surroundings. 
But after four years, miracle knocked on her door, after which she began re-learning to speak, eat, and move. 
Victoria's journey from wheelchair to walking began when she discovered a paralysis recovery center called Project Walk.
Victoria stood at her feet after thousands of hours of intense therapy. She started walking again despite having no feeling in her legs. 
Victoria Arlen's Career At ESPN & Salary
Victoria Arlen has come a long way to stardom even after going through her illness.
Despite such a painful situation, at the age of 16, she gave a record-breaking performance at the 2012 Summer Paralympics following her selection to represent the 2012 Summer Paralympics as a member of Team USA. 
Victoria's hard work paid off, earning four medals. Sadly, in 2013, she was disqualified from competing in the Paralympics after she failed to provide significant proof that her condition was not permanent. 
However, Victoria did not give up and started traveling and making an appearance, which eventually took her to the doors of ESPN. 
Just by age 21, she became one of ESPN's youngest regular reporters, who now works as a host and a reporter. 
Victoria also competed on the 25th season of Dancing with the Stars and was partnered with professional dancer Valentin Chmerkovskiy. However, she was able to reach the semi-finals before getting eliminated. 
Today, indeed, Victoria has become an inspiration to many.
Moreover, Victoria has not only made her career strong but has also made her economic status strong with her hefty net worth. 
Married To Husband / Boyfriend?
While talking about her personal life, Victoria has not tied a knot of marital bliss to any possible husband.
Know About: Jamie Dantzscher Married, Family, Net Worth, Now
Her unmarried status does not mean she was never involved in romantic bliss. 
Around 2013, she was dating her boyfriend, Ryan Callahan, director of Hockey Operations.
While she was tied in a relationship, she never missed a chance to flaunt her relationship on social media.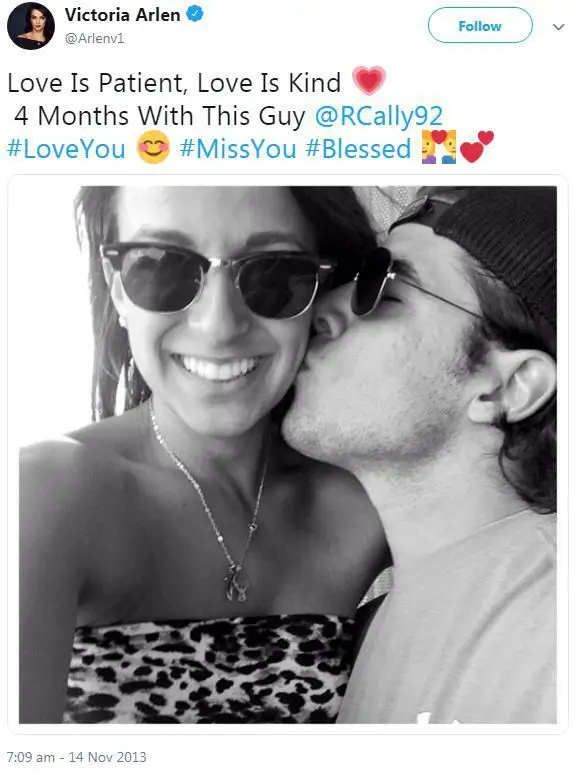 Victoria Arlen with her boyfriend, Ryan Callahan, on 14 November 2013 (Photo: Victoria Arlen's Twitter)
Sadly, due to private reasons, her relationship did not work, and 21 March 2014 became the last time she posted a picture with Ryan. 
Nevertheless, as of now, her recent relationship is hidden from the public eyes. 
Short Bio
Victoria Arlen was born on 26th September 1994 to her parents, Jacqueline and Larry Arlen, in the United States as one of the triplets.
More to her family, she has three brothers, L.J., William, and Cameron. 
Victoria is a huge family person and often posts about her family members on her social media account.
However, other than their identity and pictures, she has not revealed much about her family.