Many famous and non-famous people found the courage to speak up about the dark phase of their life after "me-too" became a massive movement.
Among them is Ariana Kukors, a former American swimmer, who won gold at the 2009 World Aquatics Championships. 
Not long ago, in the earliest 2018, Ariana came forward with the allegations that her swimming coach, Sean Hutchison, had groomed and sexually abused her as a minor.
"An extensive, abusive and incredibly manipulative relationship"- she said, describing the long-haul equation with her mentor. 
Ariana never thought that she would someday be sharing such bitter truth about her life. After the catastrophe, it was the survival that mattered. 
As for now, she hopes that her story would somehow prevent young girls and boys from experiencing the same kind of horror. 
Ariana Kukors Married To Husband
In an attempt to get past her tormented past, Ariana moved to Manhattan Beach in California. Just six months into her life in Los Angeles, and a new roommate walked into her apartment one day.
That was the beginning of a beautiful friendship, which took six months, and enough convincing from friends and family before they decided to go on a first date.
Years later, on 13th August 2017, Ariana married the love of her life, Matthew Smith, a Texan native and accountant by profession.
They exchanged their "I do's" over an elegant function at Fairmont Olympic Hotel among thier beloved ones. Not much is revealed about the dapper husband, who got a humongous cheer, as he kissed the beautiful bride, draped in the prettiest white gown.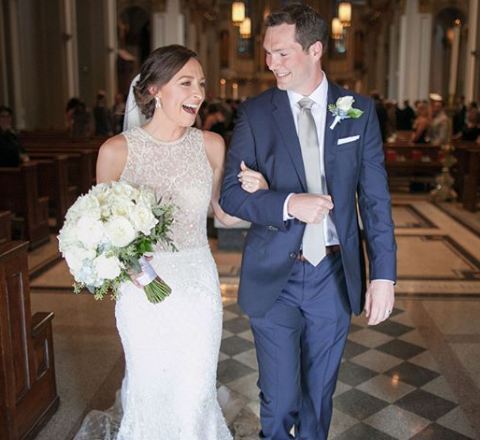 Ariana Kukors with her husband, Matthew Smith, on their wedding day on 13 August 2017 (Photo: Ariana Kukors' Instagram)
However, it is evident that they make a stunning pair, and Matthew is always the tallest one in the frame.
Moreover, both of them equally dominate their partner's social media library, never letting go of any chances to confess their feelings for one another.
About Family 
Ariana, age 30, was born as a middle child to her parents, Jaapje Kukors and Peter Kukors.
The Kukors folks must live a life of contentment, having raised not one but three athletes. 
More From Sports-world: Sonja McLaughlan Bio, Age, Husband, Family
Like Ariana, her sister, Emily Kukors swam for Auburn University, while her other sister, Mattie Kukors, swam for the University of Michigan and Arizona State University.
It appears that the look-alike siblings share an extremely amicable bonding. 
Her Net Worth
Ariana, the star athlete of her time, stands to a height of 5 feet and 6.5 inches (1.7 meters). Meanwhile, in 2012, during the time she participated in the Olympics in 2012, her weight was reported to an average of 141 lbs or 64 kg.
Throughout her active career, be it a short one, Ariana collected a total of seven medals in the major international tournaments.
As of 2019, having officially declared her retirement on 26th September 2013, she serves as the director of health inspiration for LifeWise Health Plan and writes for their online publication, Actively Northwest.
However, what the former swimmer made out of her dedications and long hauls, whatever line of work she engaged herself in, remains unheard of.
Yet, her fans and followers have this never-dying curiosity about everything related to her, especially the things like the figures to the net worth, she chooses to keep under the wraps.