American sportscaster Pam Oliver is known for her significant contribution as a sideline reporter in National Basketball Association(NBA) and National Football League (NFL).
Pam has amazed her viewers with her outstanding reporting skills and her whole heart dedication. While she was doing fine with her professional life, Pam faced some obstacles that caused severe impact on her health in 2012.
Well, she was accidentally hit by an errant football kicked by NFL player Chandler Harnish while live broadcasting. Even after the accident, Pam carried on the broadcast bravely and reflected her true professionalism.
But later on, she suffered a severe pain in her head and became sensitive to light. So, she went for a checkup and found out that she had a traumatic brain injury known as concussion. Only after resting in a dark room for five days, Pam recovered from her injury and resumed her job. 
Pam Oliver Married, Husband
When it comes to Pam's love life, she is happily married to the producer of CNN Sports, Alvin Whitney. The pair dated some years before tying wedding knots in 1990. Before Pam, Alvin was married to Vanessa Whitney with whom he welcomed three children.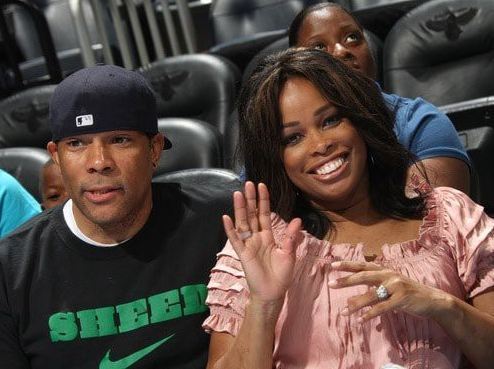 Pam Oliver shares an enjoyable moment with husband, Alvin Whitley (Photo: medium.com)
Unlike Alvin's first wife, Pam could not take the privilege to become a mother as she was infertile. Even though she had chances to undergo surgery and treatments, she preferred treasuring her three stepchildren along with her husband Alvin.
Related: ESPN's Chris Broussard Wife, Salary, Net Worth, Parents | Facts
Though Pam could not be a mom, her husband, Alvin totally supported her. As of now, she relishes her married life with Alvin and shares a beautiful bond with her three step-children.
Pam Oliver's Biography
Pam was born as Pamela Donielle Oliver on 10 March 1961 in Dallas. Texas.
As the daughter of a father, who served the United States Air Force, Pam was bound to relocate to places like Washington, Texas, Michigan in her childhood. During the traveling, Pam got interested in sports and started watching sports channel instead of other television shows. 
Being a sports enthusiast, Pam showed her excellence in the game like basketball, and tennis during her early age at Niceville High School.
Her versatility in sports enriched along with her age as Pam excelled in 400-meter and relay races while she was earning her bachelor's degree in broadcast journalism from Florida A&M University.
Net Worth- How Rich Is Pam?
Pam initiated her career as a news reporter at WLAB in Georgia in 1985. After a year, she joined the WAAY-TV in Alabama. Moving forward with her career, Pam made her notable dedication to numerous networks like WTVT, KHOU-TV.
Don't Miss: Kelly Nash Wiki, Bio, Age, Wedding, Husband, Measurements
Her career skyrocketed after she became a member of ESPN Network in 1993 and FOX Sports in 1995 as an active sideline reporter. Plus, she joined TNT Network in 2005 making her way to the top.
While serving as an NFL reporter, Pam was replaced by Erin Andrews from no.1 team. Since then, she has been serving no. 2 FOX broadcasting team from 2016. As a smart and talented sports journalist like Jamie Hersch, Pam is estimated to have a net worth of 6 million dollars.