Born to a professional tennis coach, no doubt, Chris Evert, age 64, followed her father's footsteps and sought her career accordingly.
By the time Chris was five, she was already taking tennis lessons with her father, Jimmy Evert.
She is walking and talking proof of how a good upbringing can make a positive difference in the various aspects of someone's life.
Tennis being the way of family sure helped her in the long run, for she is still celebrated the same.
She may not play tennis as actively in recent years, all the same, the retired American World No.1 tennis player is still in the business in many ways possible.
Be it as an experienced coach or as a member of the Athlete Advisory Committee for the 2019's Aurora Games, not to mention her contribution to the Tennis magazine, Chris is out there!
Chris Evert's Relationship Timeline
Like her top-notch professional life, people always have been paying attention to Chris' personal life, especially when it comes to her spouse at different times.
Keep Reading: Chanda Rubin Married, Children, Net Worth
It was during the 1970s, and notably, the year of 1974 when Chris and her then-romance-buddy, Jimmy Connors, the top men's player, won the singles titles at Wimbledon.
The pair then got engaged, and Chris was only in her nineteens by the time.
Meanwhile, the wedding was planned for the 8th of November 1974. The romance did not last, and hence the engagement was called off. 
She then got married to John Lloyd, a British tennis player 1979, and the union saw to its end in 1987. 
A year later, she yet again married someone from the industry. She found the long-sought for solace in the two-time Olympic downhill skier, Andy Mill.
From the marriage, the couple has three children, Alexander James (born on 12 October 1991), Nicholas Joseph (born on 8 June 1994), and Colton Jack (born on 14 June 1996).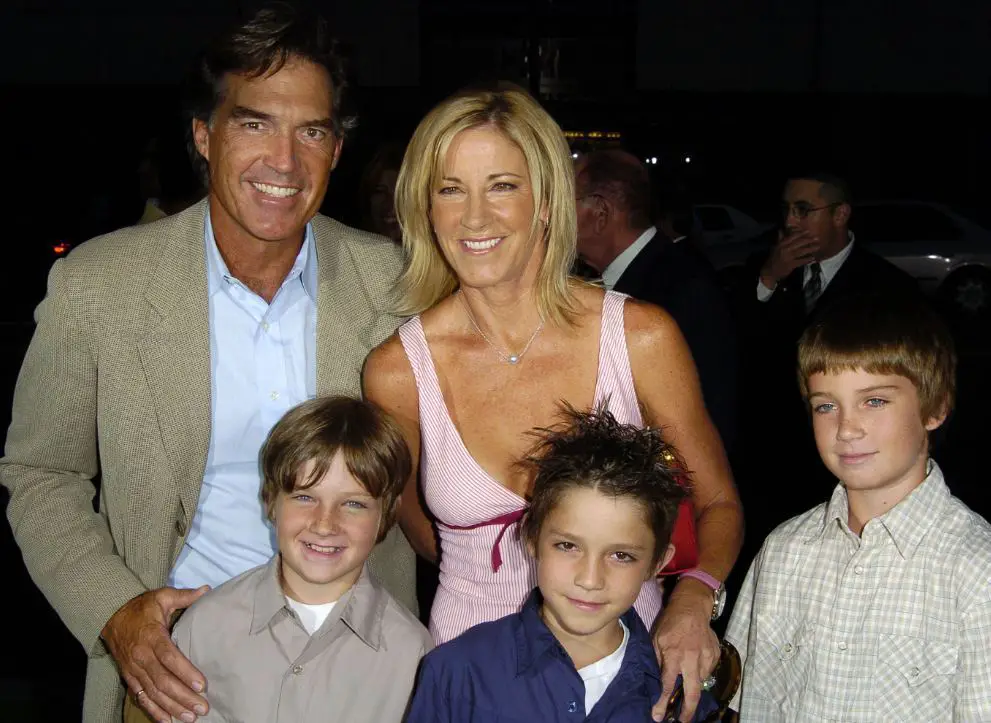 Chris Evert poses for the family picture with her husband, Andy Mill and sons, Alexander James, Nicholas Joseph, and Colton Jack in 2004, two years before their divorce (Photo: independent.ie)
This, too, was not meant to be Chris' happily ever after, for her 18 years of marriage fell apart admittedly of her being the unfaithful one.
She even partly blamed her menopause as one of the reasons for their downfall.
She then married Greg Norman, Andy's best friend, after their divorce, which even more spiced up their split for a while.
Get To Know: Zina Garrison Bio, Husband, Net Worth, Family
All the same, Chris' last marriage added up to the list of her past failed affairs only after 15 months of their "I do's."
She confessed-
We had a rough couple of years, because I married Greg Norman who was Andy's friend.

Andy and I are still a family without living together. I think that's the best way to put it.

I broke a lot of hearts. I broke Andy's heart and I broke my kids' hearts and I brought that into my next marriage.
Despite many attempts to maintaining a conventional marriage, she failed at it many times, and the perks from all of this, Chris definately got to learn lessons in life that would serve her in the coming days.
Married Now?
"Marriage is up and down,"- said Chris out of her experiences, and she sure has great many relationship advice to give to keep the spark going on - "If you sense that you are drifting apart, you've got to confront the issue then and there."
In recent times, Chris has indulged herself in getting the best out of her remaining days.
She confirmed to not dating anybody and also not seeking for one, let alone a husband.
Spending her days staying fit, eating healthy, and appreciating her success on many levels has helped her a lot in overcoming all the dramas in life she lived with up until now.