Whitney White, who also goes by Naptural85, is one of the most followed natural hair care YouTubers. Besides her expertise in hair care, her massive fanbase is also quite familiar with her love life as she frankly shares her personal life story. 
Back in 2020, she startled her entire fanbase by revealing some details about her marriage through Instagram stories. 
What Happened To Her Marriage?
Whoever follows White on her social platforms is undoubtedly familiar with her husband Filipe as he often appeared on her videos. 
But, the decade-long marriage of White and Filipe has come to an end. Revealing the news of their separation, White took to her Instagram story in May 2020 to inform her followers about her situation with her ex-husband. 
However, the 'gram stories have been long deleted, but a YouTube channel named Natural Nyota uploaded a video consisting of all her deleted stories. 
Caption- Naptural85's deleted stories about her cheating husband 
According to White's announcement, the divorce process had been going on since October 2019. Explaining the reason behind the divorce, the YouTuber said that Filipe cheated on her with one of her admiring YouTube subscribers. 
Although she shared the main reason for their split, she refrained from going into further details and wrote, 
"Because I still Have to co-parent, and I don't want to make my life more complicated. Also, I don't need a trail of this online for my kids when they grow up."
Sharing her journey through recovery from the traumatic experience, she further wrote, 
"I booked therapists, tried starting conversations, literally begged to talk, and none of it helped. I loved, and will always to an extent love, him. But I had to finally know my worth."
Despite dealing with the unfortunate event, she wrote that she was moving on in life and trying to heal. Finally, she ended her 'gram story saying that she would be back soon with new vlogs with her kids and thanked her well-wishers for their support during the difficult time. 
More on - Did Emmymadeinjapan Get A Divorce? What Are All The Rumors About?
White and Filipe's Love Story
In a YouTube video titled 'DRAW MY LIFE,' she walks her viewers through her life story and how she met her high school sweetheart, Filipe. 
Caption- White tells the story of how she met her husband 
She first met Filipe in an art class while she was a sophomore at school. As she described, Filipe would always try to impress girls while in school. 
But she found his behaviors annoying. Little did the YouTuber know that she would end up marrying the same annoying high school boy in the future.  
On several attempts of Filipe trying to impress her, eventually, she fell for him, and the two began dating during their high school junior year. Later, they had a dramatic breakup, and the series of on-off dating continued throughout the remainder of their high school. 
However, they managed to stick by each other even later during their college years and married in 2008.  
White and Filipe's Kids 
From the decade-long marriage, the couple has two kids, a son, and a daughter. The firstborn name is Olivia, while their second child's name is Theodore.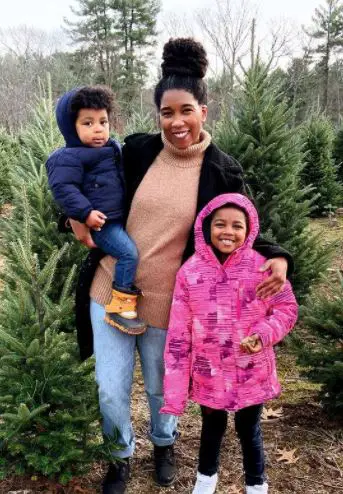 Whitney White, with her son and daughter, out in search of a perfect Christmas tree (Source: Instagram)
Personal life of - What Is Donut Operator's Relationship Status? Did He Break Up With His Girlfriend?
White has a separate YouTube channel where she only uploads vlogs with Filipe and kids. But since the two got divorced, there are no recent vlogs. 
Although the couple has parted ways, their kids will keep them connected in some ways as both White and Filipe are co-parenting them. 
Moreover, White took to Twitter post-divorce and let her fans know that she is doing her best to cope with the situation and becoming stronger day by day.