YouTuber Emmymade, formerly known as Emmymadeinjapan, has recently made her fans raise eyebrows about her relationship with her husband. Emmy's fans suspect she got a divorce, but what really is the case?
Did Emmymade Get A Divorce?
Despite being a famous YouTube personality with millions of subscribers, Emmy has maintained privacy when it comes to her personal life.
In other words, she has barely given out the identity of her husband. But she sometimes mentioned him on her socials, referring to him as 'papa.' Besides a few social media mentions, she never shared much about him. 
However, it's been a while since Emmy last talked about him online, which ignited several rumors regarding her divorce. 
As Emmy has not addressed anything about this matter, the mystery regarding her relationship with her husband still remains in the dark.
Personal life of - Is Emily Morse Married? Inside Her Secretive Love Life
Under The Radar Family 
Judging Emmy's YouTube videos, it's evident that she has been with her husband for several years, and the pair share two sons from their marriage. 
Giving a glimpse of her firstborn, Emmy took to her YouTube to upload a video introducing her son. Her first child was born in 2012 in Japan when she was at the age of 30. 
She mentioned that it would be the only time she would feature her son in her video. She quoted, 
"This will probably be the only video he will be featured in because I wanna show you that he has arrived. But I don't necessarily want him in videos because he doesn't have a choice. I choose to be on YouTube, and my child doesn't." 
Emmymadeinjapan Introducing Her Baby On Her YouTube video 
After giving birth to her first child, Emmy and her husband went back to her home in America. A couple of years later, she uploaded another video on her YouTube channel announcing she was pregnant with her second child.
Although she never shares her kids' pictures, she often talks about them on her social handles.   
How Did She Become A YouTuber?
Emmy, age 39, is popularly known by her YouTube channel, Emmymade, which was formerly Emmymadeinjapan.  
She began her YouTube journey in 2010. And as of 2021, she has gathered around 2.63 million subscribers through her intriguing food reviews and cooking videos
Emmy started the channel when she moved to Japan with her husband. During her time in Japan, she worked as a teacher, and on her spare time, she made videos testing some candy-making kits. 
Since Emmy moved back to her home in America, after staying in Japan for two years, upon her return, she renamed her channel to Emmymade.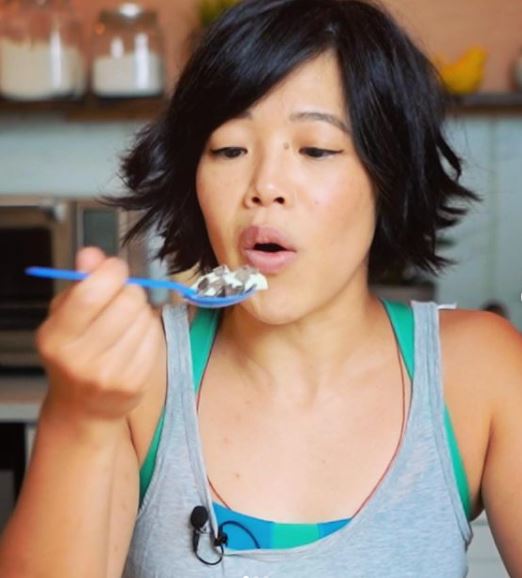 Emmy, a.k.a. Emmymade, testing desert for her online content (Source: Instagram)
More on - Gab Smolders & Her Boyfriend's Love Oozes All Over Social Media
Emmymade's Net Worth
According to the social blade, the YouTuber has an annual earning ranging from 13.4 thousand to 214.2 thousand dollars as of 2021. 
However, that's not the only source she earns from. Besides YouTube, she has equally amassed a massive number of followers on other social media platforms. 
And, from her Instagram account, where she has around 349 thousand followers, Emmy generates income from several brands' endorsements. 
All in all, with her popularity on YouTube and other sources of earning, she must have gathered a hefty amount of net worth as a digital creator.