Love is in the air! 
The Youtuber Gab Smolders is in love with her famous YouTuber boyfriend, and the pair can't help but flex their love on their social handles. 
Blissfully Dating
"Best thing to happen," is how Jacksepticeye describes his girlfriend, Gab Smolders. 
The Irish YouTuber Jackseptic, real name Sean McLoughlin, and Gab made their relationship exclusive in March 2019 through a Twitter post.
The post by Sean displayed an adorable close-up picture of the couple, which was captioned as 'happy' followed by a heart emoji. 
Likewise, Gab also let all her Instagram followers know about their relationship on March 15, 2019, when she uploaded a picture with Sean and captioned it with a heart sign.
Moreover, in a Twitter post of April 2019, Sean expressed his affection for Gab by writing, 
"Just want to say that @GirlGamerGab is the best thing that's happened to me in a while! She's filled me with so much confidence and love for myself. If you've seen me smile a lot more lately, it's because of her!"
Now, the two frequently appear on each other's social handles, looking extremely happy with each other's company. 
Love life of - Naptural85 Opens Up About Her Divorce From Her Decade-Long Husband
Jacksepticeye's Past Relationship
Before dating Gab, Sean had his share of heartbreak after breaking up with his three-year-long girlfriend, Wiishu. 
The social media stars, Sean and Wiishu, lived together in Brighton. Suddenly, on October 10, 2018, Sean took to Twitter and shocked their entire fan base by confirming the split. 
Jackseptic's tweet confirming his split with his ex-girlfriend (Source- Twitter) 
The ex-couple's fans took the news well and expressed their support. 
One fan wrote- 
"we respect your decision and wish you both incredible amounts of happiness!!..."
Similarly, another fan expressed by writing, 
"Wishing you the best. Life is filled with paths that lead us to people and away from people but it's all a part of the journey"
Gab Had A Husband?
Well, Jack is not the only one with a failed relationship here. 
Gab was previously married to Pyke, but their marriage ended with divorce in 2018.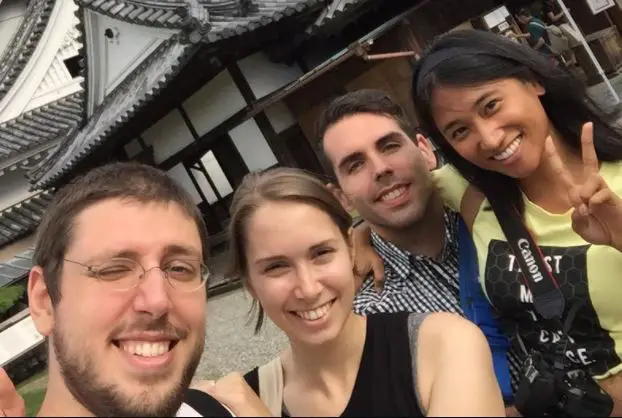 Gab Smolders with her ex-husband, Taiyou, and friends (Source: Twitter)
Pyke, famously known as Taiyou, is also a gamer and a YouTuber and has garnered 2.02 thousand subscribers on his YouTube channel.
He also featured Gab in his gaming videos, and the videos are still available on his channel.
More on - Inside Meredith Masony's Family Life & Blogging Journey
Who Is Gab Smolders?
Gab, real name Evelien Smolders, is a 33-year-old Dutch gamer who soared to popularity with her gaming videos through online platforms YouTube and Twitch. 
Mostly known for horror video gaming, Gab's YouTube channel has over 670K subscribers as of 2021, with over 89 million views in total. Besides, the Duch gamer's fluency in Japanese has also gained her massive viewers globally.  
As per social blade analysis, she probably earns 10.9 thousand to 174.2 thousand dollars annually from her YouTube channel alone. Moreover, her official merch store also adds to her earning.