Let's be honest! Parenthood is not a smooth ride. Everyone has their own share of difficulty. And so is for the That's Inappropriate founder Meredith Masony.
However, Masony has found her way into mastering parenthood. It did require her a lot of confrontations with the hardships, but it helped her establish a healthy relationship with her kids and husband. 
 And, not to mention, the support of her husband has been a great help on her parenting journey. 
Who Is Meredith Masony's Husband?
Masony's husband, who barely appears on any of her socials, is Dave. And the pair have been married for several years now. Though he seems absent on her Instagram posts, Dave is indeed the one who captures most of Masony's family moments.  
As he is behind the camera most of the time, Masony's followers barely know about him.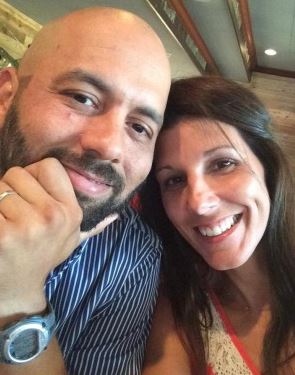 Meredith Masony and her husband, Dave (Source: MomCave)
Personal life of - A Sneak Peek Inside CaCee Cobb's Wedding Details
Further, while talking about her supportive husband in an interview, Masony quoted, 
"He does in fact exist. He does in fact have a job. He works with me. He produces the podcast. He runs our parenting website. He does a lot of the stuff. And then he normally, in a normal year when I'm traveling he's here with the kids..."
A Mother of Three
No matter how crazy her journey has been through motherhood, Masony is a proud mother to three children, a daughter, and two sons.  
Her undying love for her kids is evident on her socials.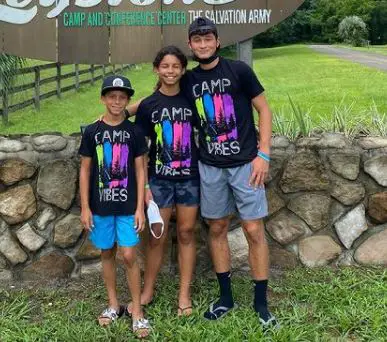 Meredith Masony's Instagram post of her kids (Source: Instagram)
As per her Instagram, her eldest son, Matias Masony, is a teenager who is currently a high school student. 
Likewise, her middle child, Brian Masony, is a 4th grader. In a 'gram post of February 8, 2021, Masony uploaded a picture of Brian with the A/B Honor Roll certificate he received for his brilliant performance at school.
While bragging about her proud-mom moment, Masony wrote in the caption that Brian was diagnosed with mild cerebral palsy while he was just 18 months old and was prone to autism and learning disabilities.
But the condition did not prevent Brian from being the best version of himself. Flaunting the proud moment, she further wrote, 
"He wore leg braces until 5. He now skate boards and surfs. He brings me to the brink almost daily. He amazes me and I've learned so much having him as my son. I'm proud of him for doing so well this year, considering the climate."
Similarly, her youngest one is Sophia Masony, who has reached the age of 12 in 2021. 
Masony's Blogging Journey
It all began at the age of thirty-four when Meredith was diagnosed with an esophageal tumor growing in her abdomen. She credits the tumor for giving her a new perspective on life. 
As she wrote on her website, the tumor diagnosis made her encounter her mortality and come up with the blog idea. She wrote, 
"While sitting in bed crying a week before the surgery, I took inventory of my life. I married my soulmate and blessed with three children, but I had not left my mark on this world."
Set out to make her impact in the world, in 2014, she created the blog That's Inappropriate, where she presents her journey through parenthood. The filterless truth of her journey resonated with her audiences the most, which has expanded her online community to a million. 
To educate the parents and help them find themselves amid the hassle of parenting, she has also published books such as Scoop the Poop and Ask Me What's For Dinner One More Time. 
Besides, she co-hosts the show My Name is NOT Mom, alongside Tiffany Jenkins and Dena Blizzard. The trio frequently hit the road for the show's tour across the country.
Currently, Masony is touring Atlanta with few more shows scheduled for the coming days. 
Moreover, given her massive online influence and on-demand tours, she must have garnished a hefty net worth from her successful career as a public figure.  
More on - Is Andrea Bordeaux Dating? Insight Into Her Personal Life