The Minnesota Twins' Max Kepler has constantly grabbed attention for his outstanding performance in the baseball arena as an outfielder. However, he also turned many heads when a Twitter post revealed his girlfriend back in 2018. 
Who Is Max Kepler's Girlfriend? 
On April 12, 2018, the Twitter account Busted Coverage shared a picture of Kepler alongside soccer star Abby Dahlkemper and reported that she was his girlfriend. 
Max Kepler with his former girlfriend, Abby Dahlkemper (Source: Twitter)
As Kepler leads a private life, his love life was somehow out of the limelight. Although the pair always maintained their privacy in terms of their relationship, they still appeared on some tabloid headlines. 
According to a report in Dailymail, Kepler was spotted attending the 2019 Women's World Cup Final, where Abby represented team USA during a game against the Netherlands.
He was seen among the audience watching the game intensely and cheering for team USA. 
However, Kepler and his former soccer girlfriend parted their ways assumably in 2019. And ever since, the Minnesota Twins outfielder has not been linked with a new partner. While Abby, on the other hand, has moved on from her relationship with Kepler. 
Love life of - Inside Becky Hammon's Blissful Married Life
Who Did Abby Move On With?
After her separation, Abby began dating the American-Israeli professional soccer player Aaron Maxwell Schoenfeld, who plays as a forward for the soccer club Austin FC. 
Few months into their relationship, the Austin FC player popped up the big question, asking Abby to be his wife, and she said yes. Flaunting her beautiful engagement ring, Abby took to Instagram on December 20, 2020, to announce the big news. 
Months later, the pair got married on a private setting on January 5, 2021. As Abby is very open about her love life, she frequently shares her beautiful memories with her husband on social media.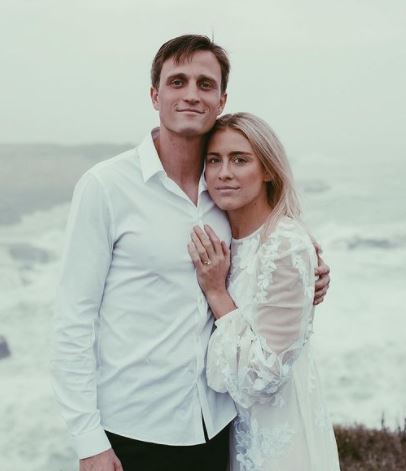 Aaron Schoenfeld and his wife, Abby Dahlkemper (Source: Instagram)
More on - Insight On Warrick Dunn's Life After The Death Of His Mother
Max Kepler's Career Highlights 
As for Kepler's professional life, the outfielder began his professional journey in the Major League Baseball in 2015 when he first signed with the Minnesota Twins. 
However, the 28-year-old had already garnered substantial attention for his baseball abilities from an early age. At the age of 14, his impressive gameplay during a junior national tournament grabbed the Minnesota Twins' attention. And later, the team signed him after he turned 16. 
He was signed for 800 thousand USD, considered the highest signing bonus ever signed by MLB with a European-born player. 
Overall, Kepler has had a successful career holding a record for home runs hit as a German-born player. And with such an impressive career, undoubtedly, he must have garnered a bulky net worth.