The professional basketball coach Rebecca Lynn Hammon a.k.a. Becky Hammon, relishes a happy married life with her wife. However, she limited herself from providing any details about her partner in the past. 
Until recently, the coach took to her Instagram and shared an adorable picture of the two. 
Who Is Becky Hammon's Spouse? 
Hammon and Brenda Milano, a lesbian power couple, have maintained privacy regarding their relationship. However, it hasn't been too long that Hammon began introducing her partner on her Instagram account. She first shared about Brenda through her 'gram post on January 2, 2021. 
Since then, she has continued sharing glimpses of her personal life through her socials. 
Like Hammon, Brenda is also a basketball coach and a former basketball player. Although her recent whereabouts are not so well-known, Brenda has been a head coach for the girls' basketball team in St. Francis College.
Further, wishing Brenda on Valentine's day 2021, the Spurs coach shared a series of pictures with her partner and kids.
Hammon has two kids, Samuel and Cayden, and she doesn't miss a chance to express her love for her little ones through her social media. 
Love Life of - Who Is Te'a Cooper? Get To Know Dwight Howard's Fiancee
However, given the nature of her job, she doesn't get a lot of time to be around her kids, but she makes the most out of it whenever she gets a chance. 
Expressing the difficulty of being a working mom and having to stay away from her kids for several days or months, Hammon shared a picture of her family and wrote a heartfelt caption that read, 
"That moment you haven't seen your kids in over a month, and an instant hearts are happy, at ease, and in tears…Obviously being a working mom is tough and I'm on the road or gone a LOT- there's a multitude of feelings or emotions I go thru while I'm away...but once their full body hugs take hold, my heart comes undone!"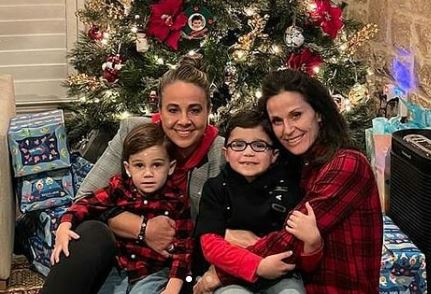 Becky Hammon with her two sons and wife, Brenda (Source: Instagram)
Hammon's Family and Early Life
Born on March 11, 1977, Hammon was greatly influenced by her mother, who prioritized family before anything else. And, no wonder Hammon also carries her mother's trait. 
Born to parents Martin and Bev Hammon, the former basketball player grew up in South Dakota. Her fascination for basketball grew from a young age, and she often practiced Nerf ball with her father and brother. 
While Hammon was on her high school basketball team, she received accolades such as South Dakota Miss Basketball, South Dakota Player of the Year, and Female Class Athlete during her years in Stevens High School. 
Later, she played for the Colorado State Rams and set many records, bagging awards such as the Woman's Basketball Coaches Association and the Frances Pomeroy Naismith Award.
Hammon's Career Achievements 
Hammon began her professional basketball journey in 1999 when WNBA signed her to join New York Liberty. In 2004, she became the team's co-captain.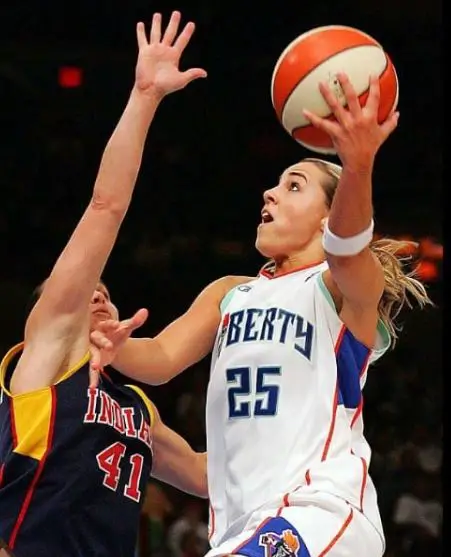 Becky Hammon shooting a lay-up in a game while at New York Liberty (Source: Instagram)
Further, playing with the NWBL team, Tennessee Fury, she grabbed attention for her leading gameplay. She then signed a contract with Colorado Chill in 2004 but played for only two games because of an injury. 
Throughout the years, she has played for the teams such as Trentino Rovereto Baske, Rivas Ecopolis, San Antonio Stars, CSKA Moscow, and few others. Ending her tenure as a professional basketball player, Hammon retired her jersey number 25 of San Antonio Stars on 2016. 
However, her journey with basketball continued as a coach in 2014. And currently, she is serving as an assistant coach for San Antonio Spurs.
Career Achievements of - CrossFit Athlete Camille Leblanc-Bazinet Husband, Married, Twin