2008 seemed to be the lucky year for the WNBA champion Kara Lawson to win two rings, one is the WNBA championship ring, and the other is her wedding ring from her husband.
Kara Lawson's Married Life
The former basketball player exchanged vows with her husband, Damien Barling, on April 12, 2008.
Kara and Damien encountered each other for the first time in Sacramento. Having dated for several years, they took their relationship a notch further and married after Kara bagged the WNBA championship title in 2008.
Indeed, Kara received two valuable rings the same year. What a memorable way to celebrate a wedding!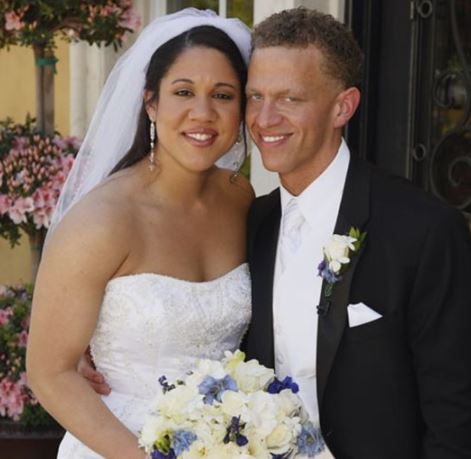 Kara Lawson and her husband, Damien Barling, on her wedding day (Source: Pinterest)
In 2011, the pair participated together to help raise money for Alzheimer's treatment of Pat Summitt, who used to be Kara's college basketball coach.
Kara remarked,
I think once my husband and I heard the news about Coach Summitt, you immediately start to try to figure out what you can do to help, what you can do to make an impact as she's made an impact in my life.
Later, as the couple dived deep into the situation of Alzheimer's, they realized the research for the disease was under-funded, as a result of which, Kara and her husband jumped right in to help raise funds for the disease.
The two were able to raise thousands of dollars and were wholeheartedly praised for their kindness.
With each other's support in every aspect of life, the pair relishes a happy married life of thirteen years.
Married life of - Inside Becky Hammon's Blissful Married Life
More About Her Husband
Kara's husband, Damien Barling, is a multimedia journalist and podcaster who has been in the radio and sports industry for over seventeen years.
Having begun his career as a personal trainer, the University of Phoenix graduate worked at CBS radio and slowly worked his way up to becoming a multimedia journalist and social media coordinator at Audacy presently.
He also co-hosts D-Lo and KC on ESPN 1320 and is known for producing and hosting numerous podcasts.
Currently, the BeHeard founder and his wife live in Sacramento, where their professional journeys came to rise.
A Short Bio
As for her personal life, the WNBA champion was born to parents Kathleen Lawson and William Lawson.
Unfortunately, her father passed away in 2017. Writing a heartfelt letter dedicating to her late father, she took to Facebook to share the saddening news.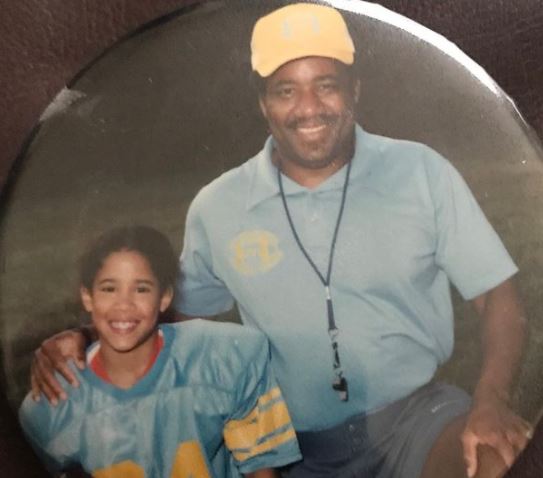 Kara with her father during her early years (Source: Instagram)
Reminiscing the unforgettable memories with her father, the former basketball player wrote,
Thank you for teaching me to have that confidence, I never doubted myself after that. Thank you for making the sacrifices most parents would never make for me to pursue basketball at the highest levels.
Kara's parents made sure to support her and her sister, Susan, raising them into responsible adults in every way possible.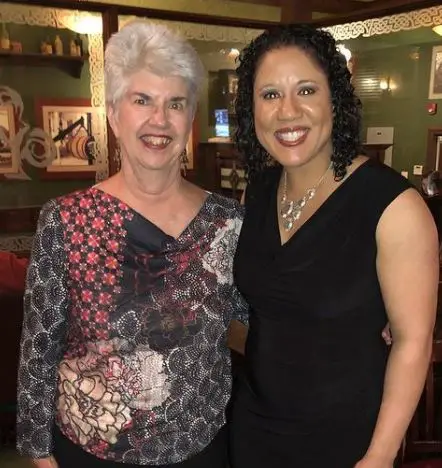 Kara with her mother (Source: Instagram)
Praising Kara for her successful journey through her career, her father once said,
I have a lot of respect for Kara and her decision-making. I knew that she was the type of kid who would succeed wherever she went.
Personal life of - A Look Inside Louis Riddick And His Under The Radar Personal Life
What Is Her Net Worth?
Just as her father said, the former WNBA player has set her mark no matter what role she took on.
As an athlete, she proved her prominence, winning a WNBA championship title in 2005 while becoming a WNBA All-Star player in 2007.
After her retirement, she entered the media as a basketball television analyst for Washington Wizard and ESPN.
She even explored her career in basketball coaching and was recently hired by the Duke Blue Devils as the head coach.
Given the salary range of a head coach in the US was around 400 thousand dollars during 2019, Kara probably earns more currently.
Moreover, as a source reports, the head coach has a net worth of 1 million dollars as of 2021.
As her coaching remained at a halt for some time because of the COVID pandemic, currently, she is back in the game, resuming her work as head coach.