American YouTuber JP Sears has a way of getting into people's hearts with his comedy and life coaching. Widely known for his YouTube channel AwakenWithJP, Sears has amassed millions of subscribers from all around the world. 
Sharing his dreamy wedding ceremony with the world, Sears took to his Youtube channel to post a video in 2018 that captured his big day.
JP Sears's Wedding Details
Sears's wife, Amber Sears, expressed her feeling about the day with teary eyes and a shaky voice, trying hard to hold back her emotions. 
"Today is a dream. It means everything, to be with him and celebrate this...He means everything to me. He is absolutely my life partner, absolutely the one…." Amber shared.
With her voice in the background, the video presented the bride and groom walking under the groves of the redwoods at Kennolyn Camps in Santa Cruz. 
Amber looked gorgeous in the low-neck sleeveless white gown that beautifully twirled as she walked, while Sears looked elegant in black and white attire.  
JP Sears and his wife, Amber Sears, on their wedding day (Source: YouTube)
The mesmerizing venue accompanied by perfectly sunny weather made their big day even more special. And, the pair exchanged their vows under the open sky, where the tall trees became their wedding backdrop. 
The couple's loved ones from across the United States and Canada attended the wedding. Later, during the ceremony, the bride's father shared few words on walking his daughter down the aisle. He said, 
It's been quite a day. I don't know that I could have really understood all the emotions of walking your daughter down the aisle at a time when you think you have your emotions in check but you really don't.  
The beautiful wedding ended with all the guests, along with the bride and groom, stepping onto the dance floor.
Married life of - Fatih Seferagic's Love For Quran Led Him To His Wife
The Family of Three
As the pair described in their wedding video, they first met each other in January 2017 during a retreat in Costa Rica. Putting it in words, Sears described his first encounter with Amber as, 
I was completely blindsided by her. I had no idea who she was coming into the retreat and then just life beautifully slapped me across the face when being struck by Amber. 
Nine months into their relationship, Sears proposed Amber to be his wife, and the rest is history. Now they are parents to an adorable little son, Wilder, born in December 2020. The proud parents frequently share their baby boy's pictures on their social handles. 
The lifestyle coach and yoga teacher, Amber, usually pairs the posts of her baby with some health tips regarding her journey through pregnancy, while the baby daddy shares his newfound fatherhood through his posts. All in all, both of them are embracing their parenthood with utmost responsibility.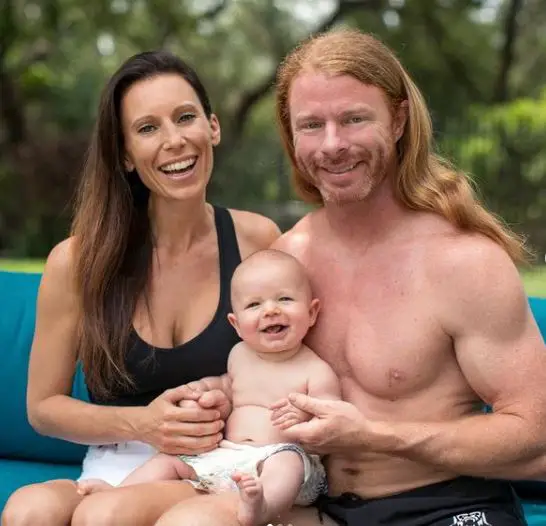 Family picture of JP Sears with his wife, Amber Sears, and his son, Wilder (Source: Instagram)
Family life of - Street Outlaws Fans Bombards Brian Britt And His Wife With Praises
Get To Know JP Sears | Where Does He Live?
Besides a resounding personal life, Sears is equally blessed with a successful career. The Toledo-born journey to becoming an internet sensation started in 2013 when he began his YouTube channel, AwakenWithJP. 
Though he began his career as a professional life coach in 2004, Sears grabbed significant exposure after starting his YouTube channel. In the channel, he provides a variety of videos on life coaching with a hint of humor that instantly resonates with his viewers. 
His unique approach to life coaching has gathered him 1.89 million subscribers as of 2021. Besides YouTube, he also has solid social media with 783 thousand followers on Instagram and 53.4 thousand followers on Twitter.
With over 200 million viewers on his YouTube channel, the Texas resident is estimated to have an annual earning ranging from 18.2 thousand to 291.7 thousand dollars. Aside from YouTube, his merch store and partnership with several brands might as well have added to his hefty net worth.